A couple of weeks ago, Freeport-McMoRan (NYSE:FCX) announced that it is selling its oil and gas assets in the Gulf of Mexico to Anadarko Petroleum (NYSE:APC). The news was not received very well by investors and analysts alike since they believed that the price of $2 billion that Freeport sold its oil assets for was cheap.
But, after the initial hype around the sale subsided, Freeport shares have gained momentum over the past week, gaining more than 5%. This is not surprising since the latest asset sale cannot be considered cheap if we consider the strength that it will bring to Freeport's balance sheet.
Freeport has done the right thing with the asset sale
At the end of the previous quarter, Freeport's pro forma debt stood at $17.9 billion. After the latest asset sale that will generate proceeds of $2 billion, the company will be able to further reduce its net debt. More importantly, as Freeport retires more of its debt, the company will also witness savings in interest expenses.
For instance, Freeport had bought back $369 million worth of its debt last quarter in a share exchange deal that created interest savings of $17 million. Thus, debt retirements of $2 billion from the proceeds of the latest sale will create more savings for the company.
Additionally, the sale of its oil assets was a necessity for Freeport as it has a number of debt maturities to meet going forward. In fact, beginning next year, Freeport has to satisfy sizable maturities year after year as shown in the chart below: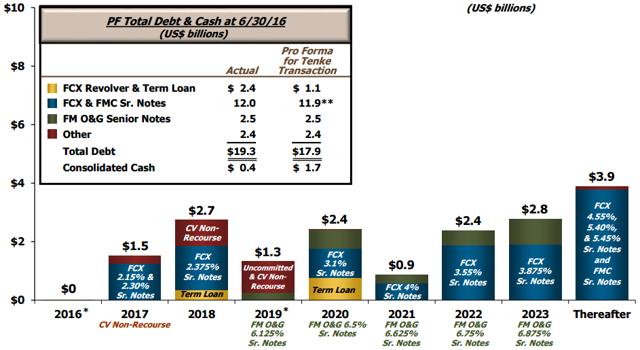 Source: Freeport-McMoRan
The above chart reflects the reduction in Freeport's loan maturities as a result of the Tenke transaction. This means that once the Gulf of Mexico transaction is taken into account, Freeport's debt maturities will decline further.
Another factor that will lead to a decline in the debt
Freeport has sold assets worth $6 billion so far this year in its quest to reduce the debt. In fact, by the end of next year, Freeport management is of the opinion that the company's debt can be reduced to a range of $10.5 billion to $13.2 billion. This will be a huge reduction from current levels, but all of this debt reduction will not be achieved simply by selling off assets.
In fact, an improvement in copper prices is going to play a key role in allowing Freeport-McMoRan to reduce its debt. For instance, at the current copper spot price of around $2.20/pound, Freeport believes that its debt by the end of next year will go down to around $12 billion. In comparison, even if copper prices fall to $2.00/pound, the company's debt will decline to $13.2 billion from current levels of around $18 billion.
What's more, the company forecasts that a rise in copper prices to $2.50/pound will allow it to reduce the debt to $10.5 billion by the end of 2017. This reduction in debt, as a result of a decline in copper prices, can be attributed to Freeport-McMoRan's high sensitivity to copper pricing, which will enable it to increase cash flow and allow it to use the same to retire more debt.
More specifically, Freeport forecasts that an improvement of $0.10 per pound in the price of copper this year will increase cash flow from operations by $260 million. Next year, an identical improvement in copper prices will allow it to improve the operating cash flow by $320 million. Therefore, if the price of copper rises going forward, Freeport will be in a better position to reduce its debt in light of the point discussed above.
In my opinion, it won't be surprising if the price of copper rises going forward since there is a deficit in the end-market. As reported by Market Realist:
"According to data reported by the International Copper Study Group (or ICSG) in the previous week, the refined copper balance in 1H16 was a deficit of 306,000 metric tons. This is close to a seasonally adjusted deficit of 227,000 metric tons."
Due to this deficit in the copper market and a rise in copper demand from China, the price of the commodity can be expected to rise going forward. This is good news for Freeport investors as higher copper pricing will allow the company to reduce its debt going forward on account of improved cash flow.
Conclusion
Hence, investors should take Freeport-McMoRan's asset sale in positive light since this will improve its balance sheet. Additionally, an expected rise in copper prices going forward will prove to be another tailwind for Freeport-McMoRan due to reasons discussed above. So, in my opinion, it will be a good idea to remain long Freeport shares and use the weakness post the asset sale announcement to buy more shares as it is progressing in the right direction.
Disclosure: I/we have no positions in any stocks mentioned, and no plans to initiate any positions within the next 72 hours.
I wrote this article myself, and it expresses my own opinions. I am not receiving compensation for it (other than from Seeking Alpha). I have no business relationship with any company whose stock is mentioned in this article.