While gold GLD sits just 3% off its 52-week highs, sentiment on the yellow metal has washed out to pessimistic levels. The most recent reading Thursday on the Daily Sentiment index (DSI) showed only 23% bulls left in gold. This number is down from a reading of 44% just 2 weeks ago. This means that the price of gold lost 21% of its bulls despite only a 1% drop in the gold price. For gold bulls, this could not be better news. While gold is busy consolidating its large advance from earlier this year, over 70% of bulls have thrown in the towel. To put this bullish reading of 23% in perspective, crude oil USO currently has a reading of 48% bulls and is up only 4% for the year. Despite the gold price outperforming crude oil by 500% this year, there are over double the bulls in oil vs. that of gold.
Those that have been following me know that I have been bullish on gold and gold stocks since February of this year. I first began recommending precious metals stocks at the beginning of this year when I wrote about a golden opportunity in McEwen Mining (MUX), as well as Fortuna Silver Mines (FSM). Since my articles, both stocks are up well over 100% despite pulling back the past few weeks. Having been bullish the past 6 months on gold and the gold stocks (GDX), this is the most excited I have been about this trade since late March. I believe this depressed sentiment reading is setting up one of the best opportunities of this year for investors in gold. After 2 months of consolidation and digestion of the past $150 / oz move, the gold price looks like it's finally ready to enter the 2nd inning of this gold bull market.
Sentiment
The below table is a summary of sentiment data for nearly all asset classes as of today's close. As you can see in the table below, gold is the 9th most hated asset right now of the 37 featured assets. The most surprising thing about this statistic, gold is in the company of the British Pound, VIX, Corn and Cocoa. This makes absolutely zero sense when you look at the performance of these 4 futures year to date.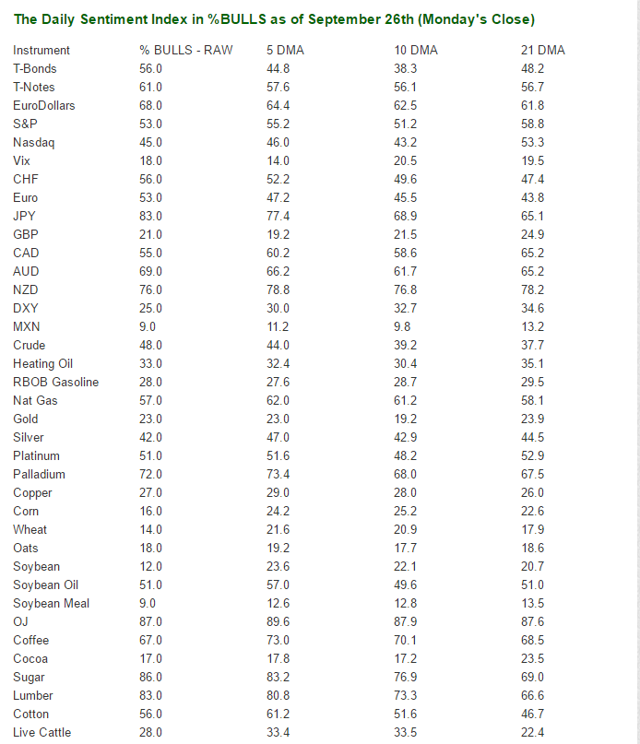 Click to enlarge
Source: Daily Sentiment Index
Looking at the below chart we can see that the 4 assets that gold shares similar sentiment with are all down at least 10% this year. Cocoa prices are down 10.53%, the British Pound is down 12.09%, Corn is down 14.10%, and the VIX is down 26.89%. If you still haven't figured out where I'm going with this, I will explain. Gold currently shares the same sentiment as 4 asset classes that are down double digits for the year, while gold is up over 25% for the year and is the 5th best performing asset year to date.
Looking at sentiment data alone, one would expect the price of gold to be negative for the year, if not down double digits. The British Pound has the most similar sentiment reading to gold with 21% bulls as of today's close. Looking at the two charts side by this, this makes absolutely no sense. While the British Pound is in a very clear and pronounced downtrend, gold could not be in a more clear uptrend. The past 2.5 months has served to wash out all of the speculators in gold and even made believers lose faith in this bull market. The fact that gold sentiment is so weak but this has not even made the gold price stagger, shows the resilience of the precious metal. Sentiment readings of under 25 are bullish contrarian signals when that asset class is in a bull market. I believe the current sentiment data on gold to be a very bullish sign for investors and I would not be surprised if a move towards $1,500 began in the next 2 months.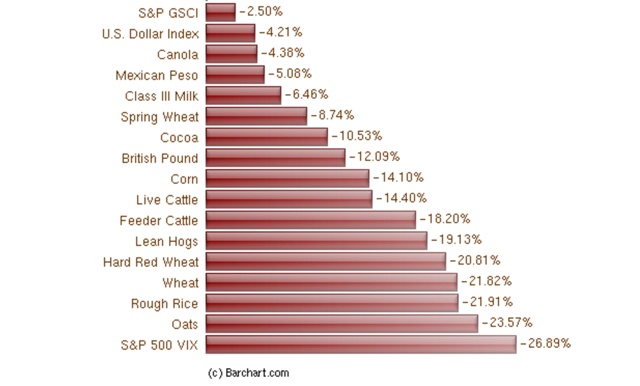 Click to enlarge
Source: Barchart.com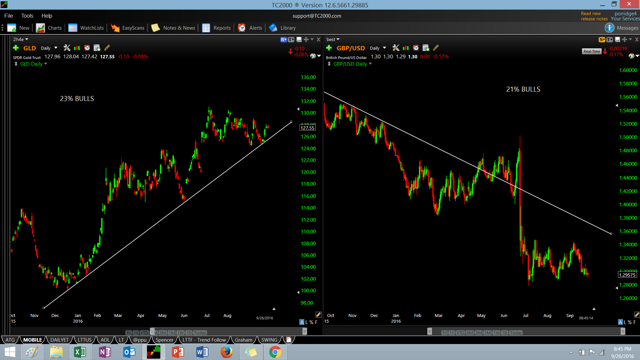 Click to enlarge
Source: Freestockcharts.com
Technical Outlook & Summary
The price of gold has been locked in a sideways range for the past 3 months but the bigger picture is still very bullish. As we can see on the weekly chart, the price of gold is still holding the breakout from its 5-year downtrend. Zooming in on the weekly chart we can see that price has built a nice tight bull flag after a 25% advance from the beginning of this year. The 40-week moving average which kept a lid on the price of gold in the past, has now begun to slope positive and should be strong support as it was resistance the past 4 years. As we can see in the lower chart, the price of gold failed 3 times in the past 2 years within 8 weeks of overtaking its 40-week moving average. This bull market is a real one and should continue much longer as not only has price closed for over 30 weeks above this moving average, the moving average is now sloping higher. The 40-week moving average is my bull and bear market line in the sand. A down-sloping 40-week moving average with price below it is a clear bear market, while an up-sloping moving average with price above it is a bull market. The 40-week moving average provided lots of trouble for gold in the past 4 years and it is clear that gold has now changed character. As investors we can expect that gold will now find support at this 40-week moving average as it has flipped from being a brick wall of resistance into a safety net on any dips. Any breakout above the bull flag to $1,360 / oz should be extremely bullish and likely sets up a move towards the $1,500 / oz level.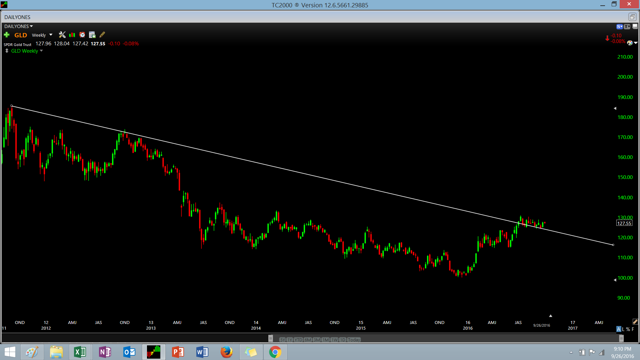 Click to enlarge
Source: Freestockcharts.com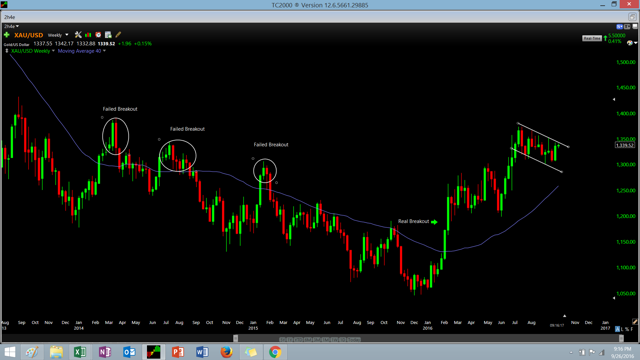 Click to enlarge
Source: Freestockcharts.com
Moving down to a daily chart we can begin to look at levels to add to gold on any dips. All of gold's key moving averages are trending higher despite the bull market taking a pause the past 3 months to digest its gains. This is extremely bullish as the 200-day moving average should provide very strong support on any test going forward. For every day the price of gold spends above $1,300 / oz, the 200-day moving average moves up another $1.50 / oz. This means that if the price of gold does nothing over the next month, support on the metal would move from $1,247 / oz to roughly $1,280 / oz.
I am currently long gold from $1,225 / oz and have two buy points in mind if we see further weakness in the metal. Unfortunately I just missed my buy point at $1,295 / oz outlined in my most recent article as the price of gold only got as low as $1,309 / oz. We still may have an opportunity to get a chance at my first buy point but I believe looking at the current sentiment data the worst is out of the way.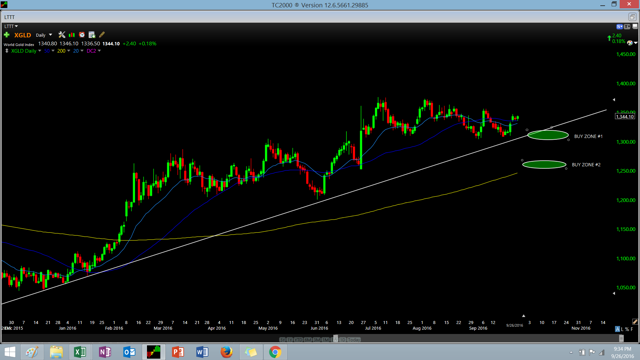 Click to enlarge
Source: Freestockcharts.com
Having said that, my two resting orders to buy gold are still in place. My first buy point has moved up to $1,300 / oz which coincides with the up-trend line that has been in place all year. My second buy point is at $1,260 / oz, which is just above the 200-day moving average. I believe that the gold bull market is still in its very early stages and would add one third to my position at $1,300 / oz, and double my position at $1,260 / oz. This would give me an average cost on gold of roughly $1,250 / oz from my current full position from $1,225 / oz.
I do not believe we see this much further weakness in the metal and expect the next $100 / oz move to be to the upside. My forecast for gold for this year remains the same and I expect the range to be $1,250 / oz to $1,450 / oz. I believe this range to be conservative and would not be surprised if we got to $1,480 or $1,500 / oz by year end. Gold is still in the bottom of the 1st inning of this bull market after having exited a violent 4 year bear market that took nearly all speculators out of their positions. The current sentiment picture is a surprise to me and reaffirms my bullish position on gold based on technicals. I believe the gold bears have overstayed their welcome and will soon regret being bearish the miners or the metal itself. I don't know what the catalyst will be to drive gold higher, but the technical picture coupled with washed out sentiment levels is giving a great risk/reward entry for investors. I currently hold 30% of my portfolios in mining shares and am up over 70% on many of my positions. I am not taking any profits and intend to hold these junior miners for much higher prices.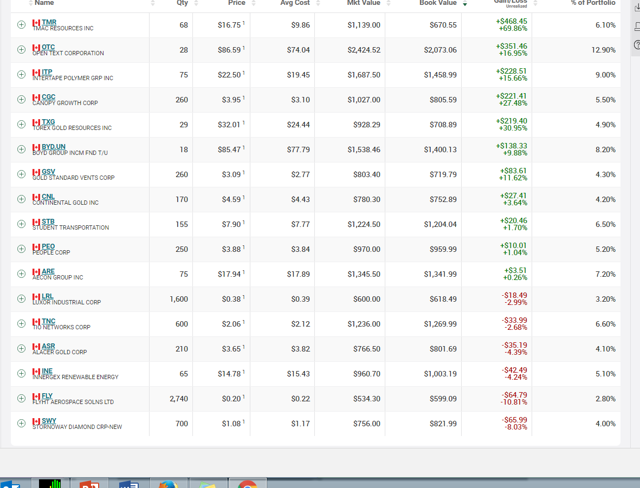 Click to enlarge
Source: TD WebBroker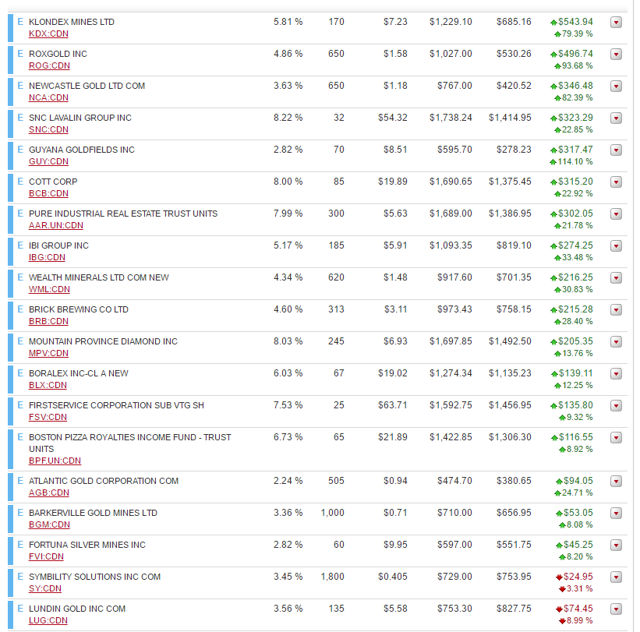 Click to enlarge
Source: CIBC Investors Edge
I have enclosed my positions above to show my money is where my mouth is as I am sitting on large unrealized gains on all of my junior and senior mining shares. The trend is up and gold is bullish on every single time frame. Now is not the time to get cute and attempt to short the metal but instead to hold on tight to your gold and mining shares. While this rally in gold has been an impressive one to start the year, I firmly believe this gold bull market is only just getting started.
Disclosure: I am/we are long GDX, GLD.
I wrote this article myself, and it expresses my own opinions. I am not receiving compensation for it (other than from Seeking Alpha). I have no business relationship with any company whose stock is mentioned in this article.
Additional disclosure: If you liked this article and found it useful, please feel free to follow me by clicking on my name next to my avatar at the top of this article. I also invite you to check my performance at TipRanks.com where I am ranked in the Top 100 Contributors for performance with an average return this year of 60% on new long positions.