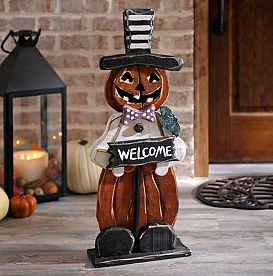 There's no way to disguise it. Home décor retailer Kirkland's (NASDAQ:KIRK) had a disappointing second quarter. Foot traffic in its brick-and-mortar locations slowed. Additionally, the consumers who did cross the thresholds simply weren't freely spending. So, the company's metrics on conversion and average ticket sales remained flat year over year.
There's no surprise in second-quarter revenue slowing. Historically, second-quarter revenue has trailed the other three quarters in at least the past three years. This year was no different. Revenue tallied $123 million, representing a 6.7% year-over-year increase. The sequential decline was 5.3%, worse than the 1.6% decline in 2015 and 4.4% decline in 2014.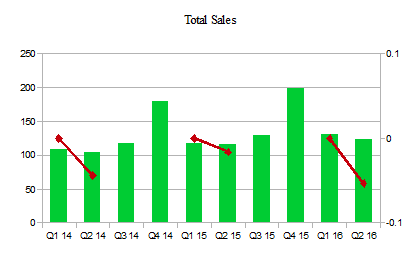 Source: Author-created from company data
A year-over-year revenue increase is usually encouraging. But, to be fair, it must be compared to the store growth. Kirkland's has been expanding geographically with plans to reach 500 locations. In the quarter, it opened 13 and closed four locations and ended the quarter with 391 stores. In the 2016 second quarter, there were 40, or 11.4%, more stores than in the 2015 second quarter (351). Thus, the 6.7% revenue increase did not track in line with the 11.4% footprint growth.
Comparable store sales actually declined 4.3% year over year. Online commerce was a bright spot. It grew 6.5% sequentially and 35.9% year over year. Excluding e-commerce, CSS tied strictly to brick-and-mortar locations declined approximately 7% year over year, while total sales increased 4.6% year over year.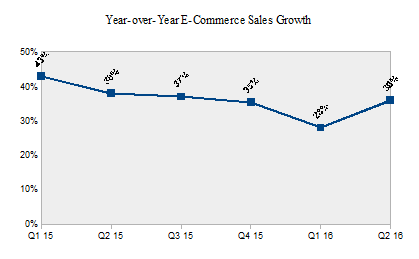 Source: Author-created from company data
Kirkland's near-term goal is to have e-commerce sales contribute 10% of total sales. In the second quarter, e-commerce activity reached $10.5 million and accounted for 8.54% of the total in the quarter. This compares to 6.7% in the 2015 second quarter and 7.6% in the 2016 first quarter.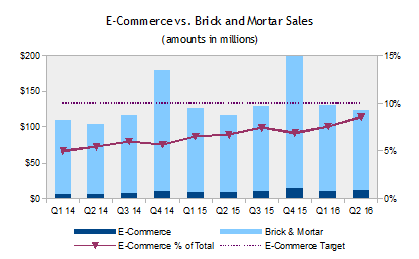 Source: Author-created from company data
Alongside reporting quarterly results, Kirkland's elected to conservatively lower its full-year guidance. The number of physical locations should grow 6% to 7%, while its total square footage should grow 7% to 9%. Kirkland's expects to finish the 2016 expansion activity before the critical fourth quarter. Total sales are projected to increase 7% to 8% compared to 2015. This puts 2016 full-year revenue in the range of $601 million to $607 million.
Gross profit margin is expected to decrease in the second half of 2016. Supply chain costs are expected to increase due to additional expenses from incorporating a West Coast bypass operation. This addition allows Kirkland's to take possession of its inventory earlier in the process. This will allow the company to better control the flow of inventory.
Operating expenses also are expected to increase as a percentage of net sales in the second half. Geographic expansion naturally increases operating expenses. The greater-than-anticipated expansion in e-commerce also is generating additional direct-to-home shipping expenses. To its advantage, 70% of Kirkland's e-commerce shipments are sent to brick-and-mortar locations which sets up opportunity for additional purchases at pickup.
All things considered, Kirkland's is expecting diluted earnings to range from $0.70 to $0.80 per share. This compares to $0.96 in 2015. In fact, heading into the 2015 fourth quarter, Kirkland's year-to-date earnings per share were nil. The fourth quarter delivered the totality of 2015's gains. Entering the 2016 fourth quarter, Kirkland's earnings will likely be negative.
In response to Kirkland's guidance updates, analysts adjusted full-year estimates and price targets. The share price reacted accordingly. But analysts are not the only ones making adjustments. Kirkland's management identified specific areas with potential to make a difference. It's one thing to understand quarterly results were disappointing because the foot traffic wasn't there. A deeper analysis unravels the "why" behind the lack of traffic. For example, Kirkland's has definitely noticed a slowdown in geographic regions tied to the oil and gas industry.
It also could be easy to blame history. In election years, consumer discretionary spending typically slows heading into November. In this particular election, there is a lingering uncertainty about financial security. Such uncertainty leads to a tightening of purse strings.
In an August 2016 consumer spending report, 64% of Republican respondents reported feeling the economy was getting worse. The density of Kirkland's geographic locations do reflect a correlation to Republican voters. Based on electoral college predictions, 48% of Kirkland's locations are in Republican states, 36% in Democratic states and 16% in the yet-to-be decided states.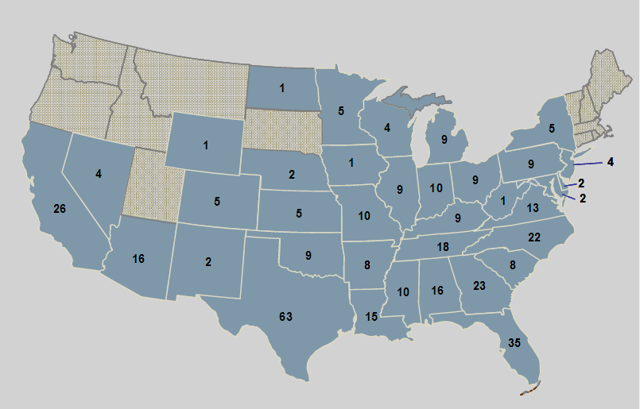 Click to enlarge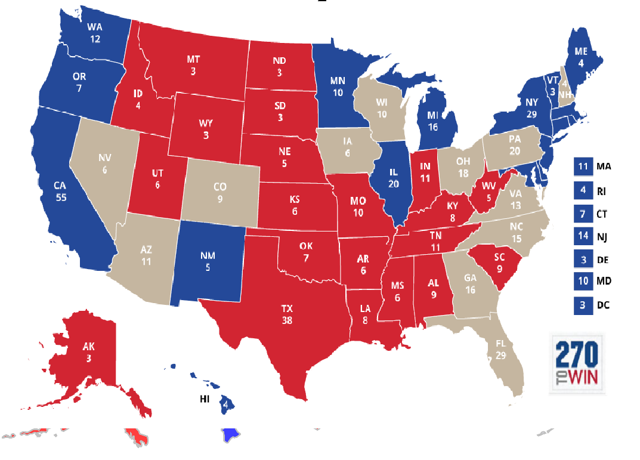 Source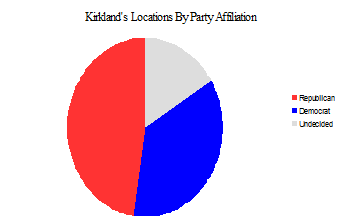 Source: Author-created
Consumers did spend on homes in the 2016 second quarter. JPMorgan Chase (NYSE:JPM) reported a strong demand for home loans. Its mortgage loan balances were up 20% year over year. Home Depot (NYSE:HD) and Lowe's (NYSE:LOW) reported increased traffic, revenue and profit, signaling an ongoing interest in home improvement. Home Depot does not believe a lag is on the horizon.
"There are projections in the market out there from various sources that would say home value appreciation continues for the next couple of years for sure. And so, I think this is a tailwind that we see for the foreseeable future."
Lowe's consumer sentiment survey agreed as homeowners view their home's value as positive.
"We continue to see home improvement spending outpace overall consumer spending, as well as positive home improvement project intentions, including strong engagement in big ticket discretionary projects."
This would lead one to believe there could be a trickle-down benefit for Kirkland's.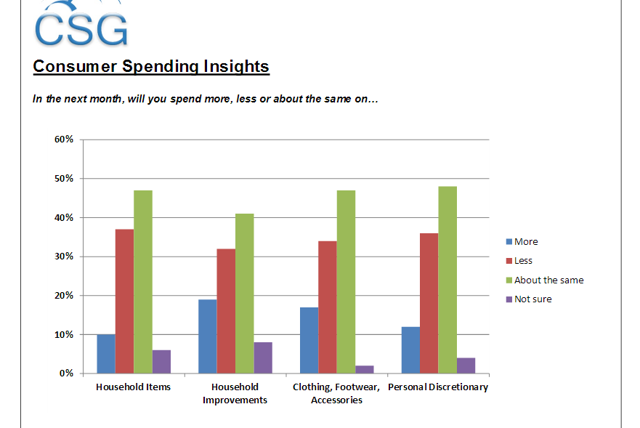 Click to enlarge
Source: August 2016 CSR
Kirkland's initial plans for adjustment involve analyzing its performance in product categories showing slippage. It determined a more aggressive approach to keep its offerings fresh and new was in order especially in its art and wall décor.
"In that category, it's crucial to have that flow of new images in and out of the assortment, and I think we can deliver better on that."
In line with its commitment to fresh and new, Kirkland's is ready to embark on an updated and modified marketing approach. The company understands it has never truly crafted "a statement behind the brand." In new markets, there is a brand deficit. Kirkland's knows it has not done enough to introduce its brand. A focus on marketing has been on the to-do list for some time. It's now time.
Kirkland's acknowledges its loyal customers expect promotions. Its message will highlight its new, fresh and fashionable product strategy while still incorporating promotional activity.
"What we're doing here is an additive to everything we have done prior."
There is clearly potential for marketing to increase foot traffic, conversion and ticket spend. And it is an even more attractive notion the company does not expect to increase its marketing budget.
"We're diverting some of the dollars to digital where I think we have a better chance to make a statement."
The company will spend the second half of 2016 analyzing its loyalty program. It will test the impact of coupons and special offers. It expects to implement a refreshed approach in 2017 based on the test results and review.
Kirkland's also intends to replace some of its free-standing insert marketing with digital marketing. Free-standing inserts only provide so much real estate for information. As well, once printed, the information is static.
With digital advertising, Kirkland's can cost-effectively tweak and re-tweak its message. It can focus delivery to interested consumers. Digital marketing offers the opportunity to be interactive with consumers. As a result, there should be more data and information about consumers captured from digital marketing that will prove valuable to Kirkland's.
There are identified trends in digital marketing that should benefit Kirkland's. A new buyer is more likely to try a product/service with a digital coupon than a printed coupon. Digital coupons also drive incremental redemptions meaning incremental visits and purchases. In fairness, incremental redemptions do have the potential to decrease the return on investment for the retailer.
Consumer discretionary spending typically picks up after the election process completes. During this lag, Kirkland's expects at least three key components to spur traffic -
An acceleration in introducing fashionable and fresh products.

A focused shift to digital marketing.

A renewed attention on its loyalty program.
It also expects its online commerce to continue to grow. Exclusive online-only merchandise will continue to drive website visits. Its direct fulfillment program allows Kirkland's to carry styles not available in stores and ship product directly from third-party suppliers.
The disappointing second-quarter results and the lowered guidance sparked a free fall in Kirkland's share price. Since the report, the price has bounced between $11.91 and $13.25. The company is debt free and has $1.85 in cash per share. Using a historical multiple of 15 and the cash base, should earnings in 2017 improve even slightly over the 2016 high end of guidance, a fair value for Kirkland's shares is at least $14.00.
Disclosure: I/we have no positions in any stocks mentioned, but may initiate a long position in KIRK over the next 72 hours.
I wrote this article myself, and it expresses my own opinions. I am not receiving compensation for it (other than from Seeking Alpha). I have no business relationship with any company whose stock is mentioned in this article.