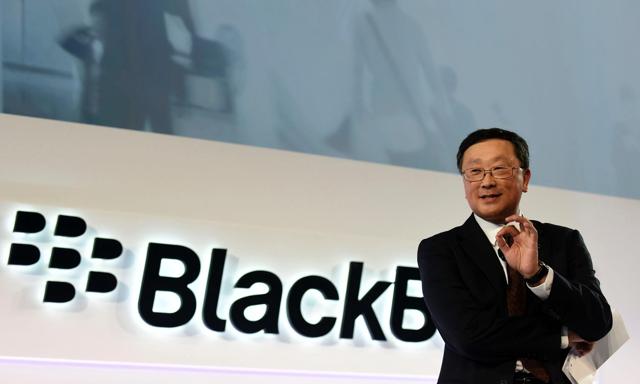 Click to enlarge
BlackBerry CEO John Chen
BlackBerry (NASDAQ:BBRY) is set to report quarterly earnings Wednesday before the market opens. Analysts expect revenue of $393.75 million and EPS of -$.05. The revenue estimate implies a 2% decline sequentially. This could be difficult to achieve given the 14% sequential decline in revenue last quarter. Below is my take on what investors should focus on:
Will Hardware Break Even?
BlackBerry's Priv is the company's first Android-operated device. It has won rave reviews with its physical keyboard, security features and access to Google/Alphabet (NASDAQ:GOOG) (NASDAQ:GOOGL) apps. However, sales have been hard to come by.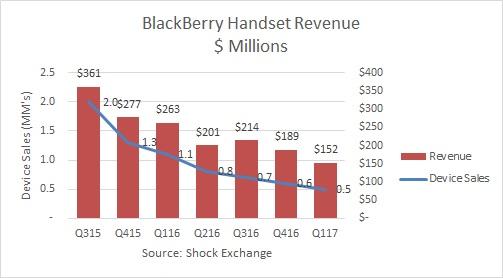 CEO John Chen estimates that BlackBerry could possibly break-even at sales of five million handsets per year, or 1.25 million per quarter. The company sold 500,000 handsets last quarter, down from 600,000 in FQ4 2016. Revenue fell 20% Q/Q to $152 million as the average sales price fell from $315 in FQ4 2016 to $290 in FQ1 2017.
The rub was that BlackBerry originally priced the Priv in the premium end of the market where it went head to head with devices from Apple (NASDAQ:AAPL) and Samsung (OTC:SSNLF). Given stagnant growth in the mobile device industry, a fickle consumer and strong competition, BlackBerry must now offer premium features at a lower price point.
If it can spur unit volume and revenue, BlackBerry could potentially improve upon its paltry gross margins of 8% and $21 million operating loss. If it breaks even this quarter it could justify keeping hardware around.
Can Software Continue To Outperform?
After the acquisition of Good Technology, BlackBerry is now the software company CEO John Chen envisioned; Software & Services is now nearly 40% of total revenue. Chen wants to grow Software and Services revenue by 30% Y/Y. FQ1 revenue of $166 million was up 21% Y/Y. On a dollar basis, revenue for the segment was up $29 million, not nearly enough to offset the decline in SAF revenue of $117 million.
Most importantly, gross margin was 81% and operating income margin (prior to corporate allocations) was 22%. If BlackBerry can continue to grow the top line in this segment, the potential for margin expansion could be sizeable enough to bring the bulls out en masse.
Takeaway
A beat on the top line could spur BBRY this quarter. If the company can consistently break-even in hardware and grow Software & Services revenue it might warrant my investing in the stock again.
Disclosure: I/we have no positions in any stocks mentioned, and no plans to initiate any positions within the next 72 hours.
I wrote this article myself, and it expresses my own opinions. I am not receiving compensation for it. I have no business relationship with any company whose stock is mentioned in this article.