Investors are often advised not to buy stocks based just on dividend yields since those companies that give lofty payouts are also often risky investments. By that logic, dividend stocks that offer low yields should be less risky. There are exceptions, of course, in both cases. However, Boardwalk Pipeline Partners LP (NYSE:BWP) is not an exception.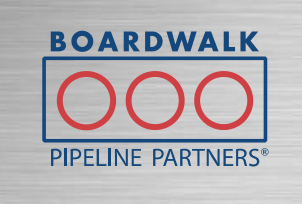 Boardwalk Pipeline Partners, a subsidiary of Loews Corporation (NYSE:L), is an energy infrastructure master limited partnership which owns and operates more than 14,000 miles of natural gas pipelines that span over 13 states and 435 miles of natural gas liquids (NGLS) pipelines in Louisiana and Texas. Furthermore, Boardwalk also owns natural gas storage and NGL storage facilities.
On an average, midstream MLPs offer yields of 8.58%, as measured by the industry's benchmark fund ALPS Alerian MLP ETF (NYSEARCA:AMLP). But Boardwalk gives a significantly lower yield of just 2.38%. That makes Boardwalk one of the lowest yielding MLP.
In early 2014, Boardwalk Pipeline realized that it can't continue rewarding shareholders with high dividends and fund growth projects at the same time, particularly since its debt level had grown significantly and the business environment in the natural gas pipeline space was getting tougher. In order to improve its financial health by cutting down debt, the company decided to slash quarterly distributions to just $0.10 per unit from $0.53 previously.
At that moment, Boardwalk became one of the lowest yielding MLPs and may have fallen from many income-seeking investors' radar. A few months later, energy prices crashed and the industry entered into one of the worst downturn in a generation. That raised concerns about Boardwalk's ability to actually reduce its debt load. Two years later, those concerns have proven somewhat justified.
Back in mid-2014, just a few months after Boardwalk reduced its distributions, the MLP had $3.35 billion of long-term debt. As of June 2016, the debt load was $3.62 billion, which is 8.2% higher than two years ago. That's not surprising considering that Boardwalk has found it difficult to improve cash flows in this period. During the six months ended June 2016, the MLP's cash flows from operating activities clocked in at $304.7 million, down from $308.1 million two years earlier.
Boardwalk hasn't been able to meaningfully reduce its debt load, but slowly and surely, the company has been heading in the right direction. Boardwalk has posted year-over-year increase in earnings (EBITDA) for the last four quarters in a row while distributable cash flows, which power the dividends, have climbed two quarters in a row. In the latest quarter, the company's EBITDA and DCF clocked in at $190.3 million and $128.9 million, showing gains of 14% and 40% respectively. And most of its major growth projects haven't even started up yet.
Boardwalk has been working on $1.6 billion of growth projects for the last couple of years. Some of these projects, such as the Southern Indiana Lateral and Ohio-Louisiana Access, have recently come online. But the big ones, such as Northern Supply Access, Sasol Ethane Cracker and Coastal Bend Header, representing $1.4 billion of investment will be placed into service by the end of 2018.
That's going to play a major role in fueling Boardwalk's earnings growth. As per consensus data from Thomson Reuters, the company's EBITDA could climb from $722 million last year to $906 million by 2018. And considering that Coastal Bend Header project, which alone represents more than half of the company's current project backlog of ~$1.2 billion, will only start up in 2018, we can say with a fair amount of certainty that Boardwalk's profits, and by that extension, its distributable cash flows, will likely continue growing beyond 2018.
Although Boardwalk's debt hasn't fallen, its leverage, which is measured in terms of debt-to-trailing-twelve-months-EBITDA ratio, declined to 4.8-times from 5.2-times a year earlier. Granted nobody is celebrating the lofty leverage which is higher than the MLP's target of 4 times, it still suggests that Boardwalk is heading in the right direction.
Boardwalk may not be able to achieve the leverage goal this year, given it needs to continue spending on growth projects by tapping into the debt markets. But except Coastal Bend Header, all of the company's major growth projects will start up in 2017. That will substantially reduce Boardwalk's capital requirement and boost its earnings and DCF. The increase in EBITDA will lead to lower debt-to-EBITDA ratio, which will mark improvement in its financial health. The increase in earnings, DCF and decrease in leverage will have a positive impact on Boardwalk's units.
On top of this, as Boardwalk's financial health gets on a firmer footing, with leverage staying below 4 times for a sustainable period, the management will turn its focus on lifting distributions. In fact, I believe distribution growth will become the management's top priority.
Remember, Boardwalk's distribution coverage ratio has been extraordinarily high at more than 4 times, significantly greater than 1-1.5 times, which is usually considered as a good ratio among MLPs. This shows that Boardwalk has significantly greater room to grow distributions. When it gets to it, perhaps in 2018-19, Boardwalk could double distributions fairly quickly.
Bottomline
For these reasons, I believe that although Boardwalk does not currently offer a high yield, it can prove to be a promising pick for investors who can stick with this MLP at least until 2018. During this period, I expect its shares to outperform those of its peers followed by a big distribution hike in 2018-19.
Note from author: Thank you for reading. If you like this article, then please follow me by clicking the" Follow" link at the top of this page.
Disclosure: I/we have no positions in any stocks mentioned, and no plans to initiate any positions within the next 72 hours.
I wrote this article myself, and it expresses my own opinions. I am not receiving compensation for it (other than from Seeking Alpha). I have no business relationship with any company whose stock is mentioned in this article.