I find it surprising to see that Union Pacific (NYSE:UNP) has made a recovery on the market in the past three months, rising more than 10% even as the conditions in the railroad industry have not improved. For instance, last month, railroad traffic in the U.S. declined once again. More specifically, carload traffic was down 6.6% on a year-over-year basis, while container and trailer originations fell 4.8% from last year.
Union Pacific's rise is surprising
The most important reason behind the decline in railroad traffic in the U.S. is the weakness in the commodity market, which has been pulling down the overall sector. For instance, in August, coal shipments were down 16% from last year, while petroleum products took a hit of 25%. As a result of weakness in these commodity markets, railroad traffic in the U.S. has been weak this year.
In the first 35 weeks of the year, overall railroad traffic in the U.S. has dropped 7.2%. In my opinion, the rise in Union Pacific shares despite this weakness in the end market is surprising as railroad traffic could decline further. More importantly, the weakness in key commodity segments such as coal and oil, along with the decline in the intermodal segment will prove to be a headwind for Union Pacific's business. Let's see why.
Weakness in key end markets will be a headwind
Together, the coal and the intermodal segments account for almost a third of Union Pacific's freight revenue mix, and both these segments had witnessed a huge decline in volumes last quarter. More specifically, Union Pacific's coal volumes were down 21%, while intermodal traffic was down 14%. This is shown in the chart given below: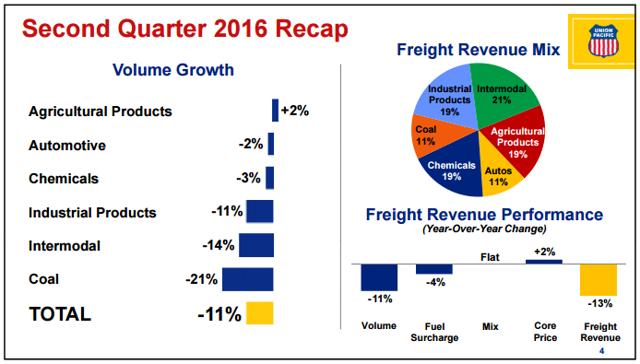 Click to enlarge Source: Union Pacific
As discussed in the beginning of the article, both these segments have continued to decline of late, which indicates that Union Pacific will continue to remain weak in the ongoing quarter as it will witness a further drop in volumes. What's more, I believe that the decline in the company' volumes will not be overturned any time soon as both coal and intermodal are set to drop further.
For instance, Union Pacific's revenue from the coal segment has witnessed a decline of 37% in the first half of the year as the use of this fossil fuel that is primarily used in electricity generation has dropped. In fact, it is likely that the coal segment might be reduced to a miniscule part of Union Pacific's business in the long run as the use of the commodity declines.
I'm saying this because coal is fast being replaced as a source of electricity generation. Over the past two years, coal production in the U.S. has gone down by 25% as coal plant retirements to the tune of 14,000 MW have taken place. This trend of declining coal production in the U.S. will continue in the future as another 10,000 MW of coal plants are set to be retired as utilities are favoring natural gas to generate electricity.
Coal plant retirements will continue in the long run as well, with 46,000 MW of coal capacity expected to be slashed in the coming six years. Now, as more coal production goes offline, Union Pacific will witness a decline in its addressable market for coal shipments. This is bad news for the company since coal is one of the key components of its business as illustrated in the chart given earlier.
On the other hand, the intermodal business, which accounts for more than a fifth of Union Pacific's freight revenue, is not in good shape either. Last quarter, this segment witnessed volume declines of 14%, which is not surprising considering the rapid decline in truckload pricing. In fact, driven by low fuel costs, the truckload pricing index in the U.S. has gone down for the past six months and is currently trending below intermodal pricing. This is shown below: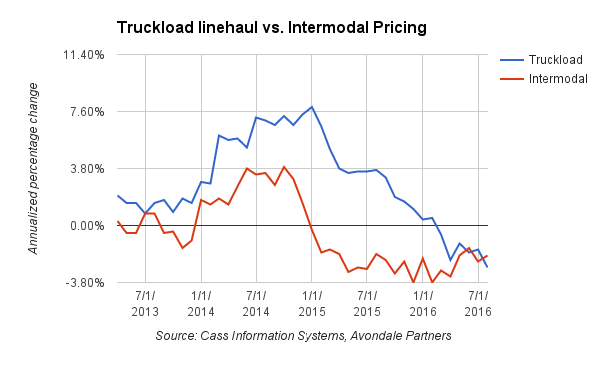 Looking ahead, it is expected that the weakness in the intermodal segment will continue. In fact, a recovery in the intermodal segment is not expected until late next year. As reported by JOC:
"Flush road and rail capacity in tandem with low consumer demand for goods moved by container have left the intermodal market in the doldrums since at least the end of last year.

"We've seen market weakness since last year and leading into this year as well. I think we may be coming to the end," said Erik Hansen, vice president of sales and marketing of intermodal at Kansas City Southern Railway. "We're hopeful in the second half of 2017 there are some factors that indicate intermodal should become more attractive at that point."
However, a recovery in the intermodal segment will not take place until and unless oil prices rise, as this will reduce the competitiveness of truckers due to an increase in fuel costs. However, considering that oil has been range-bound for quite some time and there are fears that a rise in prices could once again kickstart production growth, which will lead to weakness in pricing once again. Therefore, a turnaround in the intermodal segment won't be easy to come by.
Conclusion
Union Pacific will face weakness in its key segments, as discussed above, and this makes the stock a risky bet going forward. As such, I think that investors should consider pulling some money off the table and book profits as there is a possibility for a downside going forward.
Disclosure: I/we have no positions in any stocks mentioned, and no plans to initiate any positions within the next 72 hours.
I wrote this article myself, and it expresses my own opinions. I am not receiving compensation for it (other than from Seeking Alpha). I have no business relationship with any company whose stock is mentioned in this article.