Speaking at Yale School of management, Fed Governor Daniel Tarullo, gave a foretaste of the probable next stage of development for the CCAR process.
While there is capital relief in prospect for smaller banks, the GSIB's will need more capital.
Within the present stack of required capital for banks is a 2.5% Capital Conservation Buffer (CCB). The CCB is going to convert to a Stress Capital Buffer, which will be a minimum of 2.5% or the requirement generated by the severely adverse scenario of the Fed's supervisory test should it be greater than 2.5%. In the case of the GSIB's the SCB is going to exceed the current 2.5%.
Offsetting this, is it appears that banks will be able to include planned but not distributed dividends in their calculation of the SCB, which will lessen the increase because planned dividends are currently excluded.
Bank of America (NYSE:BAC) has $187bn of Common Equity Tier 1 Capital under the Advanced Basel approach, equivalent to a 10.5% CET1 ratio on a fully phased in basis. My guess is that the move to including a Stress Capital Buffer might impose an additional capital requirement of ~80 bps which would imply a build of 7.6% of capital or a reduction of risk weighted assets to achieve the same thing.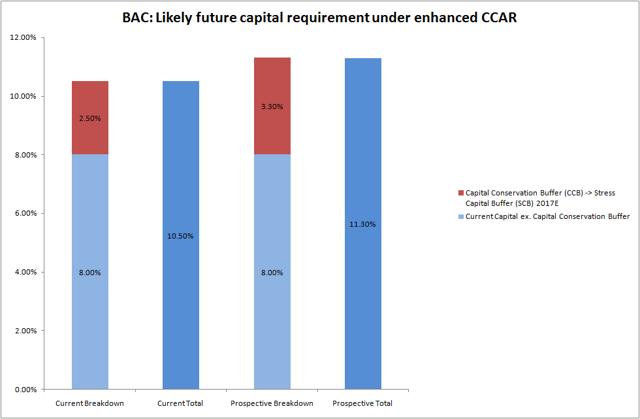 Click to enlarge
Source: Company Data and FIG Ideas calculations
The market broadly expected some level of increase. Does this increase in required capital undermine my liking for Bank of America? It doesn't, and the reason gets right to the central question of how investors should value banks.
When you buy a bank, you buy an earnings stream and the main risk, which far outweighs the normal secular and cyclical earnings fluctuations, is capital loss in a severe asset loss scenario. The effect on a compound earnings stream of investors having to recapitalize banks can be disastrous especially in a mature market in which banks can't grow their way rapidly out of a hole.
This is why I value banks on PE. As a long-term investor, your own equity in the position is the price you paid for the stock; your return on that equity - on the price you paid - is the earnings you get over time. Whether reinvested for growth, or distributed to you, is an important but secondary question.
A bank analyst must of course spend a lot of time with the balance sheet in order to assess dilution risk and earnings drivers. But I would not try to value a bank off matrices of P/BV: ROE and Cost of Equity. These are just glorified PE ratios anyway and obscure what is key to bank valuation, which is earnings streams over time.
More capital in a bank reduces the risk that investors will get diluted further out, and it should result in a lower risk premium for the stock. If the GSIB's - as Gov. Turollo suggested may happen - decide to exit certain businesses because segment ROE is no longer attractive after the latest round of CCAR enhancements, then it will be long-term value enhancing albeit at the costs of restructuring short term. This is also likely to give further incentive to activists, which is no bad thing.
I believe the pace of regulatory capital tightening is easing, and to the extent that the Fed drives greater safety and rationalization in these names against that greater safety, our long-term risks around earnings reduce.
The principal investment case for BAC remains the prospective improvement in operating leverage. If it can attain its target $53bn of operating costs in 2018, then operating profit before tax should be at least $26.6bn, which equates to a bottom line of $16.9bn (assuming an effective tax rate of 30% and preferred dividends of $1.7bn.) If we are a little more generous with income, as the table below shows, then a bottom line of >18bn become plausible.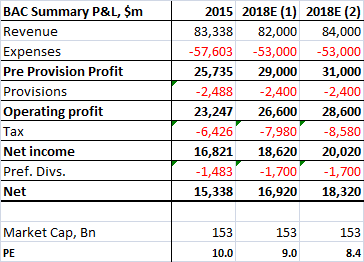 Source: Company Data and FIG Ideas calculations
Before buybacks, the stock is on a PE 18E of 9.2x EPS in scenario 1, and 8.4x in scenario 2. Both are attractive. Long-term investors should use any CCAR related weakness to increase positions.
Disclosure: I/we have no positions in any stocks mentioned, and no plans to initiate any positions within the next 72 hours.
I wrote this article myself, and it expresses my own opinions. I am not receiving compensation for it (other than from Seeking Alpha). I have no business relationship with any company whose stock is mentioned in this article.