We think it's +53 Bcf for this week's storage report.
We are keeping our estimate unchanged for the week. If storage injections come in around our figure, year-over-year surplus will decrease by another 43 Bcf. Looking at our current projections, the year-over-year surplus will go away completely by Oct. 14 and go into deficit in the following weeks.
There are several additional things we want to highlight here. Storage in Eastern Canada is skidding the lines on capacity. Looking at our models, it's clear to us that storage levels were going to make to EOS fine, but we guess for precautionary measures, gas imports to the U.S. ramped up yesterday.
A recent comment by Blacksaleem had particular insight into the situation. U.S. production dropped 0.8 Bcf/d, while Canadian gas imports ramped up 0.8 Bcf/d - completely offsetting one another. What we think is happening is what Blacksaleem said in his comment. U.S. gas production is now being curtailed to make room for natural gas from Eastern Canada, and producers are forced to cut back.
The increase in Canadian gas imports doesn't change our current projection figures, as U.S. gas production dropped by a similar magnitude. We suspect this will continue as long as there's the "risk" of Canadian gas storage hitting capacity. We don't expect the lower U.S. natural gas production to last long. We are now just five weeks away from heating demand picking up, and looking at our model it appears as if it could pick up even sooner than expected in Canada.
In our latest weekly outlook provided to premium subscribers, we gave our thoughts on what we think winter will be like. Looking at recent temperate changes in the Pacific, it appears as if La Nina won't be happening this winter.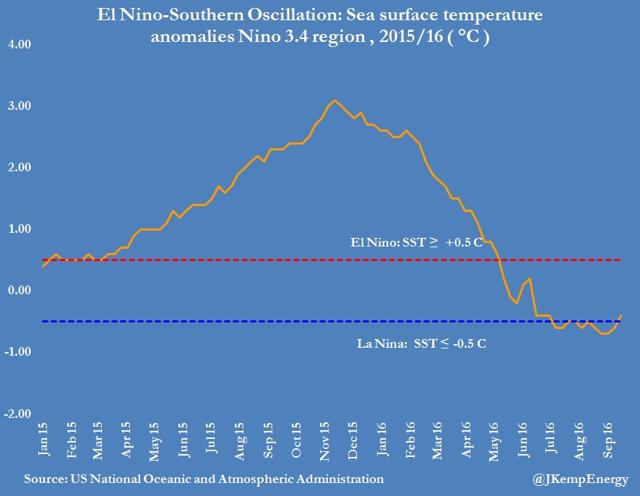 Click to enlarge
We have said many times that without an exact trend, it's going to be hard to forecast what winter will look like. We think the more important question for readers is not what winter will be like, but how to make money on the different winter scenarios. We have strongly advised against buying vehicles like UNG and DGAZ for investment purposes. Sure, if you are a day-trader, it's fine to use these vehicles to express a position. But short term is all these vehicles are intended to be used for.
Eight- to 14-Day Outlook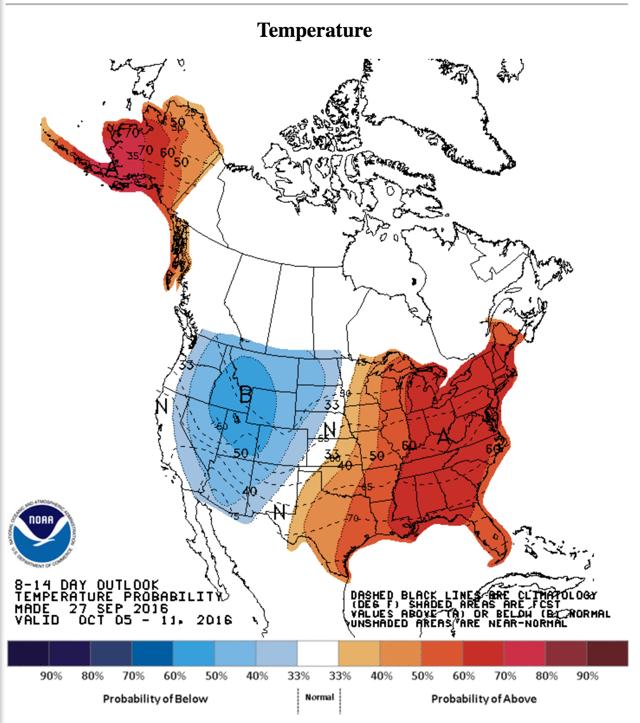 Click to enlarge
Natural Gas Prices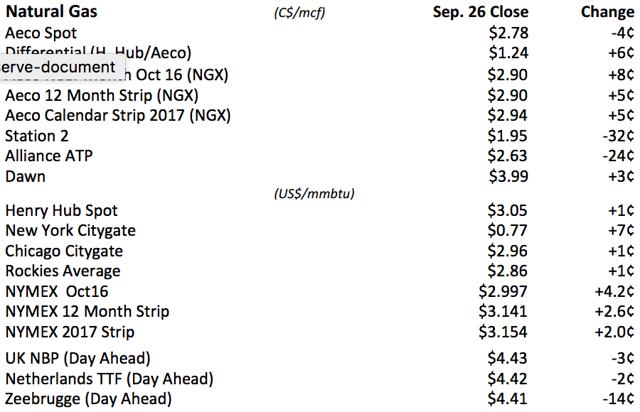 Click to enlarge
If you are interested in reading our weekly natural gas outlook, please consider signing up here. Thank you for reading our Natural Gas Daily.
Disclosure: I/we have no positions in any stocks mentioned, and no plans to initiate any positions within the next 72 hours.
I wrote this article myself, and it expresses my own opinions. I am not receiving compensation for it (other than from Seeking Alpha). I have no business relationship with any company whose stock is mentioned in this article.