Previously we pitched our thesis on The Mosaic Company (NYSE:MOS) as a stellar operator in a downtrodden industry. Even though potash and phosphate prices still remain relatively weak, we think stabilization will begin to develop with more substance over the intermediate term.
The Fertilizer Purchase
To start, there has been a bunch of chatter between fertilizer companies to make large structural shifts as low pricing has steeply eroded profitability. For Mosaic specifically, the company agreed to acquire 75% of Vale's fertilizer unit for $3 billion.
An analyst from UBS stated that the first half of 2016 for this unit showed very weak performance, only generating $102mm in EBITDA due to lower pricing and strength in the Brazilian real. Given a run-rate assumption for earnings, they argued that the unit would only be worth $1 billion. So did Mosaic overpay by shelling out $3 billion for 75% in equity?
Not at all. This segment actually reported $278mm in 2014 to $567mm in 2015. It would have been higher by another $100mm in 2015 if the company did not miss out on volume. Fortunately however, Mosaic management just confirmed through channel checks that Brazilian demand between now and the end of 2017 is expected to surpass peak demand given high activity on commercial farmlands.
There are also logistical adjustments and operational synergies to be realized through this new unit. Watchers are expecting some measure of operating leverage, particularly from additional cost savings and pricing improvements.
Current maintenance capex for this unit stands at a normalized range of $200-$250mm. For Mosaic's interest, that puts EBIT around 265mm, or an effective EV/EBIT acquisition multiple of ~11x today. Not only is that lower than the current industry average of 14x, but that is also a multiple trending on cyclically weak macro conditions.
So why did Vale give up a solid IRR segment? The main reason is to reinvest into its iron ore facilities and drive down cash costs further, particularly to cut their cash flow break even into the mid-$30s. This is clearly rational as the spot currently sits at $55/tonne. Alternatively, their credit ratings stand around BBB with coupons averaging near 6.5%. Either they are looking delever or refinance more cheaply. Currently, they have a $1.25 billion maturity within a few months. That said, having this extra $3 billion in cash on hand will allow them to improve performance and adjust their capital structure with ease.
Present Conditions
If we consider year over year trends for commodity pricing, we can see why operating performance remains under pressure: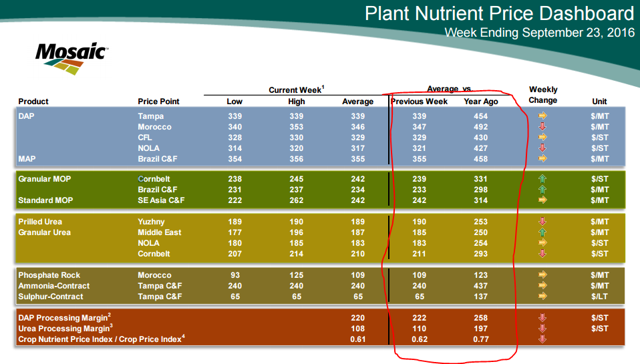 Click to enlarge
We can see that relative to 10 year financial results, trailing twelve month results are near cycle lows:

Historical Financials Sourced Via Morningstar
Prior to the financial crisis, the industry faced a pretty bad environment. Some companies were reporting consistently negative FCF, and while Mosaic was among that group, it did outperform.
On a more positive note, management's most recently issued investor presentation shows that shipment growth, for their two core fertilizers, is expected to rebound after being stalled back in 2014: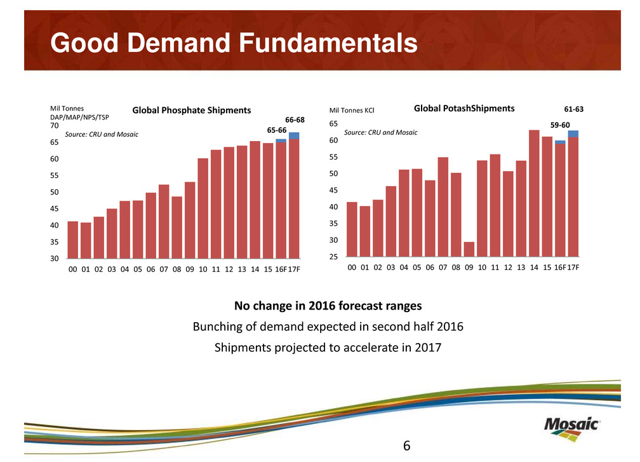 Click to enlarge
So will pricing stabilize soon? Maybe, but it's a tough call.
Dividend Cut Incoming!
If we consider their most recent report (negative net income) in addition to their acquisition payout, the company will be unable to afford their current dividend. By our estimate, we think the dividend must be slashed by more than 50%. The per share trend chart describes the message more simply: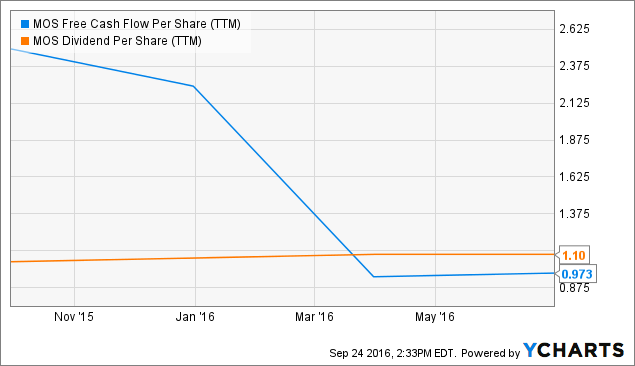 MOS Free Cash Flow Per Share (TTM) data by YCharts
Valuation Methodology
We established that the acquisition will most likely be accretive rather than dilutive, so that is great news. Now regarding the business from a valuation standpoint, we are sticking with cyclically adjusted cash flow methodology. Here we estimate that the standalone business can generate around $700mm-$750mm per year. For the new unit, we could be looking at a figure close to $150mm-$200mm per year (TTM EBIT with effective tax rate of 25%). So we can probably expect between $850mm-$950mm annualized FCF from over the long term if business economics fully recover.
Moving onto the pricing and capital structure: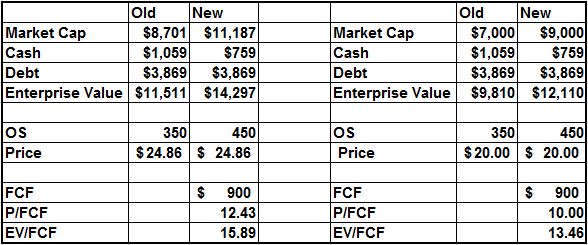 Our Estimates
The "New" column represents what the capital structure might look like post acquisition. Management indicated that it would be a cash and equity deal. So above we provided some corporate financial assumptions with about $300mm in cash and $2.7 billion in stock. This would leave ample liquidity to cushion against cash needs, e.g., working capital requirements or capital budgeting, over the next few quarters. We also assumed an issuance of 100mm shares at an average price of $27. We think that price point is fair given it has been the middle of the trading range over the last 7 months.
If we assign a mid-cycle multiple of 15x, against $2 FCF per share, that puts the equity at $30. That said, we would be much more inclined to accumulate at $20 (or lower) as the risk/reward profile would be pretty solid over a 3-5 year timeframe.
Risks
Short sellers have pointed out that calling a bottom in the cycle is futile as supply still outweighs modest demand growth. There could be some validity to this assessment. Managers tend to be optimistic, and being swayed by this perspective is something we investors must separate ourselves from.
The value proposition could also be impaired if the following items materialize:
Overhead costs come in higher than expected
Lawsuit claims build resulting in cash payouts
Lastly, we are slightly concerned that Mosaic's total executive compensation package as a percentage of total earnings power is much higher than both Agrium (NYSE:AGU) and Potash Corporation (NYSE:POT).
Bottom Line
Cyclical businesses are not fun. Quarterly headlines will be weaker relative to prior comparable periods, and that seems to be a given. Some institutions, clocked at 93% of shares outstanding, also may not be expecting a large dividend cut. Will the market be happy with these developments? Clearly not.
Nonetheless, we still have the general belief that Mosaic is one of the strongest businesses in this industry. The transition will not be easy but at the right price we think this business will generate investors solid annualized returns. Thank you for reading and please comment below.
If you enjoyed this article and are looking for other investment opportunities, click the "Follow" button at the top of the page.
Disclosure: I/we have no positions in any stocks mentioned, and no plans to initiate any positions within the next 72 hours.
I wrote this article myself, and it expresses my own opinions. I am not receiving compensation for it (other than from Seeking Alpha). I have no business relationship with any company whose stock is mentioned in this article.
Additional disclosure: We may initiate a position in the stock at $21 per share or lower.