As a long-time preferred investor and supporter of Angeliki Frangou and Navios Maritime Holdings (NYSE:NM), imagine my chagrin when I learned that she and her board had decided to throw their preferred shareholders under the bus, or is it under one of her bulk carriers. Yes, it appears that Ms. Frangou, sensing the positive moves of the Baltic Dry Index (BDI) (a measure of drybulk freight rates) since its historic-low of 290 reached on 2/10/16. It is now reading a far healthier 930 in six short months as shown in the Bloomberg screenshot below: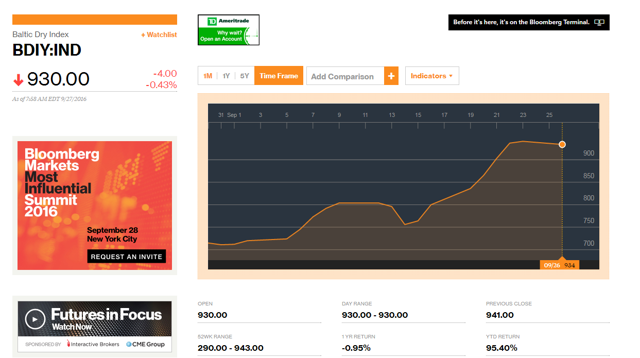 Click to enlarge It appears that Ms. Frangou senses a positive change in her company's fortunes and might be attempting to utilize its present circumstances to rid itself of us pesky preferred shareholders who are presently piling up those accumulated dividends NM suspended on 2/23/16. Not only does Ms. Frangou want to get out from under that ever-increasing preferred debt load, additionally she wants to eliminate the restrictions and penalties that came into effect when the cumulative preferred dividends were suspended.
Thus the NM lawyers formulated the travesty of the Exchange To Offer, designed to cheaply rid NM of its Series G and H preferreds, the growing debt load they entail, and those pesky penalties that came, and are to come, into effect as a result of the dividend suspension. Brilliant, Machiavellian, and full of legal mendacity. While this instrument repeatedly proclaims:
You must make your own decision whether to tender Series G ADSs or Series H ADSs in the Exchange Offer and, if so, how many of such Series G ADSs or Series H ADSs to tender and the form of consideration to be paid therefore. Neither we, our Board of Directors, the Information Agent, the Exchange Agent, the Depositary, nor any affiliate of any of the foregoing or any other person is making any recommendation as to whether or not you should tender your Series G ADSs and Series H ADSs in the Exchange Offer. We have not authorized any person to make such a recommendation. You are urged to discuss your decision with your own tax advisor, financial advisor and/or broker.
It subtly utilizes extortionate fear-mongering to twist our arms to accept this terrible offer to tender our shares for pennies on the dollar and common shares that will be devalued immediately as the preferred shareholder sell them and head for the exits, no longer having any faith in this venal enterprise and its management. I won't go into the details and minutia of this Exchange Offer because this is not the primary purpose of this article. I've covered NM's Exchange Offer in two recent articles I urge you to visit.
Preferred Investors: Vote Against Navios Maritime Holdings' Offer Of Exchange
Navios Maritime Holdings Has Made A Fear-Based Tender Offer To Its Preferred Shareholders
No my fellow preferred investors, if this Exchange reaches the required thresholds and is allowed to go into effect, I see it as I have previously written:
To stress the importance of not allowing NM to succeed, please read and seriously consider the following:
I don't know if the company will succeed in its extortionate fear-driven Offer to Exchange, but it has thrown cold water on what I believe is the only way I can lose as a cumulative preferred investor. It also appears that the clause allowing this is a regular feature included in the fine print of the offering prospectus of many companies. I have mounted a campaign against accepting this offer and allowing NM to gain the shareholders' agreement to tender 2/3s of both, individually and separately, Series G and H preferred shares necessary to sanction this offer. If we fail to stop this exchange, I fear this might become the example and blueprint to follow by other companies facing a similar set of circumstances in the future. What is now a rare occurrence might in the future become commonplace. I view this as a cautionary tale that all prospective preferred investors should be made aware of. And if NM succeeds, be very wary of investing in the preferreds of equally high-risk companies, and those situated in high-risk sectors that, as a rule, offer higher yields to entice investors to purchase their preferreds. Examples of such sectors are: Shipping, Oil E&Ps, mREITs, and certain pharmaceutical R&Ds.
Disclosure: I am/we are long NM-G, NM-H.
I wrote this article myself, and it expresses my own opinions. I am not receiving compensation for it (other than from Seeking Alpha). I have no business relationship with any company whose stock is mentioned in this article.