In April, National Retail Properties (NYSE:NNN) completed a sale-leaseback transaction of 117 restaurants ran by Bob Evans Farms (NASDAQ:BOBE) for $160.8 million.
After the deal, full service restaurants now account for 12.6% of NNN's annual base rent, and Bob Evans took its spot at 14th on NNN's top tenants list, paying 2.1% of total rent.
Following the philosophy I laid out in a previous article, I will dive into the details of this transaction to evaluate the value and risks.
The Market
As a whole, casual dining has been facing significant headwinds in recent years as fast casual companies have been taking market share.
Sale-leasebacks have become popular as a tool for restaurants to unlock capital for rebranding, renovating and updating to better appeal to changing consumer sentiments.
Investors have responded favorably to the casual dining industry, with corporations like Darden (NYSE:DRI) and Bloomin' Brands (NASDAQ:BLMN) adding their restaurants to the market.
Casual dining restaurants have also found success on the secondary market, selling to private buyers in 1031 exchanges.
This is a situation where a portion of the purchase price is corporate financing. At an average sale price of $1.37 million per restaurant, there is a premium included for the lease. The premium doesn't appear to be as large as that of other casual dining restaurants that have been selling for over $3 million a piece.
I estimate, based on the advertised rent compared to typical market rents, that the premium is approximately 20-25%.
The Lease
The leases start at 6.65% of the purchase price and then include a CPI-based rent escalator for up to a 1.5% annual increase. They are for 20 years and then include five 5-year options. This lease is very attractive for NNN, bringing in almost $10.7 million in gross revenue the first year with built-in growth.
Assuming an average of 5,000 SF per building, the lease works out to be about $18/SF per year. This is higher than the properties could likely be leased to second-generation tenants, as many of the properties are in the Midwest, where retail rents tend to be in the low teens.
There is plenty of room for the value of the lease to grow, if investor sentiment towards Bob Evans' corporate guarantee improves. It isn't unreasonable for the potential sale value to grow 3-4% per year until the properties reach a competitive cap rate.
The Tenant
Bob Evans operates over 500 full service restaurants and also produces and distributes refrigerated and frozen convenience foods like sausage and bacon. The company has been experiencing declining SSS and revenue, which has impacted its cash flow over the last 5 years.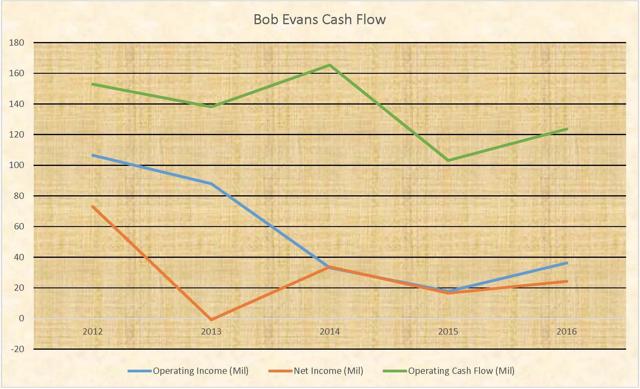 Click to enlarge
Source: Morningstar
Part of the reason that Bob Evans sought to monetize its property is the lackluster performance of its core business.
On the positive side, the company has no significant debt, and it has been making efforts to rebrand and stress its farm roots.
Overall, Bob Evans seems to be a moderate risk. The company has been in business for over 60 years, and it carries low debt. Declining sales will put strain on the company's ability to keep stores open if they continue long term.
The REIT
NNN holds a well-deserved reputation for being an elite REIT, and purchases like this illustrate why this is so.
The company purchased the properties for a fair price, with a slight premium built in. In return, there is a healthy 6.65% cash yield with built-in annual increases.
Should Bob Evans be successful turning around its sales, the value of these properties in 5-10 years will increase substantially through growth in the value of the lease. Given the large number of stores NNN purchased, I anticipate that stores will selectively be put up for sale as conditions allow to reduce the exposure.
NNN's concentration in the restaurant industry is currently above 20% of gross rents, full and limited service combined (up from 16% in 2015).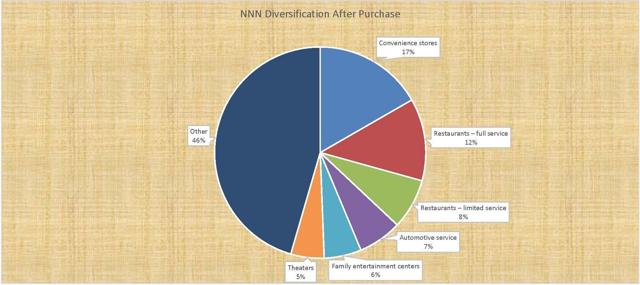 Click to enlarge
Source: NNN SEC Filings
Conclusion
This purchase is a win for NNN and its investors. The company knows where its bread and butter is. A good purchase in a known industry, with solid long-term returns and prospects for future growth.
There is certainly some risk of default, which could leave NNN holding overvalued properties. This risk is mitigated by the company's overall size and diversification.
Investors can anticipate NNN will opportunistically sell properties and makes purchases in other industries to rebalance their portfolio. Purchases like this one are the kind that it regularly makes, and so far, that formula has worked great.
Disclosure: I am/we are long DRI.
I wrote this article myself, and it expresses my own opinions. I am not receiving compensation for it (other than from Seeking Alpha). I have no business relationship with any company whose stock is mentioned in this article.
Additional disclosure: I have been contracted as a consultant in a property tax dispute regarding a property owned by NNN unrelated to any of the properties discussed in the article.