Welcome to the September edition of the lithium miner news. It certainly has been a big month of announcements, but a disappointing month for the Australian lithium miners stock prices, as sentiment (in Australia) is currently very weak.
Lithium news
During September, 99.5% lithium carbonate China spot prices were basically flat, and are still around USD 20,000/tonne.
Lithium carbonate China spot price to July 2016 - currently around USD 20,000 per tonne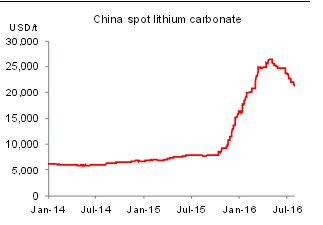 Lithium carbonate contract prices range from USD 9-14,000/tonne, depending on the company, the location being sold to, and the size of the contract.
Lithium carbonate contract prices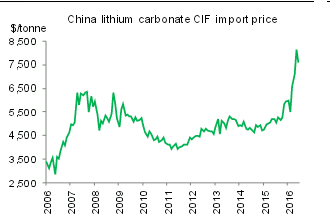 Lithium demand versus supply
Mr Lithium, Joe Lowry, tweeted on August 30 that he was "convinced lithium supply won't exceed demand in this decade." Seems he disagrees with the Macquarie report also. He also stated in July, "the lithium market itself is a LONG way from oversupply or bubble territory." Joe also recently tweeted (same link as above): "Back in the US, still pondering the huge lithium demand numbers I heard last week." Joe has recently been in Asia. I agree with Joe, and I respect his over 20 years of industry experience as a lithium expert. Another lithium expert, Chris Berry met with industry producers, buyers and sellers. He tweeted: "There is no way supply will meet or exceed demand before 2020 under current circumstances for either lithium or cobalt", "knowing the threats to growth in either space is key to investment in either space".
My view is it is in their own interest for the current lithium majors to downplay demand, so as to delay future competition for as long as possible. For example SQM sees only 10% increase in demand for 2017.
The graphic below shows the major current battery production expansions; however Volkswagen, Mercedes, A123, and BMZ have all announced plans to build their own mega or giga factories. Add to that several Chinese companies such as Nanjing, Leshen, and many small start ups. The battery industry can see the EV and energy storage boom is on it's way, and they are racing to be ready to supply it. For example, Volkswagen now plans to have 20 EV models by 2020, and 30 by 2025.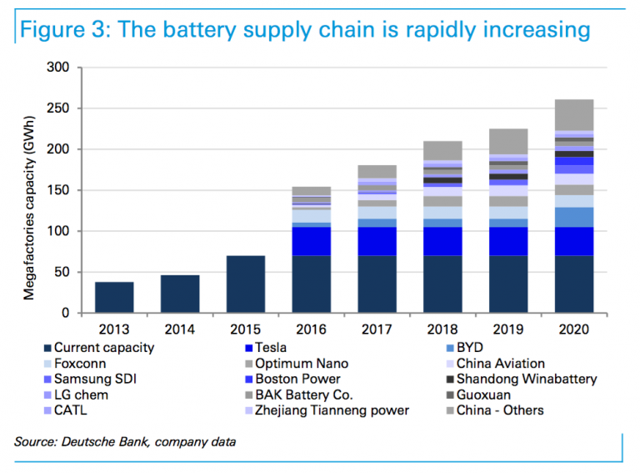 Click to enlarge
Source: Deutsche Bank.
The above graph with 255GWh of batteries by 2020 equates to 229,500 tonnes of LCE, add to that around 250,000 tonnes for consumer electronics/ceramics/glass and we have 479,500 tonnes of lithium needed to supply the above battery factories in 2020. That is close to my updated model estimate of 616,000 tonnes needed by 2020.
This conflicts with Deutsche and other research that stated lithium demand to be "at 354,000 tpa in 2025".
A summary of the 12 megafactories coming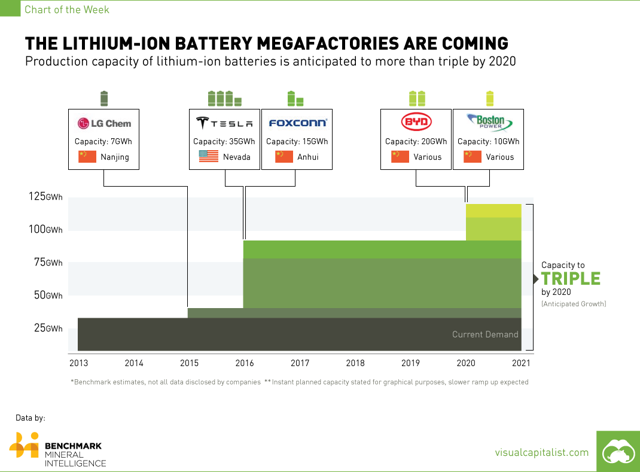 Click to enlarge
Source: Benchmark Mineral Intelligence.
If you want to look at my detailed demand versus supply analysis then you can read my article here. My forecasts are about double those of Macquarie, Goldman Sachs (NYSE:GS), and Deutsche Bank (NYSE:DB). The three main reasons for this are:
1) I assume the battery electric vehicle (BEV) in the years going forward will have an average of 60kWh of batteries, they assume 20-30kWh. I also assume that consumers will move rapidly away from hybrids after 2020 once BEV prices fall rapidly with cheaper batteries.
2) My EV uptake assumptions are higher than Macquarie, GS, and DB. For example I model 10% EV uptake by 2020, whereas they typically see this at around half that. The GS forecast of "3% BEVs by 2025", is simply ridiculous. At 2025 I forecast 40-50% BEVs, and Tony Seba forecasts 100%.
3) My model includes ebuses, and energy storage.
Investors can make up their own minds regarding the future lithium demand and supply story. I see demand to be much higher than is currently forecast, and even if there is a small excess of supply in 2019, 2020 it could be stockpiled for use beyond 2022 when I see demand rising well beyond supply.
Note that Sony recently announced they will become an EV battery supplier. Also Benchmark Mineral Intelligence recently reported that "Japan and South Korea have both recorded record high levels of lithium-ion battery exports in H1 2016, as auto companies ramp up battery consumption to power new all-electric offerings. Lithium ion battery shipments from Japan - the world's leading producer - topped 33,500 tonnes the first half of 2016, up 17% on H2 2015 and over 31% y-o-y. Similarly, South Korea - a leading exporter to global markets - recorded its largest shipments to date, up 26% on 2015. The increases in trade from two of the world's leading battery producers signify the beginning of a period of significant growth in the market and offers further proof that we are headed into a new era for the automotive industry. Falling production costs from facility expansions across Asia are allowing for greater adoption of lithium ion batteries in the automotive and stationary storage sectors. As OEMs seek to ramp up their electric offerings over the coming 5 years, demand for lithium-ion batteries, and their raw materials, is set to experience significant growth."
Lithium miner news
First a great graph below showing current market share of the lithium miners. Off course this will start to change as new entrants come in.
Refined lithium market share 2016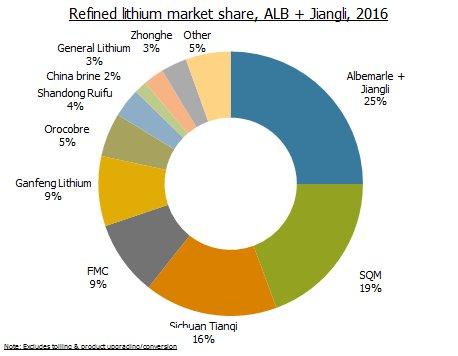 Source: Roskill
Albemarle (NYSE:ALB)
Albemarle Corp announced late August that "it has signed a definitive agreement to acquire the lithium hydroxide and lithium carbonate conversion assets and supporting business functions currently operated by Jiangxi Jiangli New Materials Science and Technology Co. Ltd. ("Jiangli New Materials"). The transaction is expected to close by the end of the first quarter of 2017, subject to regulatory approvals and other customary closing conditions.
Collectively, the Jiangli New Material assets have a total lithium salts capacity of 15,000 MT/year, with the ability to expand as needed to support Albemarle's growth strategy." Roskill stated: "this acquisition will enable it to gain greater margin on sales and boost its 'official' share of the refined product market." It will also help lower their cost of production for lithium sourced from spodumene if necessary. A wise move from Albermarle.
FMC (NYSE:FMC)
Pierre Brondeau, FMC president, CEO and chairman, said in September: "We continue to see strength in our Lithium business", and he "expects full-year adjusted EPS to be in the range of $2.60 to $2.90." FMC also announced a 10% increase in it's butyllithium products effective October 1, 2016.
Sociedad Quimica y Minera S.A. (NYSE:SQM)
SQM is steadily moving to increase it's lithium production, currently at 48,000 tonnes pa from Atacama in Chile. Whilst their CORFU problems remain unsolved it has not stopped them from achieving stronger lithium sales and prices so far in 2016. SQM stated that its "lithium and derivatives segment accounted for approximately 47% of SQM's consolidated gross margin for the six months ended June 30, 2016." This really shows how important lithium is becoming to SQM. SQM also said in September that they "will boost annual lithium hydroxide capacity 7,500 tonnes... by the end of 2017."
They are currently working to fast tract their 50/50 JV with Lithium Americas at Cauchari-Olaroz in Argentina, with plans for Olaroz to produce 25,000 tonnes LCE in 2019, and 50,000 tonnes by 2021 (50% share to SQM).
Orocobre (ASX:ORE) (OTCPK:OROCF) (TSX:ORL)
Orocobre announced it's financial results in September for the 2016 financial year ((FY16)). " FY 16 production was 6,903 tonnes of lithium carbonate, with an EBITDAX of US$7.8M. On a statutory basis, the Company recorded a FY16 full year statutory loss of US$22 million, including a non-cash foreign exchange loss of US$20.9 million (on a proportionally consolidated basis)."
They also announced a "forecast production uplift to >15,000 tonnes for FY17 and expansion studies plans on track targeting production uplift to 35,000-42,500 tonnes."
Investors should remember FY 16 was Orocobre's first year of production, so the small loss is not significant as production is ramping up quickly.
The scoping studies for a lithium hydroxide plant using Tenova Bateman technology is expected to be released soon, and Q3 results in October.
Neometals (NYSE:NMT) (OTC:RRSSF)
Neometals renewed the term of Chris Reed's employment as Managing Director to 30 June 2019.
Neometals now own just 13.1% of the Mt Marion mine, with partners Mineral Resources 43.15%, and Chinese Gangfeng Lithium 43.1%. Lithium concentrate production and cash flows are expected to be commencing from the Mt Marion Project in the December quarter 2016. The downstream lithium processing operation and their proprietary ELi process for lithium extraction is now the company's focus going forward.
Mineral Resources (NYSE:MIN) (OTC:MALRF) (OTCPK:MALRY)
Last month I reported that they are in talks to "sell their 41.3% stake in the Mount Marion lithium project in Australia (mentioned above), whilst retaining its life of mine operating contract."
They are also currently in the courts fighting against Pilbara Minerals for their "first right of refusal" condition, over Pilbara Mineral's Pilgangoora project.
Galaxy Resources (ASX:GXY) (OTCPK:GALXF)
Last month I updated investors that Galaxy had announced their updated net present value ((NYSE:NPV)) for Sal de Vida (SDV). The results were as follows:
"Post tax NPV @8% = USD 1.426 billion or AUD 1.8538b
Post tax NPV@10% = USD 1.043 billion or AUD 1.3559b
Internal rate of Return ((NYSE:IRR)) = 34.6%pa."
An excellent result, and investors can see why Joe Lowry is a big fan of Galaxy.
At Mt Cattlin, Galaxy has had some start up delays to production as they have been upgrading plant capacity (at an estimated cost of AUD 22.4m) with a new forecast to increase production to "at least 160,000 tonnes pa (based on a 50% recovery yield) of spodumene." Analysts believe this can later be improved to 75% and 240ktpa output can be achieved. Galaxy also stated: " Notwithstanding the anticipated delay to first shipment, customers have requested increased tonnage above the already contracted amount for 2017 and later years. Galaxy is now negotiating terms with Mitsubishi and its Chinese customers for the additional tonnage now available from the expanded production." Note 120kt was already contracted for 2017.
This adds credence to the possibility that they may not need an equity partner for SDV, as Mt Cattlin will be producing a lot of cash flow. Off course having an off-take partner has advantages, so perhaps it can be a reduced stake at say 10-15% rather than 25-30%. This is purely my speculation for now, but certainly shows the strength of Galaxy's position.
Baillieu came out with an analysts report on Galaxy with a value of AUD 0.74, or a 1 year target of AUD 0.65. This is consistent with my targets, and again shows Galaxy is very undervalued right now trading at a mere AUD 0.31.
You can view the August 30, company presentation here.
I still rate Galaxy as the number 1 lithium pure play miner, currently very undervalued, as my DCF (NPV 10%) analysis values the stock at AUD 0.92. This assumes Galaxy will succeed with all 3 of their lithium projects, and I have not discounted the SDV project.
Upcoming catalysts include:
Late 2016 or early 2017 - Earnings announcements from Mt Cattlin. Won't be great due to delayed ramp.
Q4 2016 - Pricing for 2017 Mt Cattlin off-take to be finalized, with a likely increase in volumes contracted.
H2 2016 - Commencing project financing evaluation and discussions for Sal de Vida.
H2 2016 - Work on DFS for James Bay. Results may not be until 2017.
2017 - Mt Cattlin production ramp up to 160k tpa. This will very significantly increase earnings. Also Galaxy has AUD 214m in unused tax losses, so unlikely to pay any income tax for a few years.
Altura Mining (ASX:AJM) (OTC:ALTAF)
Altura announced on September 7, "that Mining Leases M45/1230 and M45/1231 have recently been granted by the Department of Mines and Petroleum for Altura's 100% owned Pilgangoora Lithium Project."
Altura announced their DFS on September 26. Key highlights were:
"Confirmation that Altura's Pilgangoora Lithium project is a significant mining opportunity delivering substantial long term sustainable stakeholder value.
Excellent Pre-tax NPV of A$411 million and IRR of 58%(real).
Strong outcomes based on average annual ore feed of 1.54Mtpa, average annual production of 219ktpa of spodumene concentrate at 6% Li2O.
Project EBITDA of A$1.06 billion (real) with Project Payback of 1.8 years.
LOM Revenue of A$2.07 billion (real).
LOM Strip Ratio of 2.9:1 (waste to ore).
LOM Cash Operating Cost of A$315.90 FOB (real).
Capex of A$139.7 million (including sustaining capital and pre-development capital)."
The above is fairly much in line with expectations, showing the company has outstanding prospects, and is very undervalued by the market at this time.
Upcoming catalysts include:
Q4 2016 - Construction of the mine planned to start.
Q3 2017 - Production is forecast to commence.
Pilbara Minerals (ASX:PLS)
In late August Pilbara announced that it has signed a "Pilgangoora cooperation agreement with Altura Mining." The agreement "offers numerous opportunities to unlock logistical, operational and strategic synergies with the potential to deliver benefits to both companies."
Pilbara have had discussions with Lithium Australia to use their technology at a proposed Western Australia downstream processing plant near Port Headland. But more likely it seems their discussions with their off take partner General Lithium regarding a processing plant JV in Malaysia. They have a 140ktpa binding off take for 6 years (+4 year extension option) with the Chinese company General Lithium already. This assumes they first clear the "right of first refusal" disagreement with Mineral resources.
Pilbara Minerals announced their DFS on September 20. Key statements were:
"Outstanding project economics, Post-tax NPV 10% of A$709M (March 2016 PFS: A$407M) with robust margins, rapid payback (2.7 yrs) and strong IRR (38.1%).
Average annual production of approximately 314 ktpa of 6% spodumene concentrate (44ktpa LCE) and 321,000 lbs pa of tantalite.
Globally competitive cash operating costs of US$196/tonne CFR for first 15 years and LOM cash operating costs of US$207/tonne CFR reflecting Pilgangoora's scale, location,grade and product quality.
Forecast life-of-mine project revenue of A$9.23 billion and project EBITDA of A$4.22 billion over an estimated 36-year mine life.
Modest capital cost increase to A$214M (March 16 PFS: A$184M) arising from upfront investment to facilitate future substantial project growth and support improved lithium and tantalum recoveries.
Project on track for construction in 4th quarter CY2016 and commissioning from late 2017."
It was a strong report, noting low productions costs and long mine life, and still relatively small start up CapEx. Construction commencing in the 4th quarter 2016 sounds a bit optimistic to me, given several steps still needed including project financing, but we will see.
Upcoming catalysts include:
H2 2016 - Permitting approvals, native title agreement, grant of mine lease, and perhaps project financing announcements.
Late 2016, early 2017 - Mine construction commencement.
Late 2017 - Commence production.
Nemaska Lithium (TSX:NMX) (OTCQX:NMKEF)
Nemaska Lithium announced that they had "discovered a new mineralized zone at Whabouchi." The company is aiming to "potentially convert the 4.69 Mt of inferred resources, inside the pit design, to indicated resources."
Critical Elements (TSXV:CRE) (OTCQX:CRECF)
Critical Elements announced they have acquired 19.9% of Natan Resources Ltd "for investment purposes", and that the above "had begun phase 1 of exploration program on the Duval lithium project in the Nemaska Lithium Whabouchi area."
They also announced that drilling has commenced at their Lemare lithium project, with their partner Platypus Minerals Ltd (ASX:PLP).
Upcoming catalysts include:
H2 2016 - Feasibility Study (FS). Helm AG have agreed (subject to a positive FS) to take 100% off-take and with an option to take a 25% equity stake in Critical Elements.
2019 - Production is expected to begin.
Lithium Americas (TSX:LAC) (OTCQX:LACDF)
Last month SQM announced "production capacity at Cauchari-Olaroz could reach 50,000 metric ton per year instead of 40,000."
Cormack recently came out with a 1 year price target of CAD 1.70, whilst Dundee maintained there CAD 1.90 target. The later is about a 100% gain from the current stock price. You can read more here with an excellent article by Seeking Alpha author Paul Ensor.
Lithium Americas Cauchari-Olaroz project is really moving fast. For example the company quotes, "construction on a work camp, project roads and drilling platforms has commenced, and long lead items such as earth moving trials and pond liner tests are scheduled."
Interesting that this is occurring before the Feasibility Study is complete.
Upcoming catalysts include:
By end 2016 - FS for Cauchari-Olaroz
By end 2016 - PFS for Lithium Nevada
1H 2017 - Construction at Cauchari-Olarozis is expected to begin. The first stage will be 25,000 tons per year commencing 2019 and then ramp up to 50,000 tons per year by 2021 (50% LAC share).
NB: LAC previously sold 50% of the Cauchari-Olaroz project 50% with to SQM.
Lithium X (TSXV:LIX) (ROCEF) (OTCQB:LIXXF)
On the 30th of August, Lithium X updated the resource estimate at Sal de Los Angeles reporting the following.
"NI 43-101 Mineral Resource Estimate of 194,860 tonnes of lithium (1,037,000 tonnes of lithium carbonate equivalent) of Indicated, and 189,130 tonnes of lithium (1,007,000 tonnes of lithium carbonate equivalent) in Inferred category.
Significant potash by-product resource of 2,143,491 tonnes of potassium (4,088,000 tonnes of potassium chloride) Indicated, and 2,068,161 tonnes of potassium (3,948,000 tonnes potassium chloride) Inferred.
High average grade of Indicated resource of 501 milligrams per litre (mg/L) lithium and 5,512 mg/L potassium
Low average magnesium to lithium ratio of 3.8
Feasibility Study underway.
NB: Indicated lithium was at an average grade of 501 milligrams per litre ("mg/l"). "
Upcoming catalysts include:
2H 2016 - updated economics, and commence construction of a pilot pond facility at Sal de Los Angeles.
2H 2016 - Drill results at Clayton Valley.
Bacanora Minerals (TSXV:BCN) (OTC:BCRMF)
Bacanora is currently upgrading its pilot plant, which it will use for samples for potential off-take partners in Asia.
Neo Lithium (TSXV:NLC)
Neo Lithium is a new entrant having listed on July 20, 2016. They state that they discovered "a high grade and low impurity salar and brine reservoir complex in Argentina, at their 100% owned Tres Quebradas (the "3Q Project") lithium project."
In September they announced that they have successfully achieved their "environmental permit approval". Also that they have
"already commenced Governmental approval permits full drilling program, permanent camp construction, laboratories and pilot pond construction and operation significant work and mobilization efforts."
Neo Lithium certainly is moving fast.
POSCO (NYSE:PKX)
The Korean steel maker, plans to produce 40ktpa of LCE by end 2017, and 135ktpa of LCE by 2020. Sounds optimistic to me.
They plan to utilize a lithium supply contract with Lithea Inc. of Argentina, the company owning the mining rights of Pozuelos Salt Lake in Argentina, securing the stable permissions to access the lake.
They also have reported a lithium extraction technology that can extract lithium from Brine in just 8 hours using reverse osmosis, to 90% Li recovery. You can read more here "lithium extraction techniques".
Pure Energy Minerals Limited (TSXV:PE) (OTCQB:PEMIF)
Pure Energy is well know after having secured an agreement to supply Tesla (NASDAQ:TSLA) with lithium. They have 9,300 acres next to Albermarle in the Clayton Valley.
Currently they are at the drilling stage. Pure Energy announced in September "that the initial brine analyses from its latest exploration borehole at the Clayton Valley South ("CVS") lithium brine project are very positive", and "the lithium content over this 320 m (1,050 feet) interval ranged from 150 to 200 mg/L, averaging approximately 175 mg/L."
European Metals Holdings (ASX:EMH)
European Metals own the Cinovec Lithium/Tin Project in the Czech Republic. They are at the scoping study and PFS stages.
In September they gave an update on their drill results, and released a reviewed scoping study with several positives such as "reduced CapEx (reduced 33% to USD 169m), improved design and operating procedures based on independent studies and market benchmarks to be included in improved pre-feasibility study."
Tianqi Lithium (SHE:002466)
Industrial Minerals reported, "China's Tianqi Lithium Corp. (51% owner of Greenbushes in WA) has been given the go ahead to a 24,000 tpa lithium hydroxide facility in Kwinana, Western Australia, with a CapEx of $400m." Additionally Tianqi, "intends to increase concentrate production levels at the Greenbushes, in conjunction with JV partner Albemarle. The site is slated to produce 23,950 tpa lithium hydroxide in its first stage."
Seeking Alpha reported this month that, "China's Tianqi Lithium, the country's largest lithium producer, says it plans to bid for a 23% stake in Chilean rival Sociedad Quimica y Minera." Tianqi are certainly on the move to secure lithium supply, as I believe they can see the huge lithium demand wave coming. This may also set the scene for majors buying into or buying out the more junior lithium miners. Time will tell.
Jiangxi Ganfeng Lithium (SHE:002460)
Ganfeng Lithium are China's second largest lithium company with a focus on conversion, but also have interests across the entire lithium battery supply line. Gangeng exports and produces over 20 unique lithium products. They hold a 43.1% share of the Western Australian Mt Marion lithium spodumene mine (partners being Mineral Resources and Neometals). They also own 80% of the Mariana lithium-potash brine project in Argentina with International Lithium (TSXV:ILC) owning 20%, as well as Avalonia Ireland (55% GFL: 45% ILC).
Back in July Gangfeng announced they will take 100% of off-take from the Mount Marrion Mine in Western Australia.
Global X Lithium ETF (NYSEARCA:LIT)
The LIT index moved down 1.61% for the past month, and current trades on a PE of 22.91.
Conclusion
In summary, the key industries that require lithium are all doing well with EV growth rates around 53% pa globally, energy storage is just starting to take off, consumer electronics is growing solidly, while ceramics and glass still grows steadily.
Lithium spot prices have fallen from their 25,000/tonne highs, which was to be expected. Lithium demand and pricing are still very strong, and production continues to struggle to expand as seen recently with the delayed ramp up by Galaxy Resources. Expansion by the big three (Albermarle, SQM, and FMC) has been minimal but Albermarle has stated it plans to capture 50% of the future lithium growth. A very optimistic plan.
With some concerns of future oversupply given the hype in the lithium sector, most serious lithium miners have been securing off-take agreements or even wiser off take partners, to ensure they will always have a steady buyer. Added to this is the need to minimize cost of production and lithium processing times.
This concludes my monthly update.
As usual all comments are welcome, and if you have some lithium miner news from September that I have not covered feel free to add it in with the link in the comments section.
Disclosure: I am/we are long ALBERMARLE (ALB), OROCOBRE (ASX:ORE), GALAXY RESOURCES (ASX:GXY), PILBARA MINERALS (ASX:PLS), LITHIUM AMERICAS (TSX:LAC), LITHIUM X (TSXV:LIX), NEMASKA LITHIUM (TSX:NMX), ALTURA MINING (ASX:AJM), CRITICAL ELEMENTS (TSXV:CRE).
I wrote this article myself, and it expresses my own opinions. I am not receiving compensation for it (other than from Seeking Alpha). I have no business relationship with any company whose stock is mentioned in this article.
Additional disclosure: The information in this article is general in nature and should not be relied upon as personal financial advice.
Editor's Note: This article covers one or more stocks trading at less than $1 per share and/or with less than a $100 million market cap. Please be aware of the risks associated with these stocks.