It's likely to be a busy day for financial markets with plenty of economic data, speeches from central bankers and the outcome of the informal OPEC meeting all to come throughout the session.
Oil prices have been particularly volatile as of late as traders have sought to pick apart comments from OPEC members and other large oil producers and determine whether a deal on an output freeze is any more likely than it's been in the past. Producers have made every effort to talk up a deal in recent weeks and at times markets have taken the bait, but it looks as though once again they're going to fall short.
As always, it seems that a lack of cooperation between Saudi Arabia and Iran is going to be responsible for any deal collapsing at the early stages, with tensions between the two remaining as high as ever. While I do think some progress has been made lately making a deal in the future more likely, the gap between them still appears to be quite significant. Until Iran is pumping at pre-sanction levels, or even at a slightly higher target, I think a deal will be difficult to come by. They may not entirely concede defeat today though, insisting that all members are willing to work together but a freeze or cut seems very unlikely.
We'll hear from a large number of central bankers throughout the day which should ensure markets remain on edge. The most notable speeches will come from Mario Draghi, ECB President, and Janet Yellen, Federal Reserve Chair, both of whom are due to speak this afternoon. While neither are scheduled to speak directly on monetary policy, these events can often find their way onto the topic, and markets as always are very sensitive to what they have to say. Especially when the Fed is expected to raise interest rates in the coming months and the ECB ease monetary policy further.
Aside from Yellen, we'll also get comments from a number of other Fed officials including James Bullard, Loretta Mester and Esther George - all voting members of the FOMC - as well as Charles Evans and Neel Kashkari. While it seems the Fed rarely sends clear messages these days, given the number of officials speaking today, combined with comments from Vice Chair Stanley Fischer and John Williams yesterday, we could have a much better idea on what the central bank is currently thinking by the end of the day.
There's also plenty of economic data to come throughout the session including durable goods orders from the US and EIA crude oil inventories, which come after API reported another drawdown in stocks last week.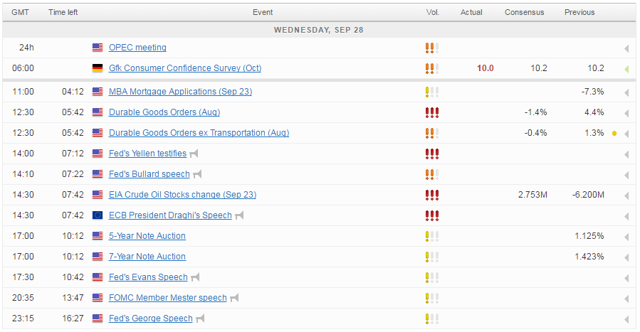 Click to enlarge
For a look at all of today's economic events, check out our economic calendar.