I believe the most important analysis in markets is to identify trends and trend reversals, This is how you make big money over the medium to long term, but can take some patience short term.
I have been very successful, because I listen to main stream noise for consensus, but do my own analysis. A learning experience was a big benefactor too. I was not very good at this until mid 1990s after 20 years of learning.
I found it very easy to pick the tech bubble top, because of the four driving factors all ending at once although we bailed a bit early in late 1999. And same thing with the real estate bubble of 2007, it was very easy to see. I did not expect the market to go as low as it did in 2008, but again was easy to pick that bottom and ride it up.
During the 2008/09 crash, Nobody would believe me when I said stocks markets were going to rally strong, along with Gold and Oil..
It was easy to pick the top in precious metals in 2011 and in just one newsletter I suggested selling 26 precious metal stocks. but I did not expect the correction or bear market to be so severe.
However I sat on the sidelines for about 3 years, starting in 2013, after we got hit in the head a couple times and thanks to using stop/losses saved a bundle. I became vigilant on stop losses after 2008. I suggested to all the junior exploration companies I knew back then - do nothing but sit on your hands and save the treasury.
I sold most of our Oil stocks when Oil broke $90 a couple years ago and as usual did not expect it to go so low, but we started loading up again in late 2015, and early 2016, such as Pembina here. Again seeing the bottom was easy.
This last bear market in Gold stocks was the most brutal I can remember, including when Gold crashed from over $800 in 1980 and the BreX scandal in the 1990s.
It was a real test of patience to pick the bottom and reversal but in late 2015, I began to see numerous signs that a final bottom was likely and most important was several tests of 105 area on the HUI and a basing pattern. Gold and the stocks were at extreme over sold conditions and I expected the December Interest rate increase was coming but was already priced in. In this case sell the rumor, buy the news. Short positions were at extremes and I pointed out in 7 of the last 8 years we seen a rally starting in December/January.
I expected 2015/16 would be no different but the question was, a relief rally or new bull market that I was looking for? As price actions met my criteria I outlined - I was among the first to declare a new Gold Stock Bull market in early February.
On Playstocks Market Trends outlined is market trends there with slides that identify reversals in Oil, the Gold Bugs HUI Index and ongoing now the S&P 500.
I do not predict prices, nobody can do that and when the do it is usually luck or never at the predicted time. It does not matter as long as you know the longer term trend and have identified the reversals. Instead I uses prices to confirm or deny my expected trends and reversals.
The market will always tell you, one only has to learn the ability of what to watch for.
Currently I believe we are in a new uptrend in precious metals. Oil has bottomed but has not yet begun a new uptrend. The major market indexes (S&P 500) and bonds are topping and about to reverse.
We almost had the reversal in the S&P 500 in 2015, but a double bottom held before we got into bear status and before we hit the point I believed the FED would act with some kind of QE or market relief.
Finding this top and reversal in the S&P is as much a test of patience and torture as was the bottom in the Gold stocks. An associate analyst of mine likes to call the major indexes inching higher 'the pain trade'.
And it certainly is for all the short traders or those sitting on cash levels with no yield.
It is like a big tug of war. On one side (down) we have the US economy plunging and most Fortune 500 companies failing to expand while balance sheets are eroding and earnings dropping. The best they could due was borrow money at cheap rates to buy back their stock, but that is faltering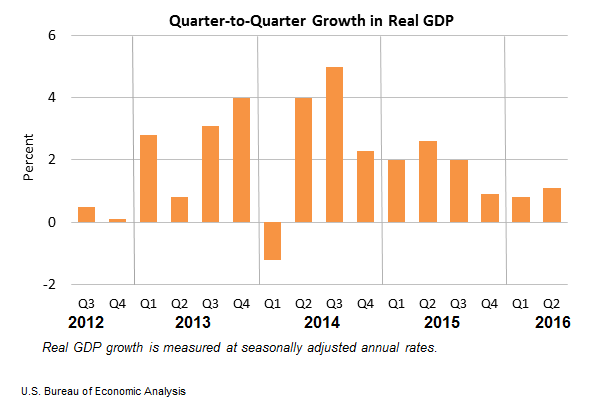 On the other side (up) we have the FED and Government intervening in all markets, pumping out propaganda and flooding markets with cheap money and in fact many cases handing out penalties to the banks to hold cash.
Down side
US GDP very weak and the overly optimistic Q3 estimate keeps getting down graded. No productivity growth for years.
Retails sales dropped 0.3% in August vs. the expectation of no change. This is the 4th month in a row retail sales have dropped on monthly sequential basis. Retail sales have declined 6 out of 8 months this year.
Business investment is in free fall at -9.7% in Q2
PMI has been falling steadily since 2015 and signaled contraction last month below 50
Margin debt while down a bit from it's record 2015 level is still well above the 2000 and 2007 Bull market peaks.
S&P earnings have seen 5 qtrs of decline in a row, matching the 2008/09 record and a new record will be set in Q3 with -2%. the current optimistic projection on the horizon.
The current S&P P/E ratio at 24.73 is lofty by any measure
The current bull market is the 2nd longest in history only outdone by 1987 to 2000 that seen the majority of the tech innovation causing strong productivity growth.
The pace of job growth has slowed and would be much worse without the birth death rate model padding. Since April - 865,000 jobs have been reported as created
and 767,000 of them with the birth death rate model
Do you honestly believe the U.S. Is creating all this new business and employment considering the economic data?
Aug 16 (Reuters) - The value of stock buyback announcements from U.S. companies slowed to its lowest level in four years, TrimTabs Investment Research said and Aug 30 - The great stock buyback boom may be on the wane, undermined by falling company earnings. U.S. company stock buybacks are down 21 percent in the first seven months of 2016 compared to the same period a year earlier
Up side
$13.5 trillion debt world wide with negative rates - so money seeking return in stocks
China, Japan and Europe with current QE programs, adding fuel to above.
Stock buybacks are a positive to push stock markets higher, but that source of momentum has reversed.
Every other positive boils down to wishful thinking about projections that are mentioned on the down side above that will change or reverse.
And the prima donna of that is the Interest rate hike story in the U.S. Apparently because the economy is strong.
Fed and Government intervention can be a up or a down depending on what market and when. I hear so many analysts argue one way or another if the Fed is intervening in Gold, Bonds, Stocks, Currencies or Oil. Government intervention has taken place in one form or another as long as I have been investing. You need to accept it and start predicting and using it in analysis. This is why I show, for example when the S&P was falling, where I expected major FED/Government intervention to occur.
They will take actions to try and move money out of one market and into another. Either with jaw boning, under the radar with direct buying or selling or actually announcing interventions (QE), rule changes like margin requirements. Remember 2008 when they banned short sales on financial stocks.
The Fed and US Government have only one real mandate and that is to promote the strength of the US, economy, US$, stocks and bonds, because without that they could not afford to operate under their huge deficit and debt burden.
If you understand that, it is much easier to predict their actions.
They are becoming so predictable that I have had a lot of success predicting interventions down to the day and price in many instances.
It only takes a loss of confidence and a market can plunge over night.
Now after that, where are we now.
Playstocks chart of the day September 7th shows numerous signals that the market was about to break out of it's trading range and I expected the down side because of what I mentioned above and what the chart was telling me.
Everything I know, fundamentals, history, comparisons tells me this market should correct further but they also told me the market should not be this high.
This next chart is a bit dated but I am only concerned with the support levels that I am watching I will watch key levels I see as important and the market will tell me. This 2100 - 2125 area is very important support because it took a long time and was very difficult for the market to get through it.
I show the 100 and 200 day MA, because in this long term uptrend the 100 day MA has been very supportive when the market continues higher.
The Relative Strength is at and seen a level where past rallies occurred.
What I am saying - is a drop below 2100 would be very negative and mean a test down to 2000 to 2025 is a given. If that gives it could be ugly. We would then be below the 200 day MA and depending how the chart evolves it would probably be signaling further weakness.
This is not a time to be long stocks. With the November election uncertainty, the best bullish case would be a move back to 2190. a mere + 2.5% from recent lows. The downside risk is a minimum -5.5%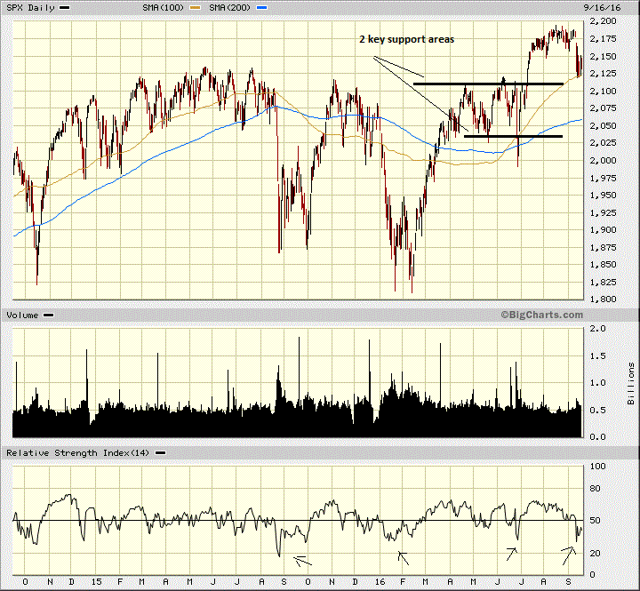 Click to enlarge
Disclosure: I/we have no positions in any stocks mentioned, and no plans to initiate any positions within the next 72 hours.
I wrote this article myself, and it expresses my own opinions. I am not receiving compensation for it. I have no business relationship with any company whose stock is mentioned in this article.