In our first article of the Pink Portfolio series, I laid out the purpose and rules of the Pink Portfolio. I summarize here.
My wife and I are the proud parents of a wonderful two-year-old girl. When you have children, the ideal moment to start investing is from birth. But, as is the case with many middle-class families, we don't have a lump sum of thousands of dollars to invest for the apple of our eye.
We decided to put aside about $150 a month for her that we can use to create a portfolio. About every month, I buy a stock and I update the state of the portfolio here on SA. I chose to call it the Pink Portfolio because that is her favorite color.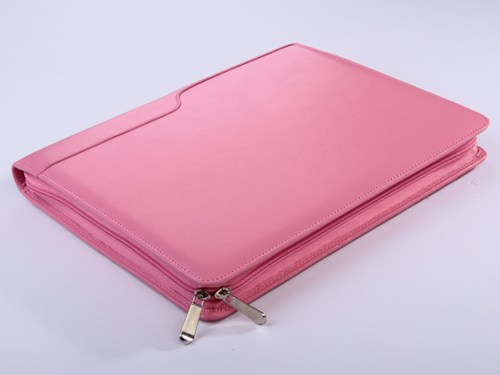 (Source: artfire.com)
For special occasions, she gets sometimes more than $150. This was the case in June, as it was her second birthday. I added Disney (NYSE:DIS) to her portfolio and wrote an article about her anniversary stock. In July, I didn't buy anything, but I bought Apple (NASDAQ:AAPL) shares in August.
For the stocks I buy for the Pink Portfolio, I try to look for something personal, something our daughter can relate to, even if she is only 2 years old. This is the case for the next purchase as well. My wife and I are real coffee addicts. For some reason, our daughter sometimes prefers the letter t in some words, above more commonly accepted pronunciations.
In the Disney article you could already read she pronounced Mickey Mouse as Mickey Touse. In a similar way, she calls coffee "toffee." We love coffee so much that we have this fancy built-in coffee machine at home.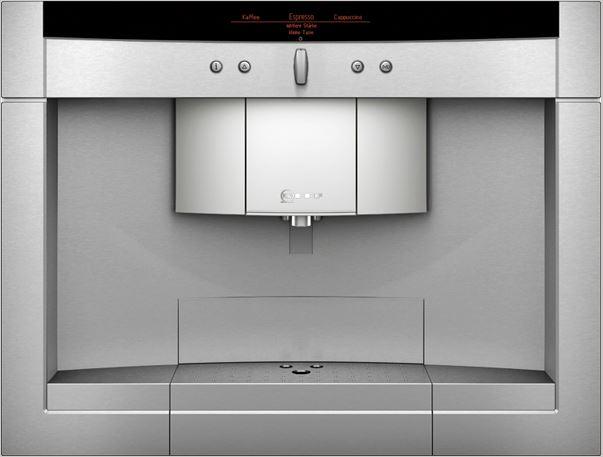 One of our daughter's favorite moments is when she is allowed to push the button to make her parents a nice cup of 'toffee'. As real coffee aficionados, we often change coffee beans, so our taste buds get new sensations every other week. One of the brands of coffee beans we regularly buy is Starbucks (NASDAQ:SBUX).
If we are in the city, we often visit a Starbucks establishment to get our fix. So there are several reasons to consider Starbucks as the next stock in the Pink Portfolio. Let's see if it lives up to the rules of the portfolio.
1. Less than $150 per share
The first rule is very simple: The stock should be under $150 per share because we want to buy every month. I already mentioned in the comment section of the first article that I use a discount broker, which means that I only have to pay $0.58 for every transaction. With a share price for Starbucks of about $54, there is no doubt about this criterion: PASS.
2. Safety

The companies I invest in for our girl must be safe. For the credit rating, I want A- or higher (except for some special situations). Starbucks' S&P credit rating is A-, which is good enough.
I also like to consider debt, because too much debt can be dangerous for the future.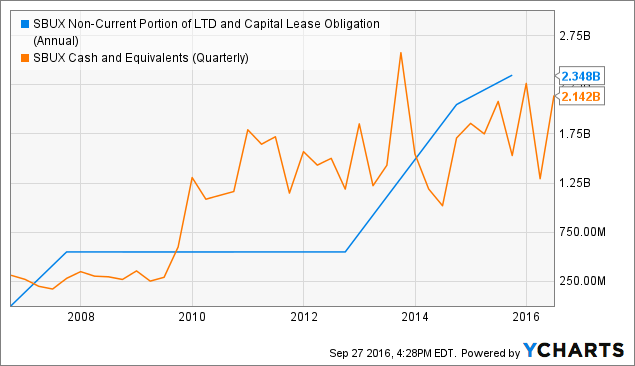 SBUX Non-Current Portion of LTD and Capital Lease Obligation (Annual) data by YCharts
While Starbucks' debt has gone up quite a bit (there is also $400M in current portion of LTD) in the last decade, so has its cash and equivalents. If you compare Starbucks' debt to equity to its competitors, you see that it has the lowest D/E ratio. This is something we like for our investments.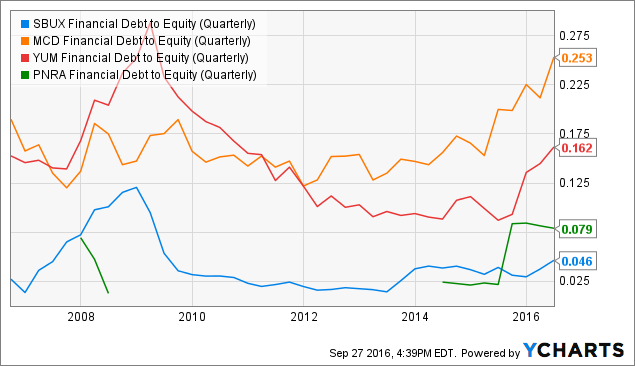 SBUX Financial Debt to Equity (Quarterly) data by YCharts
The risk assessment tool of the Nasdaq website shows that Starbucks is safe. I added some stocks for perspective:
The high P/E ratio FANG stocks.
Apple, Nike (NYSE:NKE) and Disney, the other holdings of the Pink Portfolio.
Microsoft (NASDAQ:MSFT) and Johnson & Johnson (NYSE:JNJ), because these are the only two companies that have an AAA credit rating.
For the Pink Portfolio, I want a risk number under 200, preferably under 150 and that is not a problem for Starbucks, with only 105. It has less risk than the other holdings of the Pink Portfolio, except for Disney. This is excellent.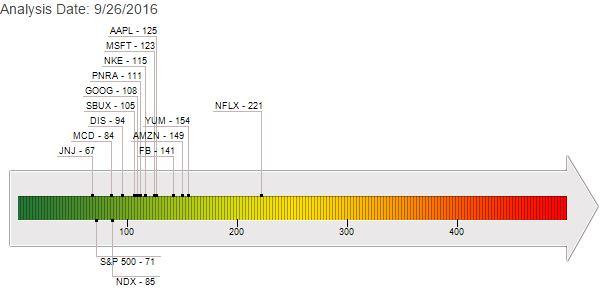 (Source: Nasdaq.com)
The credit rating, the good cash/debt balance and the Nasdaq risk tool all point in the same direction: Starbucks is a safe investment. PASS.
3. Valuation: Fairly or undervalued
I want stocks in the Pink Portfolio that are undervalued or fairly priced, with a maximum premium of 10% for high quality stocks. I will look at different opinions about the stock value of Starbucks.
Simply Wall Street provides an intrinsic value based on future cash flows. The conclusion is that Starbucks' fair stock price is $43.36, while its current price is $54. That is an overvaluation of almost 25%.

Click to enlarge
Of course, this is just one method. As most readers know, valuation can differ a lot, depending on the method that is used.
Morningstar has a four stars rating on Starbucks. This means that the analysts of Morningstar consider the stock attractively valued.
According to this F.A.S.T. Graph, Starbucks has a current P/E of 28 and a 10-year average P/E of 27.5. So this means that Starbucks is about back to its normal P/E after going to a P/E of 39 about a year ago.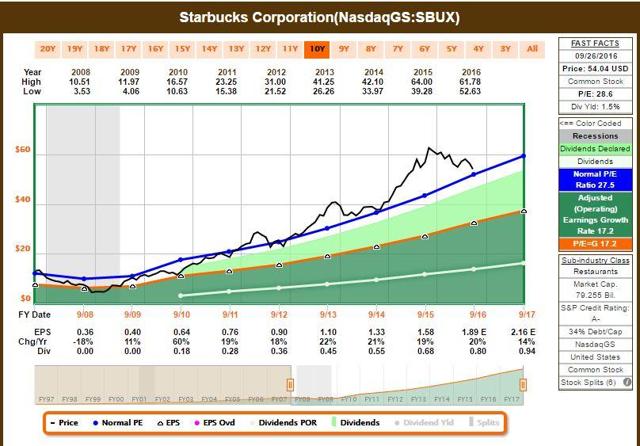 Click to enlarge
The dividend yield at a price of $54 is 1.48%. As you can see on this chart of yieldchart.com, Starbucks' 5-year average yield is 1.41%, which is a bit lower than the present yield. 1.41% would represent a stock value of $56.74.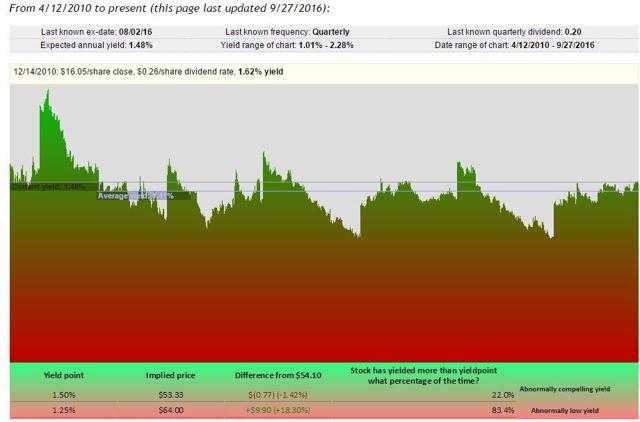 Click to enlarge
Only 22% of the time in the last 5 years, Starbucks' dividend yield was higher than it is at present. Interesting...
According to finviz.com, the average target price of the analysts is 66.63, which would mean that SBUX has an upside of about 23%.
Now let's summarize that in a neat table:
| | |
| --- | --- |
| Method of calculation of fair value | fair value |
| Future cash flows (Simply Wall Street) | $43.36 |
| FAST graphs | $54 |
| 5-year average dividend | $56 |
| Average analysts' price | $66.63 |
| Average price target | $55 |
So the average of the used models to valuate SBUX indicates that SBUX is fairly valued at this moment. This indicates that Starbucks gets a PASS on valuation.
4. Future return: Value or growth quality
I want either a good dividend or high growth or a mix of both for the Pink Portfolio.
Starbucks' stock may be one of those few companies that combines both growth and value. Let's look at my Pink Portfolio rules for both value stocks and growth stocks.
The first question we want to investigate is if Starbucks is a good value stock.
Starbucks' dividend rate is $0.80, which means a yield of 1.48% with a price of $54. For dividend investors, this doesn't seem to be very much, but if you look at the dividend growth, you see that the quite low yield is because the stock price goes up together with the dividend. Both the 3-year and the 5-year dividend growth rate are impressive: 23.5% and 36.4%.
Now that is what I like for a dividend. The fact that Starbucks' yield is still only about 1.5% just means that the valuation went hand in hand with the dividend. This is neatly illustrated by this graph, which, by the way could also indicate that Starbucks might be undervalued.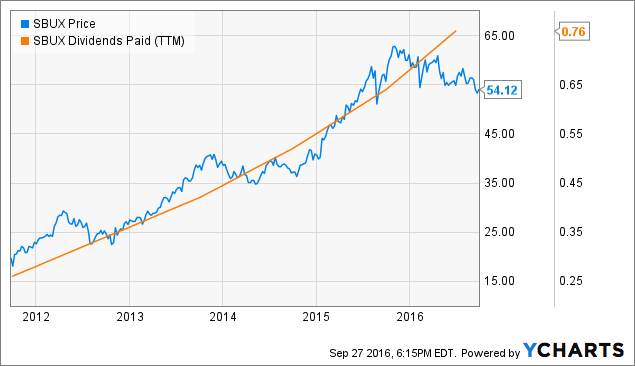 The Chowder Rule says that if a stock has a dividend yield of less than 3%, its five-year dividend growth rate plus its dividend yield must be 15 or higher. Starbucks has a 36.4% dividend growth for the last five years. If you add up the 1.5% dividend and the expected big dividend growth in the years to come, then you see a clear PASS for SBUX as a value stock.
Is Starbucks still a growth stock too?
Being a growth stock means you grow considerably faster than an average stock. But it is always difficult to evaluate a growth stock. I like to use the criteria of Better Investing, the magazine of the NAIC (National Association of Investors Corporation), which is the umbrella organization of more than 13,000 investment clubs. The NAIC has given its members guidelines to evaluate growth companies. We consider some of the most interesting questions for Nike.
1. Is there a strong historical earnings growth?
The NAIC wants the annual revenues to go up. What they (and I) want to see is a minimum of 5% growth per year for at least five years.
This is the evolution of Starbucks' revenue growth: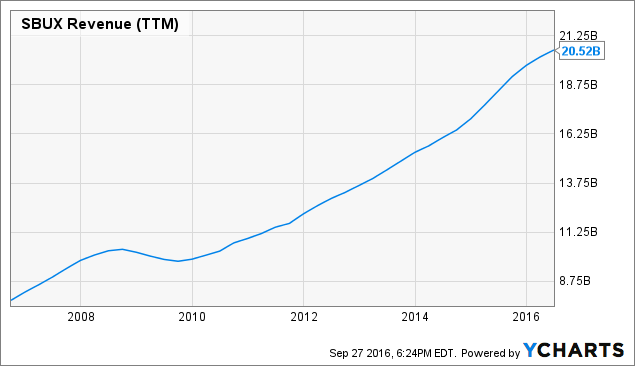 SBUX Revenue (TTM) data by YCharts
As you can see, there is not a shred of doubt: The revenue growth is above 5%. The revenue has almost doubled in the last five years. With the small exception of one year in the Great Recession, every year the revenue went up considerably more than 5%, so PASS.
2. Is there a strong forward earnings growth?
NAIC would like to see a projected five-year growth rate of 10 to 12%. Finviz.com estimates Starbucks' five-year growth rate to be almost 20%, which is great for a company that is already this big. This graph also shows the earnings are expected to continue their EPS in the same way as before. Without a doubt, PASS.

Click to enlarge
(Source: SimplyWall St.)
3. Is the pre-tax growth high enough?
It is good if revenue grows, but if you burn money by excessive costs, your company has no future. Therefore, you should look at the pre-tax profit too.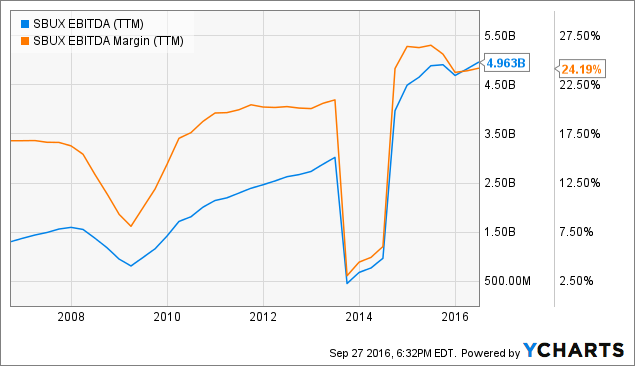 SBUX EBITDA (TTM) data by YCharts
For a company with such a big market cap (almost $80 B) these results look good. With the exception of 2009 (the Great Recession) and 2014 (which had to do with the Kraft break-up), the EBITDA has always grown and the EBITDA margin was always in the double digits in the last ten years, with the exception of the aforementioned years. In the last six years alone, EBITDA doubled from $2.5B to $4.96B.
So these impressive data clearly indicate a PASS.
4. Can the stock price double in five years' time?
This sounds ambitious, but it means a growth of 15% per year. Of course, the stock market is unpredictable. But the question is not if the stock will double but if it has the ability to double. The best ratio to use here is EPS. If those go up and the valuation stays the same, then you get what you want.
Think of the famous quote of Benjamin Graham: "In the short term the stock market is a voting machine, in the long term a weighing machine." He meant that stock prices tend to follow earnings in the long run. The estimated EPS growth for Starbucks for the next five years is 19%. This would be more than enough for a pass, but we will have a look at the earnings surprise history of every quarter since 2011.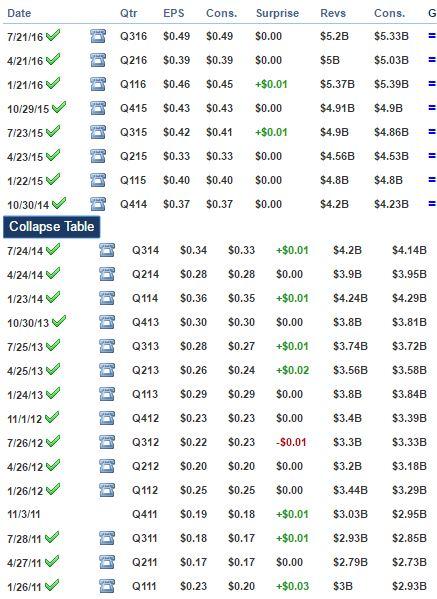 Source: Streetinsider.com
As you can see, Starbucks is a solid performer, which acts along the lines of the expectations. I think Starbucks really has the ability to easily double in five years' time, so it gets a PASS.
Takeaway
Starbucks passes all criteria for the Pink Portfolio and it is a growth stock and a value stock at the same time. Therefore, I have bought some shares for our little girl. I imagine her when she is in her teens bragging about the fact that she owns a little part of the place she sips salted caramel mocha frappuccinos with her friends.
Even with a small amount of money, you can build a portfolio, especially with a long-term horizon. For our little girl, I am building the Pink Portfolio. Over time, $150 will keep coming every month and the Pink Portfolio will keep growing. Time will be its biggest friend.
This is how the Pink Portfolio looks like now:

Click to enlarge
If you want to see how the Pink Portfolio keeps growing, please push the "Follow" button.
Keep growing!
Disclosure: I am/we are long SBUX, AAPL, NKE, DIS.
I wrote this article myself, and it expresses my own opinions. I am not receiving compensation for it (other than from Seeking Alpha). I have no business relationship with any company whose stock is mentioned in this article.