Marathon Petroleum (NYSE:MPC) seems to grab a lot of headlines ever since the split from Marathon Oil (NYSE:MRO). The refining business had large margins and was making a lot of money while oil prices fell. The cyclical peak appears to have passed and now the stock has entered bargain territory. Recently, the company made more headlines as some activist investors purchased stakes in the company. But often in a down cycle, the company stock simply becomes cheaper. Cyclical companies are often seen as cheap when they begin to drop from their cyclical highs even though the down part of the cycle has further to run. So maybe it is time to look at the other side of this company split to see if there is more value there.
Marathon Oil has had tough luck ever since the split. This company has run some big losses since the split. Oil and gas prices have gone in the wrong direction, and costs were out of line. Management has had to decisively cut costs and changed strategies to brighten the future of the company. One such decisive move was the decision to increase the exposure in Oklahoma. These properties appear to have superior profit potential while minimizing the water disposal problems (that cause earthquakes) plaguing the rest of the state.
Source: Marathon Oil Barclays CEO Energy-Power Conference Presentation on September 7, 2016
Part of cost cutting is switching the drilling to lower cost projects. So management sold some higher cost leases and raised over $1 billion. Plus earlier in the year, stock was sold to raise cash. This gave the company flexibility to purchase leases that would lower costs. This happened in addition to the management focus to lower costs significantly so the company could take advantage of the new lower commodity price environment. While the stock appears to have begun to respond to the changes that management has implemented, there may be a lot more appreciation in store for the stock.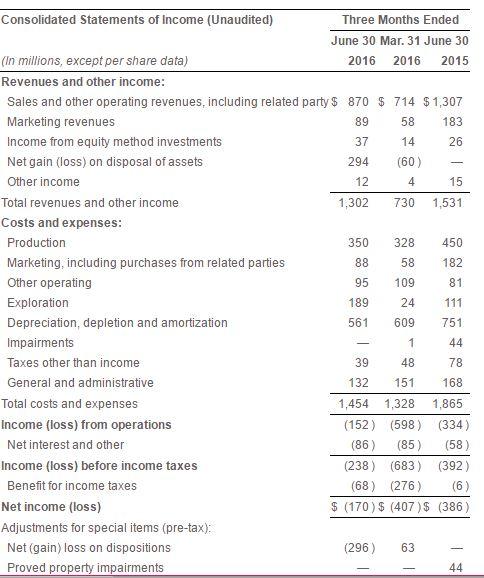 Source: Marathon Oil Second Quarter Earnings Press Release, August 3, 2016
Mr. Market is overwhelmingly known for focusing on reported earnings. The latest earnings carry far more weight than the earlier earnings. Plus the stock may not be "properly seasoned" as Marathon Oil has not been an independent company for a sufficient period of time to establish its own history. Those large reported losses do not help the stock price either. And there are a fair number of costs related to the property sales and purchases. General and administrative costs decrease once the sales and acquisition activity slows.
Plus all of the reported improvement in the latest quarter from the first quarter appears to come from property sales gains, a non-recurring event. That $294 million is not perceived as coming from operations. It is a number easily seen by the market.
Source: Marathon Oil Second Quarter Earnings Press Release, August 3, 2016
There is currently a disjoint in the market perception between reported earnings and the cost savings shown above. Falling oil and gas prices have hidden production improvements and lease realignments to brighten the future of the company. On the one hand, management presents the cost savings and realignment at the various conferences as shown above. But then the earnings do not improve as shown in the latest earnings release above these two slides.
Anytime, the market perceives an inconsistency between a presentation and quarterly results, there will be a limit to price appreciation. But management has indicated more rigs for the low cost Oklahoma leases and less rigs elsewhere. The earthquake problems in Oklahoma are primarily in another part of the state having to do with leases that proportionately generate far more water that needs to be disposed. Sooner or later, the production from Oklahoma will grow at the expense of other leases that are not providing the high returns promised by these leases. So even if costs do not show operating improvement (and they will show improvement), costs will be decreasing from the emphasis on developing leases with superior returns.
An investor with some faith in that strategy needs to realize that cash flow will have a very large upward trajectory quickly unless oil prices have a period of sustained lower pricing in the future. Most forecasts do not indicate that, although there is always the possibility of the unexpected in this industry.
Cash flow from operations in the second quarter was $290 million before taking into account other working capital accounts. Even after taking into effect the working capital account adjustment, cash flow was $178 million in the second quarter. A fair amount of this improvement was due to the increase in commodity prices from the first to the second quarter. However, operational improvements also played a part as cash flow at least tripled depending on the measurement used from first to the second quarter. Increasing cash flow often precedes significant stock price appreciation.
The company has considerable liquidity to improve cash flow from operations in the future. Lowering breakeven costs will help cash flow tremendously even without production growth. Management will also resume production growth as it becomes apparent that liquidity will not suffer and sufficient profits will begin to be reported.
Management is continuing to improve results and profitability. So there is a good chance that several of the slides above understate future profitability. Many managements that I have written about have stated they do not see the end of improvements in sight at this time. Now that view can change in a minute. But right now more material cost decreases will be reported either from well cost decreases or production improvements. While this will probably put a lid on oil price increases, the growing economy should put a brake on oil price decreases.
The emphasis on drilling in superior spots should increase profitability immensely in the near future. Spinoffs like this company often outperform market expectations. This company is in the ideal spot to do just that as the industry is finally beginning to recover from a very nasty commodity price fall. Traditional upswings usually provide an opportunity for above average returns. But the cost emphasis and the project repositioning of the company should aid (or add to those returns) without much help from commodity prices. Management is clearly positioning the company to be among the top tier of industry in low costs. Plus management is doing this very rapidly compared to many competitors in the industry.
As the stock gains a track record that should also lead to higher valuations. As discussed above, this stock is a relatively new issue. The company is also running losses. So there is ample opportunity to increase the stock price through a successful strategy execution without a lot of downside risk. Even though this stock has risen from its lows, there is far more appreciation left. This stock could easily triple over the next five years. But that is just the kind of opportunity that would attractive activist shareholders and takeover invitations. Then the appreciation would appear faster.
Disclaimer: I am not an investment advisor, and this article is not meant to be a recommendation of the purchase or sale of stock. Investors are advised to review all company documents, and press releases to see if the company fits their own investment qualifications.
Disclosure: I/we have no positions in any stocks mentioned, and no plans to initiate any positions within the next 72 hours.
I wrote this article myself, and it expresses my own opinions. I am not receiving compensation for it (other than from Seeking Alpha). I have no business relationship with any company whose stock is mentioned in this article.