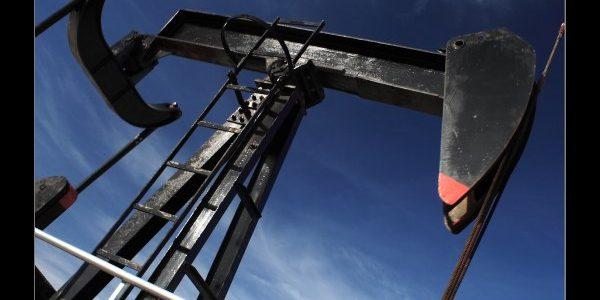 BTU Analytics spends a lot of time covering the Northeast gas markets, but in the middle of the country Oklahoma is seeing activity growth that could add over 2 Bcf/d of natural gas to the supply side by 2020. Producers are attempting to expand into less developed plays that provide not only favorable economics, but also future growth opportunities. The SCOOP and STACK plays of Oklahoma have seen a significant amount of attention in the last year and the reported well results show they can be competitive with plays such as the Permian, Bakken, and Eagle Ford. While oil production primarily drives the economics of the STACK and SCOOP, strong natural gas IP rates have allowed for the emerging Oklahoma plays to offset other regions of Oklahoma where gas production is declining.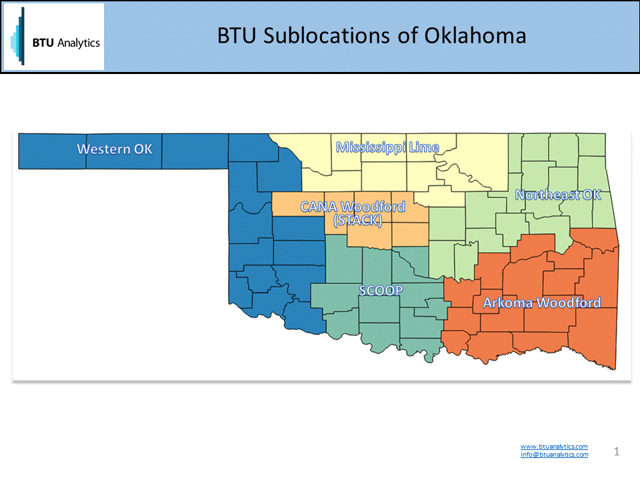 Click to enlarge
Activity in many regions of Oklahoma is not expected to maintain previous levels of growth and production, as producers find opportunities to allocate capital to regions of higher potential elsewhere. For example, in the Western OK (Granite Wash, Cleveland) and the Arkoma Woodford sub locations, producers have been scaling back, focusing efforts to more promising plays in their portfolio. In the CANA Woodford (STACK) and SCOOP, however, there has been significant investment and expansion from producers wanting to establish new "core" areas of operation. If activity continues at this pace, the SCOOP and STACK could not only offset declining production around the state, but increase Oklahoma's position as a prominent natural gas source in the US.
The chart below shows historical Oklahoma production and BTU Analytics' 5 year forecasts. Combined, the SCOOP and STACK have grown from an average of 1.4 Bcf/d in 2010 to 3.3 Bcf/d in 2016 YTD. Apart from a slight flattening of production in 2016, the STACK is projected to continue to see steady growth as producers move towards full field development in the play. The SCOOP is also poised to grow, as many producers are increasing the drilling activity and incremental capital into the area.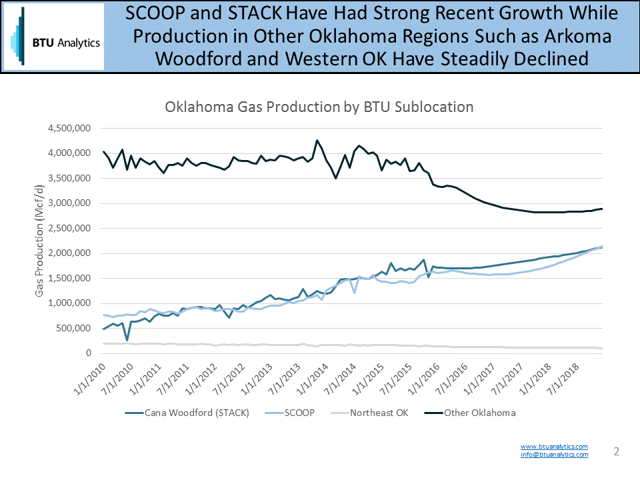 Click to enlarge
The trend of increasing production in the SCOOP and STACK can also be seen in the drilling activity shifts in Oklahoma below. Strong activity in the Mississippi Lime in 2013 thorough 2015 drove the production gains seen in the previous chart. However, drilling in the Mississippi Lime has taken a backseat to the STACK in 2016 activity. While the number of wells drilled in the SCOOP may seem similar to the other sub locations, remember that this area is being actively developed by only a handful of producers and that higher IP rates will drive larger production volumes than the other Oklahoma sub locations.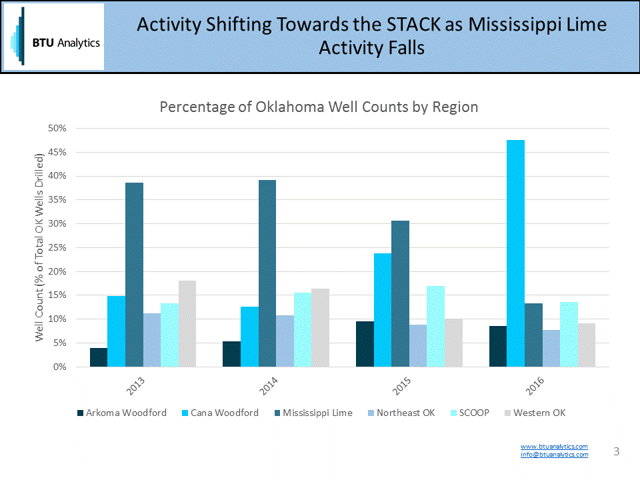 Click to enlarge
In addition to the shift in Oklahoma producing regions, the most active operators have changed since 2013 as well. On a wells drilled basis, Chesapeake (NYSE: CHK), Devon (NYSE: DVN) and SandRidge Energy were by far the dominating players in 2013. While Devon was drilling in the CANA Woodford, the others were mainly targeting the Mississippi Lime and Western OK (Granite Wash). This is vastly different when comparing to the 2016 YTD results. Chesapeake and Devon are still active, but all new drilling activity is almost exclusively targeting the CANA Woodford sub-location that contains most STACK activity. SandRidge Energy filed for bankruptcy earlier this year and is now going through reorganization, removing a previously active player from the Mississippi Lime. Continental Resources (NYSE: CLR) and Newfield Exploration (NYSE: NFX) are now leading the way in wells drilled for Oklahoma, with a focus split between the SCOOP and the CANA Woodford (STACK). In fact, only three of the top 10 drillers in 2016 are drilling any significant portion of their wells in other Oklahoma regions.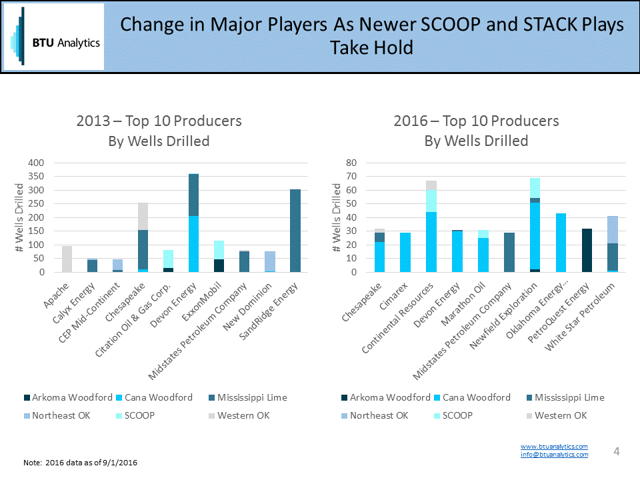 Click to enlarge
Oklahoma's place in the evolving US oil and gas markets will likely be determined by the ability of the SCOOP and STACK to meet expectations set by the initial well results as a new core play.
Disclosure: I/we have no positions in any stocks mentioned, and no plans to initiate any positions within the next 72 hours.
I wrote this article myself, and it expresses my own opinions. I am not receiving compensation for it. I have no business relationship with any company whose stock is mentioned in this article.