In the past year, Horizon Pharma (NASDAQ:HZNP) shares have been relatively rangebound. Shares hit new highs after very positive quarterly results, but then tumbled as the company struck a deal to acquire Raptor Pharma (NASDAQ:RPTP) for $800 million. Now basing below $20, the stock appears to be a coiled spring as investors finish digesting prior news and shift focus to the company's promising future.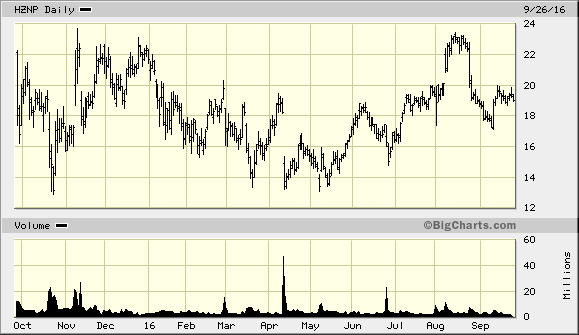 Figure 1: Stock Chart (source: bigcharts.com)
A Look At the Core Business
The company has a history of making savvy acquisitions to build its business, and second quarter results showed the strategy is paying off in spades.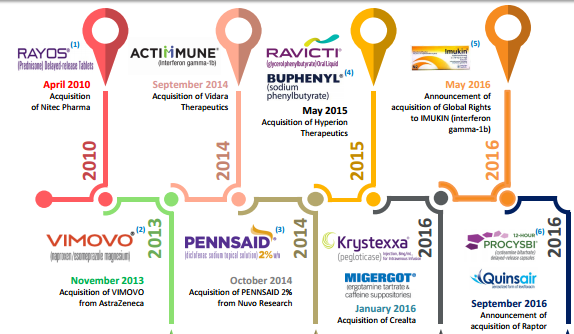 Figure 2: Acquired Products (source: Investor Presentation)
Net sales for the quarter were up 49% to $257.4 million with operating cash flow of $47.3 million

Full year sales guidance is $1.025 to $1.05 billion with adjusted EBITDA guidance of $495 million to $510 million

Medicines for rare diseases represented 36 percent of total net sales for the quarter, up from 28% in the same quarter last year
Other important highlights included that Horizon Pharma secured covered status for Duexis and Vimovo with CVS/Caremark (NYSE:CVS), having been told that starting next year the products will be removed from the exclusion list. This should help build positive momentum in regards to continued negotiations with other pharmacy benefit managers, providing a tailwind to that management will be sure to capitalize on.
The company's primary care business unit had a strong showing for the quarter, with Pennsaid 2% sales up 147% to $72.7 million. Duexis and Vimovo sales came in at $45.5 million and $31.4 million, while prescriptions for the unit as a whole were up 22% compared to the same quarter last year.
The company's rheumatology business unit showed signs of growth as well, with Krystexxa sales of $19.9 million in the second quarter, as well as Rayos sales of $12.1 million (up 18%). The company quadrupled its sales force for the former drug and believes it could achieve up to $250 million in annual sales.
Even after announcing the acquisition of Raptor Pharma, the company's balance sheet appears healthy with a manageable debt load consisting of staggered maturities.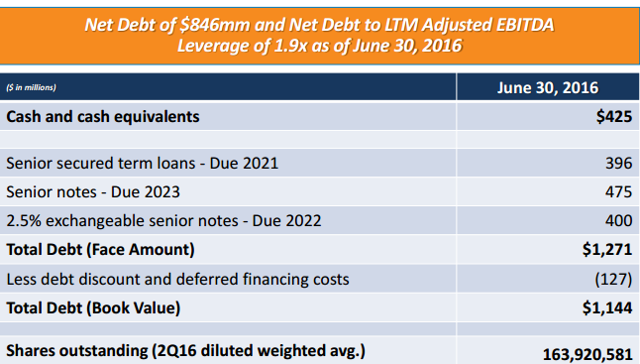 Click to enlarge
Figure 3: Updated Financial Snapshot (source: company presentation)
Other Catalysts That Could Provide Upside
On June 29th the company submitted a sNDA (supplemental new drug application) for Ravicti to expand its use (from patients 2 years or older to be changed to 2 months).

Click to enlarge
Figure 4: Actimmune Expansion Progress (source: company presentation)
Actimmune (interferon gamma-1b) is currently approved to treat ultra-rare orphan diseases, Chronic Granulomatous Disease (CDG) and severe, malignant osteopetrosis (SMO) in the US. Horizon management is trying to expand the treatment into new indications, including Friedreich's Ataxia (FA). A phase 2 trial showed a promising efficacy signal, and the company believes the drug could break $500 million or more in annual sales if the pivotal trial data proves positive.
The cost to buy Raptor Pharmaceuticals may seem steep at around $800 million, but the company received exactly what it wanted in return, namely the acquired company's infrastructure in the European Union and the rights to two marketed drugs, Procysbi and Quinsair. According to the company Procysbi could achieve upwards of $300 million in peak sales, with expected 2016 sales of $122 million (up 22% from $94.2 million in 2015). Quinsair could potentially generate $100 million of global sales, but the jury is out as to the true potential of the drug.
Final Thoughts
Management continues to execute on their desire to transform the company into a diversified enterprise focusing on the more lucrative orphan drug business.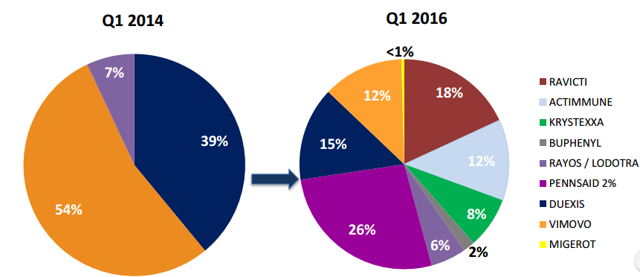 Click to enlarge
Figure 4: Product Breakdown (source: corporate presentation)
Their long term vision is to achieve $2 billion in sales by 2020, which would compare favorably to the current $3 billion market capitalization.
The average analyst price target is $31 per share, offering over 38% upside from current levels.
I feel comfortable calling the company a core biotech buy, as the current 11 drug portfolio continues to deliver year on year growth and management progresses the pipeline into promising new markets.
Never Forget Risks to the Thesis
Risks include an unforeseen change in sales trends and the company's growing debt load. As Wall Street tends to be short term focused, there is always the possibility that management pursues growth through acquisition and bites off more than they can chew. It would be wise for them to utilize their growing profits to start paying down the debt before it can become a bigger issue.
Additionally, a recent Goldman Sachs report identified a few companies, including Horizon, as overly relying on increasing drug prices in order to achieve growth targets. As seen in the epic Mylan (NASDAQ:MYL) EpiPen debacle, political pressure is mounting and it could be only a matter of time before such companies find themselves in the crosshairs.
Also, in August the company announced they are suing Actavis and Lupin Pharmaceuticals (OTC:LUPNY) in response to their filings of ANDAs for generic versions of Pennsaid. Horizon's patents expire in 2027 and 2029, so any further news on this issue will be of the utmost importance to shareholders.
The phase 3 data readout for Actimmune in FA should be coming in December, and the possible $500 million in sales for the condition is on the line. Positive data could greatly increase upside for the stock, while a negative readout could lead to a gap down of 25% or more (potentially cushioned by the company's strengthening core business).
Disclosure: I/we have no positions in any stocks mentioned, and no plans to initiate any positions within the next 72 hours.
I wrote this article myself, and it expresses my own opinions. I am not receiving compensation for it (other than from Seeking Alpha). I have no business relationship with any company whose stock is mentioned in this article.