REIT Ranking Overview
In our "REIT Rankings" series, we introduce readers to one of the 13 REIT sectors and the individual REITs that comprise these sectors, focusing only on the larger, internally managed REITs with proven track records of performance.
We rank REITs within the sectors based on both common and unique valuation metrics, presenting investors with numerous options that fit their own investing style and risk/return objectives. We plan to update these rankings every quarter.
We encourage readers to follow our Seeking Alpha page (click "Follow" at the top) to continue to stay up to date on our REIT rankings, weekly recaps, and analysis on the REIT and broader real estate sector.
Hotel Sector Overview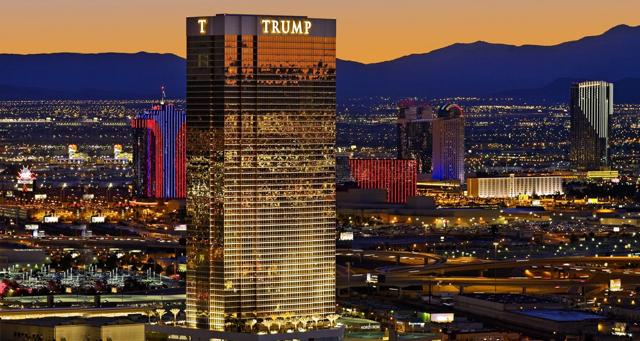 (Las Vegas, HotelManagement.net)
"To travel is to live." - Hans Christian Andersen.
The United States has the largest tourism industry in the world. On any given night, roughly 4.5 million Americans are staying in one of 55,000 hotel properties throughout the country. Of the five million available hotel rooms, roughly 60% of hotel stays are leisure-oriented, while 40% are business-oriented.
Hotels are typically grouped into segments based upon average room rates: budget, economy, midscale, and upscale. Alternatively, hotels can be segmented into location-oriented divisions: urban, suburban, airport, interstate, and resort or service-oriented divisions: full service, mixed service, limited service. Full service hotels generally have restaurants, ballrooms, and fitness centers, while limited service hotels typically provide far fewer amenities.
For real estate investors who are accustomed to simple business models, the hotel industry is a bit of an outlier and involves quite a bit of complexity. The companies that are ubiquitous with the hotel business - Marriott (NYSE:MAR), Starwood (HOT) and Hyatt (NYSE:H) - generally don't actually own hotels. In October 1992, Marriott Corporation split into two parts: a hotel-management business and a hotel-ownership business, a model that remains the industry-norm.
Oddities in the REIT tax codes prevent hotel REITs from managing the hotels themselves. Instead, hotel owners sign management agreements with hotel operators such as Marriott or Hilton (NYSE:HLT), which are generally C-corporations. The specifics of this agreement are more complex and involve taxable REIT subsidiaries ((NASDAQ:TRS)). To put it simply, the operator runs the show, from the booking to the cleaning, while the REIT collects the income and pays a percentage back to the operator
All of this is negotiated through a hotel management agreement (HMA). Good HMA's will properly align and balance the interests of the owners and the operators. Typically, the operator is paid a guaranteed base amount (2-7% of revenue) plus an incentive amount (based on profitability). These agreements are typically 15-20 year long-term contracts and have benchmarks that the operator is required to meet. In exchange, the operator demands a certain asset-quality (and capital expenditure commitment) based on the operator's brand-quality. For example, Marriott demands that REITs that own Ritz-Carlton branded-hotels continually upgrade the asset to keep it positioned in the high-luxury segment. Best Western, on the other hand, demands considerably lesser quality standards from the hotel owners for their economy and budget-segmented brands.
Importantly for REIT investors, hotel REITs expend a higher percentage of NOI on capital expenditures than any other REIT sector. This can be problematic given the extremely short-term nature of hotel leases. Unlike other REIT sectors in which leases are measured in years or decades, hotel REITs have leases that are measured in days, making the sector highly sensitive to economic news. It should be noted that the hotel REIT index has the highest standard deviation of weekly price returns.
From a valuation perspective, it is important for investors to understand the metrics used by hotel operators and owners. Revenue Per Available Room (REVPar), as the name suggests, reflects the revenue generated from all available rooms in a hotel and can be calculated by multiplying the occupancy times the Average Daily Rate (ADR).
As we always emphasize in our REIT Rankings, investors should be aware of the supply and demand outlook of the sector. STR is the leader when it comes to hotel supply/demand analytics. In the years immediately following the recession, there was a near-shutdown in construction of new hotels. This coincided with robust growth in demand, creating excellent fundamentals for the industry. New supply, though, has been accelerating since 2015 while demand growth has moderated. In their presentation below, STR says, "We will look back at this moment…as the time overbuilding happened."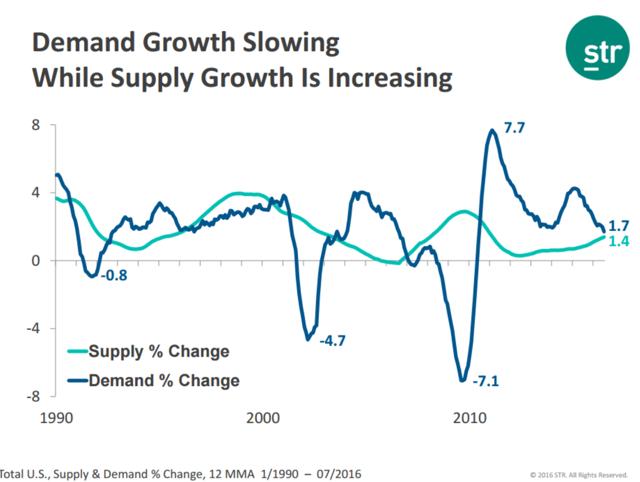 As supply and demand have come back into balance (and perhaps swung towards oversupply), competition for guests has intensified, driving down RevPAR. STR projects 3.2% growth in 2016 REVPar, slowing down to 2.8% growth in 2017. Travelers should expect to find increasingly more bargains on their accommodations in the coming years.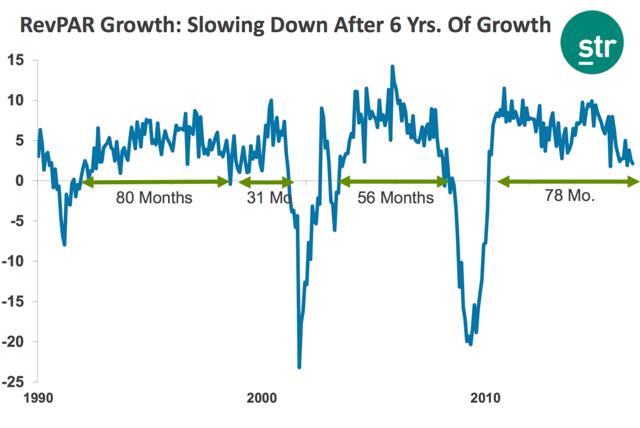 When it comes to economic data, consumer confidence and jobs data are closely watched. Earnings reports from travel services like Expedia (NASDAQ:EXPE) and Priceline (NASDAQ:PCLN) and hotel operators like Marriott and Hyatt are also closely watched. On the private-data side, research firms track weekly and monthly changes in RevPar based on different segments. General levels of equity valuations or profitability are also an indicator of future demand for business travel, as is the value of the US dollar, which impacts demand from foreign tourists. Geopolitical events like terrorism and disease can also greatly impact demand for hotel rooms and thus hotel REIT valuations.
In terms of addressable market, it should be noted that REITs own just a tiny portion of the total US hotel assets. Of the estimated five million rooms, hotel REITs own roughly 300,000 or 6% of the total stock. Unlike other REIT sectors we cover, though, we don't see a clear and convincing case for why the REIT model is necessarily "better" than the private model. In other sectors, REITs have a clear competitive advantage when it comes to scale, brand, expertise, and cost of capital. Thus, we are less optimistic about the acquisition-based growth in the hotel REIT sector compared to others.
Finally, we cannot discuss the hotel business without talking about the elephant in the room, Airbnb. We wrote an article in January title "Airbnb is No Uber" where we argued that calls for the death of the traditional hotel business at the hands of Airbnb are greatly exaggerated. The crux of our outlook is that, given comparable prices, the vast majority of travelers will always prefer the certainty, simplicity, and safety of a traditional hotel over an Airbnb listing. It is simply a better and more evolved business model than the barter-style Airbnb, and is in no need of a major overhaul from a utilitarian standpoint. While this may be true, there is no doubt that Airbnb is adding considerable supply to the market at a time when construction of traditional hotels has accelerated, particularly in the New York City, Miami, LA, and San Francisco markets. Estimates vary, but general consensus is that Airbnb is adding roughly 2-4% to the supply of traditional hotel rooms across the country. We will publish an updated piece in the coming weeks that looks more deeply into Airbnb's potential effects on the hotel industry.
Hotel REIT Overview
Hotel REITs comprise roughly 5% of the REIT Index (NYSEARCA:VNQ). Within our market value-weighted hotel index, we track eight of the seventeen hotel REITs within the sector, which account for roughly $30 billion of the total $40 in hotel REIT market value:
Hospitality Property (NYSE:HPT), DiamondRock (NYSE:DRH), FelCor (NYSE:FCH), Host Hotels (NYSE:HST), Lasalle (NYSE:LHO), Pebblebrook (NYSE:PEB), RLJ Lodging (NYSE:RLJ) and Sunstone (NYSE:SHO).
Outside of our index, but within the top ten largest hotel REITs, we also track Ashford (NYSE:AHT), an externally managed mixed-focus REIT, Apple Hospitality (NYSE:APLE), a small recently-public limited service REIT, Ryman Hospitality (RPH), a small full service REIT, and Xenia Hotels (NYSE:XHR), a recently-public small mixed-focus REIT. We will look to add these names to our index in future reports.
Below we show the size, geographical focus, property focus, and quality focus of the eight hotel REITs we track. Like other REIT sectors, hotel REITs tend to have a specialized strategy focus. In general, public REITs tend to be naturally biased towards the higher-quality end of the quality spectrum and own primarily full service hotels in coastal urban markets or resorts. Only one REIT we track, RLJ Lodging, owns primarily limited service hotels.

(Hoya Capital Real Estate)
Recent Performance of the Hotel Sector
Hotel REIT have struggled mightily over the past two years amid moderating demand and accelerating supply growth. The hotel index is the only REIT sector in negative territory over the prior 52 weeks, down 8% compared to the broader REIT sector which has gained over 17%. Also surprising is the significant underperformance relative to the S&P 500, breaking a trend of close correlation.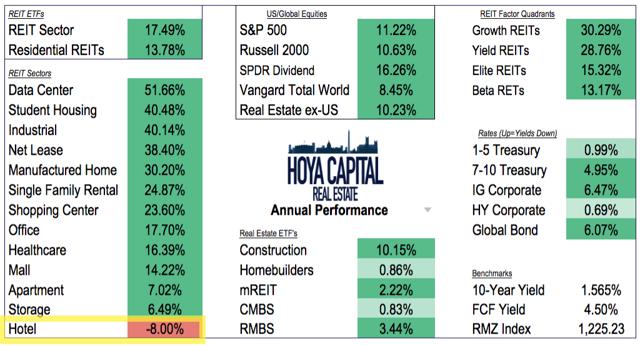 (Hoya Capital Real Estate)
Much of the underperformance over the past 52 weeks occurred during the final months of 2015 as weaker than expected earnings reports and a strengthening US dollar put pressure on urban and resort hotels.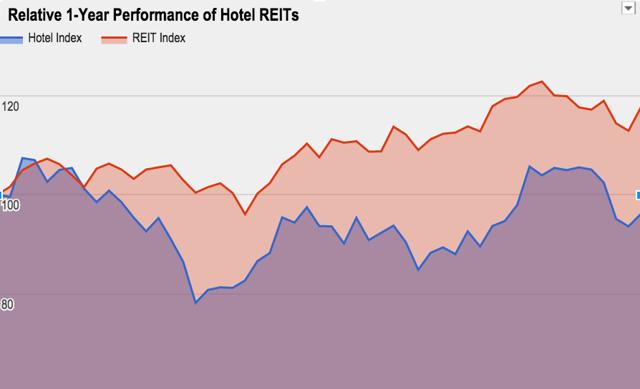 (Hoya Capital Real Estate)
Multiple Valuation of the Hotel Sector
On a cash-flow basis, we see the importance of using several different valuation techniques, as hotel REITs appear quite cheap based on Free Cash Flow multiples, but very expensive when we factor in the slow expected growth rate.
Hotel REITs are the single cheapest sector based on current and forward Free Cash Flow multiples. At 13x current and 13x forward FCF, hotel REITs are trading at discounts to the REIT sector average of roughly 24x and 22x, respectively.
When we factor in two-year growth potential, though, the sector appears expensive relative to other sectors. We use a modified PEG ratio, using the forward FCF multiple divided by the expected 2-year growth rate which we call FCF/G. Expected to grow FCF at just 1% over the next two years, far short of the REIT average of 7%, hotel REIT have an FCF/G of 17, which screens as the most expensive sector compared to the average FCF/G REIT multiple of 4.5. We note, however, that this ratio is being inflated by near-zero growth rates in several names. Regardless, the slow growth rate of hotels needs to be contrasted with the seemingly attractive FCF valuations.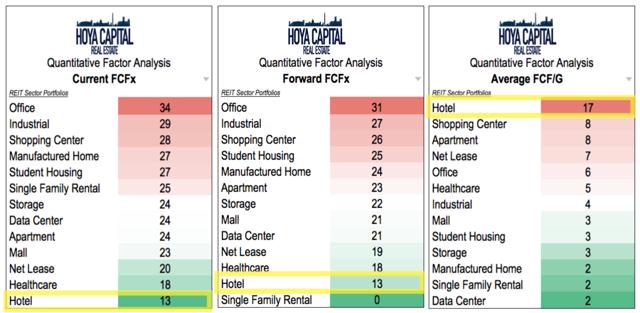 (Hoya Capital Real Estate, company financial statements)
Dividend Yield and Payout Ratio
Based on dividend yield, hotel REITs are the highest yielding REIT sector at 5.1%, far higher than the sector average of 3.4%. These firms pay out just 76% of their cash flow to achieve these yields, leaving a cushion to maintain the dividend if FCF declines over the next several years. That said, the 1% near-term expected growth rate over the next two years gives pause to investors seeking sustained long-term dividend growth.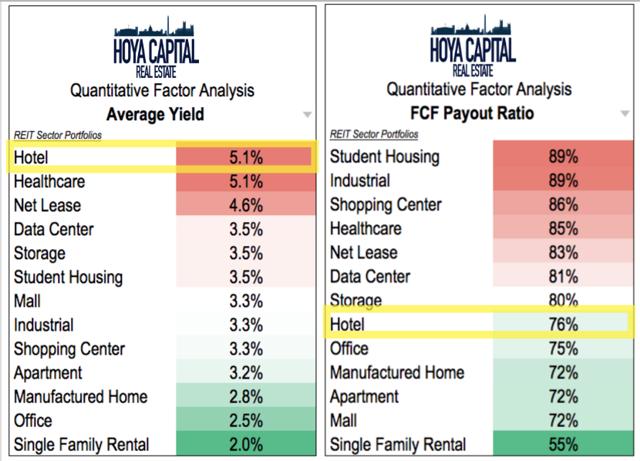 (Hoya Capital Real Estate, company financial statements)
Sensitivities to Interest Rates and Economic Growth
Followers of our research know that we put a lot of emphasis on factor analysis, specifically looking at how REITs have historically responded to changes in the broader equities market, interest rates, and to movements in the REIT index itself. We believe it is critical that investors understand how their investments will respond to different economic environments.
Using our Beta calculations, hotel REITs are the single most "equity-like" REIT sector, which are effective compliments or hedges to real estate portfolios that typically contain more interest-rates sensitive REITs. Hotel REITs have the highest "Beta to S&P 500" and the lowest "Beta to Yields." In other words, the sector is highly correlated with broader US equities and actually exhibits negative correlation to changes in interest rates.
For a more specific explanation of these calculations, we highlighted the dynamics of bond-like and equity-like REITs in our previous articles, "Are REITs Bond Substitutes" and "REITs Without Interest Rate Risk."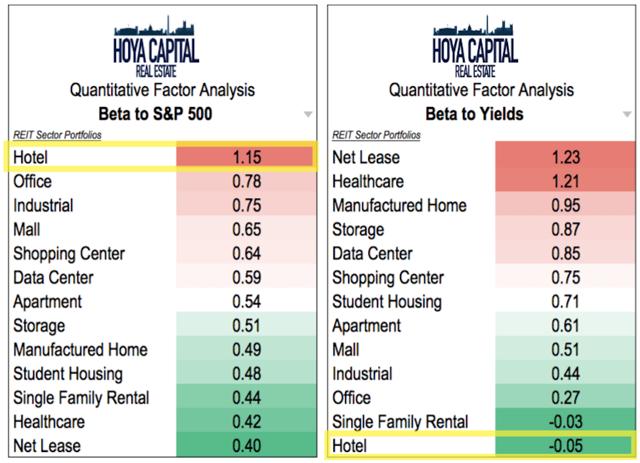 (Hoya Capital Real Estate, company financial statements)
Individual Hotel REIT Performance
We now move into rankings and analysis of the specific REITs that comprise the sector.
As we highlighted, hotel REITs have been the weakest performing REIT sectors over the past several years. The sector has fallen 22% over the prior two years and 8% over the last year. This most recent quarter has been far kinder to the sector, though. All but one hotel REIT has risen over the past 13 weeks.

(Hoya Capital Real Estate)
Hotel REIT Performance Relative to Hotel Index
We find it very useful to analyze how individual REITs perform relative to their peers to identify sector-neutral performance patterns. We are looking for trends for how the particular REIT's strategy focus (size, geographical, quality focus) contributed to the performance. Note that these performance figures are relative, not absolute and sum to zero on an market-weighted basis.

(Hoya Capital Real Estate)
Several important trends sticks out that are worth exploring. Hospital Properties Trust, the only externally managed REIT in our index, is actually far and away the best performing name in the sector. These performance figures may be deceptive, though. HPT plunged over 85% during the financial crisis, and the recent strength over the past three years may simply be lingering recovery effects of this dramatic sell-off and persistently high leverage.
Second, Sunstone is among the perennial top performers. Sunstone has been pursuing a strategy of deleveraging and over the past several years, has commanded the lowest leverage and best balance sheet in the sector. We think this is exactly the strategy that prudent hotel REIT executives should be pursuing. There is enough operational leverage inherent in the business already, and hotel REITs that take on excess financial leverage on top of that are highly exposed to weakening fundamentals. We suspect that much of the underperformance of the hotel REIT sector has been a result of excessive leverage.
Hotel REIT Valuation Rankings
As we always highlight, in efficient markets, high multiples are a function of an expectation of stronger future operating performance, as well as the predictability and sustainability of future cash flows.
Some companies, particularly those with management teams that have a proven track record of Net Asset Value growth, warrant a persistently high multiple, while other companies achieve a higher than warranted multiple through a shorter-term market inefficiency.
Equity multiples have added operational significance for REITs. As REITs must raise equity capital to fuel growth, equity that can be sold at a premium is cheaper and thus more likely to result in NAV accretion. In that way, equity valuations for REITs have self-reinforcing characteristics. Thus, cheap REITs have a tendency to stay cheap, and expensive REITs tend to stay expensive.
As described above, hotel REITs are some of the cheapest REITs based on both FCF multiples, but near-zero growth rates have resulted in highly inflated FCF/G ratios.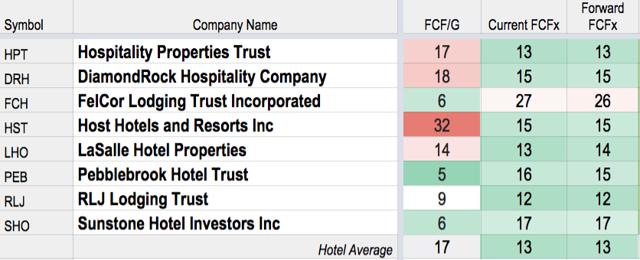 (Hoya Capital Real Estate, company financial statements)
Pebblebrook and Sunstone stands out as the best overall value in the sector while LaSalle and Host appear more expensive.
Sensitivities to Interest Rate and Economic Growth Factors
As we described earlier, on average, Hotel REITs exhibit particularly high sensitivities to equities and almost no correlation with changes in interest rates. All names in the sector fall under the "equity-like" REIT classification and unlike some REIT sectors, there is very little differentiation within the sector.

(Hoya Capital Real Estate)
Dividend Yields
As REIT dividends are taxes primarily as ordinary income, investors should pay closer attention to the company's dividend policy compared to other equity sectors. Investors can essentially earn a "free-lunch" by tailoring their REIT portfolio to their individual tax situation and maximizing their after-tax returns. REIT investors in higher tax brackets should generally favor companies with lower current yields but with expectations of higher future returns.
There are quite a few good options for investors seeking current income, but it comes with the caveat of a high probability of near-zero growth over the short and medium term. Investors seeking current yields above 6% can turn to HPT, LHO and RLJ. Some REITs like SHO choose to retain more of their FCF and pay comparably low dividend yields.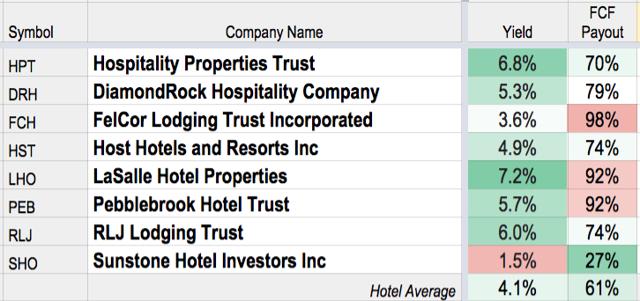 (Hoya Capital Real Estate, company financial statements)
Bottom Line
The persistent underperformance of hotel REITs in recent years is quite perplexing for longtime investors, who have seen these REITs struggle during both good times and bad times. This is indicative of a broader trend whereby REIT investors have continually underestimated the drag that high levels of capital expenditures can have on REIT performance. This is perhaps a result of conventional financial metrics, particularly EBITDA and FFO, that do not factor-in capital expenditures, which can create a false sense of "value."
The last three years of underperformance may have been the long-term correction that was needed in the hotel sector as investors may have finally recognized the significance of cash-flow based metrics that don't discount the drag of high levels of capex. The underlying fundamentals, though, have weakened slightly over the past two years as supply growth has accelerated and threats from Airbnb have materialized to some degree.
With all this being said, hotel REITs do have investment characteristics that are rather unique and may be attractive to a lot of investors. First, despite their high current yields, hotel REITs are the single least interest-rate sensitive sector. Few other high-yield investments exhibit nearly zero correlation to interest rates. Second, while the REIT sector as a whole is rather defensive, hotel REITs are highly pro-cyclical, which can add balance to a portfolio that would otherwise underperform during good economic times. Third, we published in an article in May, "Beat the REIT Index with This Contrarian Strategy" that highlight our finding that underperforming sectors tended to outperform in subsequent years.
Let us know in the comments if you would like us to expand on any part of the analysis and to check out all of our REIT Rankings located on our author page. (click to view)
Again, we encourage readers to follow our Seeking Alpha page (click "Follow" at the top) to continue to stay up to date on our REIT rankings, weekly recaps, and analysis on the REIT and broader real estate sector.
Disclosure: I am/we are long SHO.
I wrote this article myself, and it expresses my own opinions. I am not receiving compensation for it (other than from Seeking Alpha). I have no business relationship with any company whose stock is mentioned in this article.
Additional disclosure: All of our research is for educational purpose only, always provided free of charge exclusively on Seeking Alpha. Recommendations and commentary are purely theoretical and not intended as investment advice. Information presented is believed to be factual and up-to-date, but we do not guarantee its accuracy and it should not be regarded as a complete analysis of the subjects discussed. For investment advice, consult your financial advisor.