Anyone who reads my work knows that I'm not a big fan of the sheer number of niche ETFs that have been launched over the last couple of years. Many of these funds target narrower and narrower markets and are becoming more and more concentrated due to the lack of appropriate investment choices in these narrow spaces. One needs to look no further that the CrowdInvest Wisdom ETF (NYSEARCA:WIZE) - an ETF that was shuttered just a few months after its launch that crowdsourced its investment ideas from folks who plugged their stock picks into an app. On 75% of trading days, the fund traded zero shares.
The latest such fund hit the market recently that I would qualify as unnecessary, not due to the market it's targeting but instead by what it's investing in. The Amplify YieldShares Prime 5 Dividend ETF (BATS:PFV) has a goal of investing in the five highest ranked dividend ETFs based on factors such as high dividend yield, low volatility and low expenses.
Portfolio Composition
I'm usually leery of any fund that is simply an equal weighted portfolio of just five other funds. That notwithstanding, the fund seems to have made five high quality choices.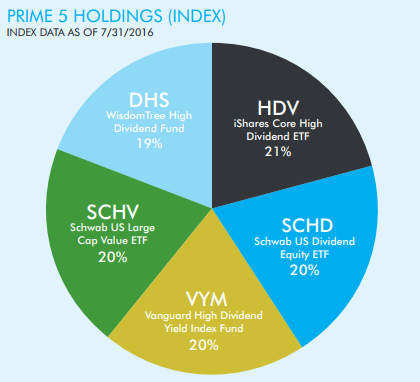 The five funds in the portfolio are a collection of Morningstar four- and five-star funds that generates a dividend yield of nearly 3%. You could make an argument whether or not these are the five highest rated funds but, for the most part, the Prime 5 Dividend ETF got it right. You could make a case for the Vanguard Dividend Appreciation ETF (NYSEARCA:VIG), which may not have made the cut due to its lower 2% yield, or the iShares Select Dividend ETF (NYSEARCA:DVY). I wouldn't mind seeing either of those as a replacement for the WisdomTree High Dividend ETF (NYSEARCA:DHS).
Expense Ratio
This is where I have the biggest hang-up. The expense ratio of this fund is exorbitant given what you're getting.

The fund's five holdings average an expense ratio of around 14 basis points, just 8-9 basis points from its other holdings - the Schwab U.S. Large Cap Value ETF (NYSEARCA:SCHV), the Schwab U.S. Dividend Equity ETF (NYSEARCA:SCHD), the Vanguard High Dividend Yield Index ETF (NYSEARCA:VYM) and the iShares Core High Dividend ETF (NYSEARCA:HDV) - if you exclude the WisdomTree fund which is the clear outlier. The Prime 5 Dividend ETF charges a whopping 49 basis points and that takes into account a 10 basis point fee waiver.
The fund's website gives the methodology the index provider uses for fund inclusion.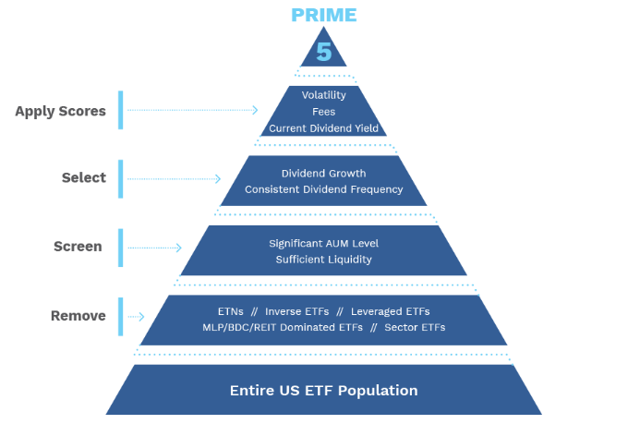 Click to enlarge
The removal of leveraged, inverse and sector ETFs is not unusual. The fund's strategy of targeting dividend growth and high dividend yields is similar to those used by more than one fund within the portfolio already. The overlapping strategy combined with the simple focus on low expense ratios and volatility makes the added value a shareholder would get from this fund relatively low.
Conclusion
Is there any good reason to own this fund when you can simply make five equal investments into its components? Perhaps only if you like paying extra fees.
If it were me, I'd just take positions in the four lowest cost funds, omitting the Wisdom Tree ETF, and save myself about 40 basis points a year in expenses. Targeting the highest quality and highest yielding dividend ETFs isn't a particularly challenging exercise and can easily be done by just about anybody willing to do a little research themselves.
I think this fund provides limited value for the extra fees it's charging and is better left alone.
----------
If you're interested in more dividend strategies and ETF analysis, please consider following me by clicking on the "Follow" button at the top of this article next to my name. Even if you don't, thanks for taking the time to read!
Disclosure: I/we have no positions in any stocks mentioned, and no plans to initiate any positions within the next 72 hours.
I wrote this article myself, and it expresses my own opinions. I am not receiving compensation for it (other than from Seeking Alpha). I have no business relationship with any company whose stock is mentioned in this article.