Last week at a special event in Squaw Valley, CA, GoPro (NASDAQ:GPRO) finally revealed its long-awaited new product line-up, including Hero5 Black and Session cameras, Karma drone, and GoPro Plus subscription service. Looking at the new products, investors can be relieved that GoPro has learned its lesson from its difficult past year and now has a more focused, integrated, and complete product portfolio, with pricing working to better position each product in terms of features and capabilities, and also with a more sensible release schedule, allowing the company to capitalize on the upcoming holiday shopping season and carry the sales momentum into the next year.
However, while there is a lot to like about GoPro's new products and services, some of the company's larger problems still remain.

Hero 5 and GoPro Plus
There are two things which jump out at me with the new line of Hero5 cameras and the GoPro Plus subscription:
GoPro tries to match the ease of use, connectivity, and integration of the smartphone camera.
Despite many improvements, the Hero product line is losing pricing power.
Since GoPro's troubled 4Q 2015, CEO Nick Woodman has promised investors to focus on improving the GoPro experience, namely making capturing, accessing, editing, and sharing content more simple and seamless. The new Hero5 Black and Hero5 Session deliver on that promise, offering improved ease of use with a new touchscreen display, voice control, and waterproofing, better connectivity with GPS, and deeper integration with automatic cloud uploads. As a result, the Hero5 narrows the convenience gap between the action camera and the smartphone while inevitably keeping some of the friction points of an add-on device.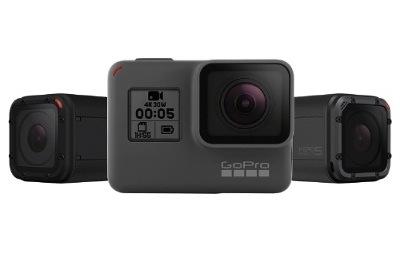 The new Hero camera line-up. Source: GoPro
Unfortunately for GoPro, the smartphone camera does not stand still either. On top of its unparalleled convenience, the smartphone is also becoming more durable, waterproof, and increasingly challenges professional cameras in image quality and features. The iPhone 7 Plus is a case in point, with Apple's (NASDAQ:AAPL) new smartphone offering waterproofing, improved low-light capture, depth-of-field effect, optical image stabilization, and 2x optical zoom.
The different pricing trajectories of the Hero and iPhone then best describe long-term prospects of the high-end action camera and the smartphone camera segments. The Hero5 Black is a significant improvement over its predecessor, with built-in waterproofing alone saving customers money compared to the Hero4. Still, GoPro is reducing the price of its top-of-the-line model by $100 as its value proposition simply becomes less attractive next to today's smartphones. On the other hand, the iPhone's pricing power has actually increased, with the 7 Plus model now carrying a $20 premium compared to the previous 6S Plus.
The new Hero5 cameras then remind me of Apple's iPod Touch refresh in 2015 - the best iPod yet but one which cannot change the long-term sales trajectory of a product category increasingly cannibalized by more versatile devices.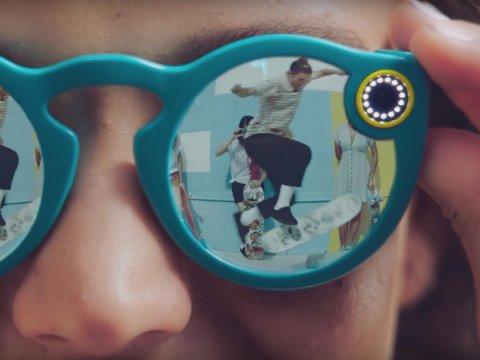 Source: Youtube.com
However, this is not to say that GoPro is left without an opportunity here. While the days of selling $499 action cameras are likely over for the company, Snap Inc. (Private:CHAT), former Snapchat, shows just what kind of innovation is still possible in the camera market. Snap has just introduced a $129 pair of sunglasses with a built-in wireless video camera called Spectacles. Such a product would be a natural fit for GoPro's lifestyle brand.
The Karma drone
With the Karma drone, GoPro is finally entering a new product category and lowering its revenue dependency on a single product segment.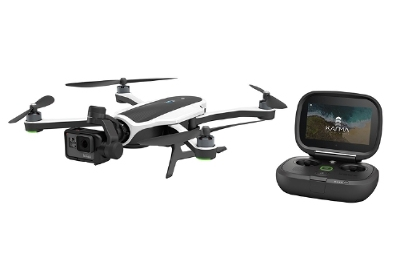 Source: GoPro
Karma is certainly a solid product. Its high portability, clever features, and GoPro's branding give the product a good USP and distinct positioning in the marketplace. The foldable design allows the drone to fit into a not-too-large backpack which means more usage and less damage. There are also some smart features like the 3-axis camera stabilizer which can be taken off of the Karma and then attached to the included Karma grip for capturing handheld or gear-mounted footage. Finally, while there is already strong competition in the consumer drone market, I believe that GoPro's established product ecosystem offers good potential for the company to drive additional sales from its existing customer base (Karma comes without a camera), while GoPro's popular and trusted brand can attract new customers to the drone market (value bundles with a camera are also available).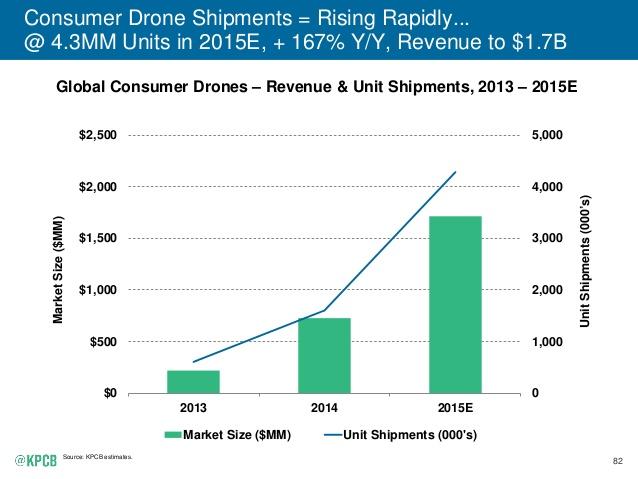 Consumer drone shipments are rising rapidly, but limited use cases and stricter regulations will limit growth in the segment. Source: KPCB
Unfortunately, a $799 drone to capture aerial footage still represents a value proposition for a very narrow segment of the population. GoPro would need to enter the commercial drone segment to capitalize on its much larger market opportunity. However, I suspect that this is something GoPro will not do in order to maintain its lifestyle brand image. There is already a precedent - GoPro's camera business remains firmly set in the action camera niche. Karma's opportunity then remains limited.
Investor takeaway
Over the years, GoPro has tried to explain itself to investors as a media company. Some analysts say that with the GoPro Plus cloud services, GoPro is turning into a services business. I disagree. GoPro is dependent on selling hardware. Without hardware, there is no platform for selling services. GoPro remains a hardware company selling camera products to capture, relive, and share life's special moments.
Unfortunately, in a world where we increasingly use the smartphone camera to capture the world around us, that represents a big risk for GoPro's growth and long-term future. If we take a broader perspective, GoPro is essentially about increasing the value of the time we are on an adventure, engaging in sport activities, or being with family and friends. There are therefore many other, meaningful ways in which GoPro could add value to those moments and apply innovative technology - for example with smart clothing and other wearable products. Such new categories would allow GoPro to target a bigger market with more mass-market products and give it a better chance at long-term growth.
Until I see more innovation, broader product portfolio, and products more appealing to the mass market from GoPro, I consider the company's stock as too risky for a long-term investment.
Author's Note: If you have enjoyed reading my article and found its content valuable, please take five seconds to follow me by clicking the "Follow" button next to my name at the top of the page.
Disclosure: I/we have no positions in any stocks mentioned, and no plans to initiate any positions within the next 72 hours.
I wrote this article myself, and it expresses my own opinions. I am not receiving compensation for it (other than from Seeking Alpha). I have no business relationship with any company whose stock is mentioned in this article.
Additional disclosure: This is no recommendation to buy or sell securities as that carries with it very high risks. The information contained in this article is for informational purposes only and subject to change at any time. Do your own due diligence and consult with a licensed professional before making any investment decision.