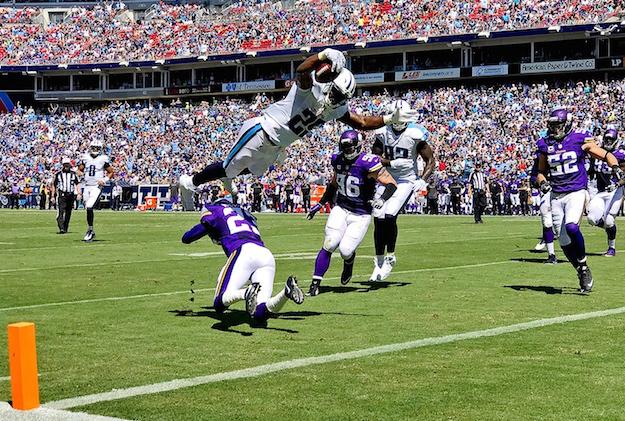 Photo taken with the iPhone 7. Source: Sports Illustrated. Apple is smart to get the iPhone on the hands of professional photographers for initial reviews. Some even openly admit to retouching the photos, but the public is not that smart - it will just see great photos. The iPhone 7 camera was a great improvement, but more on that in the article.
Ever since the iPhone 7 launched, a trend has developed where sources indicate "higher than expected orders" for the device. This started in the US with supposed sales records at Sprint (NYSE:S), T-Mobile (NASDAQ:TMUS) and AT&T (NYSE:T), and continued today with a supposed report out of Digitimes saying Apple (NASDAQ:AAPL) had boosted iPhone 7 component orders.
I think these reports are misleading. The reasons are simple, I'll go over each one:
US Orders
The thing which pushed Apple's stock the most was the sequential announcements by Sprint, T-Mobile and AT&T that they were seeing record demand for the new iPhone. However, Verizon (NYSE:VZ) did not corroborate the same thesis and simply saw orders within the usual range (indicating at most a flat market).
Furthermore, when store availability began, lines were below those registered in previous years - so it would seem that while some demand might have moved towards pre-orders and mail deliveries, physical store demand was actually weaker (and this includes pre-orders gotten from stores).
Overall, the picture was actually mixed, which was what one would expect from a product that's expected to be flat to down versus the previous year.
iPhone Availability
Reinforcing the mixed view would be the fact that iPhone availability seems to be widespread less than 2 weeks after launch: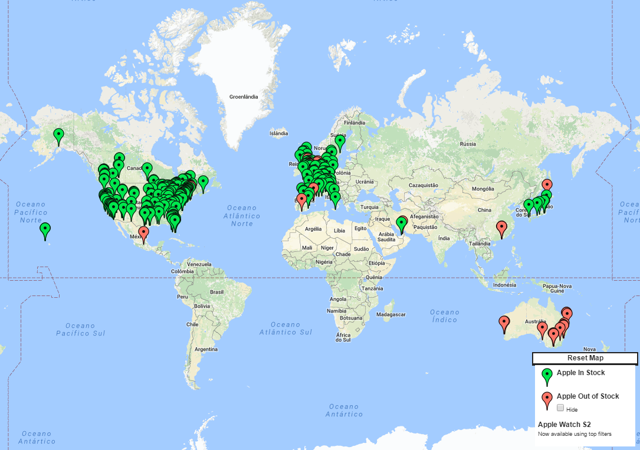 Click to enlarge
Source: iStockNow.com
This includes even the iPhone 7 Plus variant, which was supposedly in short supply: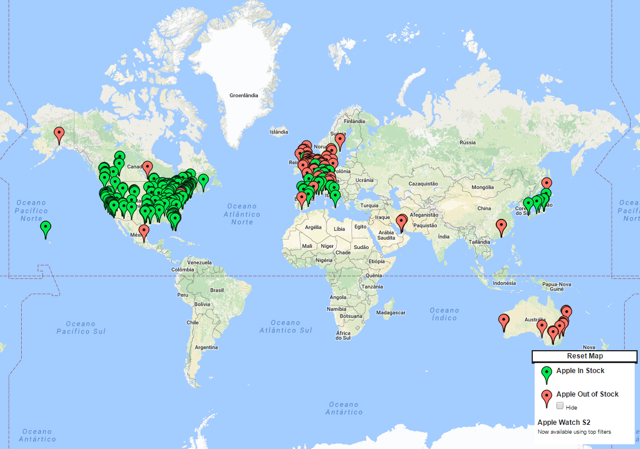 Click to enlarge
Source: iStockNow.com
This availability stands in contrast with the supposedly higher than expected demand.
The Actual Digitimes Report
To complement availability and the misleading nature of the reports, I will also draw from the actual Digitimes story. The story does start with supposedly higher orders, here's a quote:
Apple has increased its part and component orders for iPhone 7 devices, with order visibility for the fourth quarter of 2016 to be 20-30% higher than expected, according to sources from Taiwan-based touch panel makers.
However, the story doesn't end there. There is more data in it, namely the story ends like this:
Shipments of the iPhone 7 devices from ODMs are expected to reach 80-84 million units in the second half of 2016, compared to 85-90 million iPhone 6s shipped in the latter half of 2015, estimated the sources.
So there you have it. The same sources saying orders are higher now, are also saying that those orders remain flat to lower versus the iPhone 6s. Indeed, orders remain 1-11% lower.
Moreover, these orders remain lower in spite of the iPhone 7 being available in stores 9 days earlier (September 16) than the iPhone 6s (September 25). This might seem like nitpicking, but the iPhone 7 will actually have 9% more selling days between its launch and year-end, which is far from a small effect, especially in light of total orders being 1-11% lower year on year.
A Positive Effect For Q4 FY2016
So, up until now we have mostly confirming evidence that the iPhone 7 stands to see flat to lower sales versus the iPhone 6s. However, that's not to say that such lower sales will be seen immediately.
As we saw, the iPhone 7 became available in stores much earlier than the iPhone 6s. Until year-end, it will have 9% more selling days, but the effect is much more pronounced when we restrict ourselves to Q4 FY2016. Several factors mean Apple will record a much larger number of iPhone 7 sales in Q4 FY2016, than what it did for the iPhone 6s in Q4 FY2015. These include:
During Q4 FY2016, the iPhone 7 will have had 15 days in the stores, versus 6 for the iPhone 6s.
Q4 FY2016 will include many more launch countries, especially if you add up the initial regions to the 30 countries which Apple expanded to on September 23. For the iPhone 6s, a similar expansion only took place during October. This will favor Q4 FY2016 reported numbers at the cost of Q1 FY2017 numbers.
The cut-off date for inclusion in Q4 removes a fixed number of days from the period the iPhone was already in the stores. Back in Q4 FY2015, this meant Apple only included 2 days of iPhone 6S sales (September 25, 26). For Q4 FY2016, it will probably mean Q4 FY2016 will include as many as 11 days of sales, or over 400% more sales days than Q4 FY2015.
Putting it all together, it's not a surprise that Apple reiterated its guidance for Q4 FY2016. A somewhat similar effect happened during 2015, where for a while year-on-year comparisons seemed to show the iPhone 6s doing well, even though underlying demand for it was as much as 20% lower than for the iPhone 6. This year the difference ought to be smaller, but again my view is that we're looking at flat to lower demand, not growth.
Another Factor, Cost
While BOM estimates are always contentious, there seems to be little doubt that costs increased materially for the iPhone 7. If for nothing else, then because the storage tiers saw a significant increase in storage for the same price. Again, this view is borne by teardowns. We can discuss the accuracy of the absolute costs these teardowns arrive at, but with the method being the same, they ought to at least be reliable when it comes to (COST) direction.
Indeed, if anything, the large increase in storage was what surprised me the most when it came to the iPhone 7. It seemed to me that it was probably the largest upgrade in the iPhone, and the most likely to generate added demand, especially for the 128GB variant.
Arguably, this storage jump could lead to a higher ASP as people flocked to this 128GB variant. However, apparently, the 64GB variant was already popular enough that the mix shift won't compensate the price reduction (it's estimated that the mix shifted towards the middle variant for 2/3rds of orders vs. 60% previously).
Another Observation, The Camera
I was expecting the iPhone to leapfrog the competition when it came to its camera capabilities. The camera on the iPhone 7 was, indeed, greatly improved, namely because:
It added OIS on all variants.
The lens now has a wider f/1.8 aperture.
These two together with other processing improvements already ensured better performance. To this the Plus model added a second camera which adds a 2x optical zoom capability. Indeed, It can be argued that the better camera capabilities on the iPhone 7 Plus model are moving more demand towards this variant.
That said, these camera improvements fell short of what I expected. These were not enough to actually leapfrog the competition, namely the Samsung S7/S7 Edge. The reason fell mostly on 2 factors:
Apple's insistence in using a much smaller sensor (1/3" vs 1/2.5").
Samsung's better focus response.
As a result, while a website such as DxOMark rated the iPhone 7 as an improvement, it still fell short of the Samsung S7. A view which is being shared by most camera reviews I've been seeing. Personally, I'd also add that it disappointing for Apple not to include OIS on the 2X zoom lens.
Overall, this might be a slightly negative factor influencing iPhone demand. One, which I might add, is probably greatly outweighed by the explosive Samsung Note 7 scandal, which is tarnishing not just the direct Note 7 competitor, but arguably all of Samsung's flagships including the Samsung S7 and S7 Edge.
Conclusion
Taking into account the above, my main conclusion is that my previous prediction - that Apple stock would underperform the market at least until March 2017 - remains operative. However, short term, the market might be misled by the nature of the ongoing news flow as well as the iPhone timing differences influencing Apple's Q4 FY2016.
Later on, though, it should become obvious that the iPhone 7 is indeed seeing flat to lower demand, and not demand expansion. This will drive underperformance.
Disclosure: I/we have no positions in any stocks mentioned, and no plans to initiate any positions within the next 72 hours.
I wrote this article myself, and it expresses my own opinions. I am not receiving compensation for it (other than from Seeking Alpha). I have no business relationship with any company whose stock is mentioned in this article.