Micron (NASDAQ:MU) announces its fiscal fourth-quarter earnings results on the 4th of October and I will be playing this stock from the long side. The stock is an excellent earnings stock as it is highly liquid and usually has high spikes in volatility just before earnings are announced. If we pull up a chart of Micron's implied volatility, we can see that it's just above the 40% level at present.
However, if you take note of the three spikes and volatility over the last 12 months, you can see that these spikes coincide with Micron's earnings announcements. Therefore, expect volatility to spike once more either at the end of this week or at the beginning of next week right up until the 4th of October. The best time to put on this trade would be just before the market closes on the 4th of October as earnings are being announced after the bell. Let's go through why I like Micron from a bullish stance and how I will use earnings to initiate a bullish position.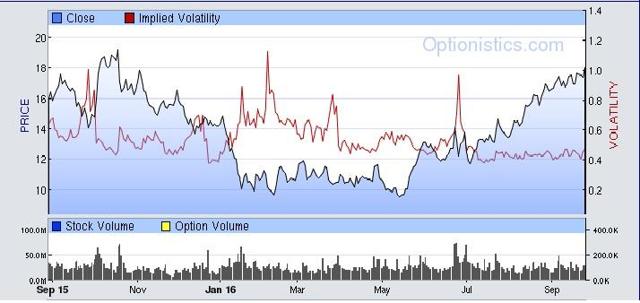 Click to enlarge
First of all, the stock has been in the strong trending move since mid-May. Disappointedly, net income came in at -$215 million and revenue came in at $2.9 billion in the third quarter. Nevertheless, the stock recovered quickly after some losses once earnings were announced. In fact, the company announced a restructuring plan which is designed to save up to $300 million a year. This is the underlying problem in this industry. Micron has to keep investing in better technology while at the same time hope the market plays ball by having robust demand for its products so prices can rise.
Market prices are driven by supply and demand. The one bright spot of Micron's third-quarter earnings was the sequential growth in DRAM sales. I believe DRAM sales are essential for Micron in the near term. Although the industry is heading towards NAND and specifically 3D NAND, Micron seems to be in the best position among its competitors for meaningful sales growth in DRAM. DRAM sales make up over 60% of the company's sales. Since Samsung (OTC:SSNLF) and SK Hynix have pulled back on their DRAM production, Micron can control this market in the near term which is bullish for its DRAM earnings for the next few quarters
Furthermore, Intel (NASDAQ:INTC) have come out recently and stated that it believes that PC sales will rise in the next few quarters. Naturally, this is bullish for Micron as DRAM prices could rise as a result. These factors have resulted in Micron increasing its guidance for its top-line sales in its fourth fiscal quarter. It will be interesting to see if it can achieve the top range of its sales guidance which is $3.2 billion.
The second piece of the puzzle in maximizing DRAM revenues will be how much Micron can reduce its costs in this area. The restructuring plan will help costs on a company-wide scale, but what investors will really want to see will be how the transition is developing for the 20NM node and the 1x node. These nodes will give Micron the possibility of reducing its costs in DRAM by a further 20%. If guidance is strong for Q1 of next year and gross margins are robust, the stock could take off
With regards to earnings, this stock should have a nice bit of premium in its options before earnings come around. Assuming the stock stays around the $18 level, I would be looking to sell a $16 put or a $16-$14 put spread which would expiring on the 7th of October. The beauty of the put spread (along with less capital needed) is that if you are "put the stock", you would make money on the long put option ($14) as well as the sold premium on the ($16 call).This would mean that your entry price would be far less than $16 which would reduce your cost basis. The support and resistance levels illustrate to me that we shouldn't get too much movement in the stock. If you like Micron's fundamentals, earnings may give you an attractive opportunity to get long this stock.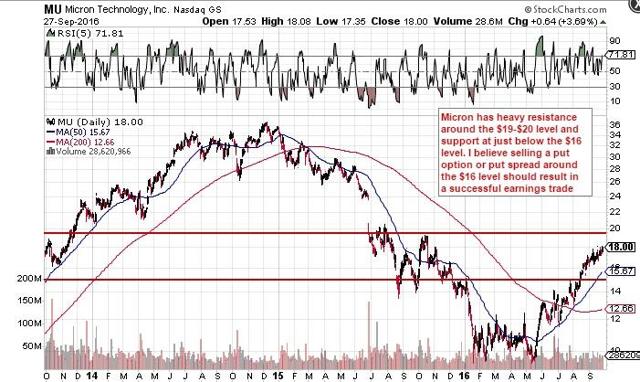 Click to enlarge
To sum up, fundamentals have changed meaningfully in the DRAM space and Micron should profit. Again, it will all be about its guidance for the forthcoming quarter and how much cost is taking out of its products. I still see more upside in Micron and will not be bothered if assigned on an earnings trade.
Disclosure: I/we have no positions in any stocks mentioned, and no plans to initiate any positions within the next 72 hours.
I wrote this article myself, and it expresses my own opinions. I am not receiving compensation for it (other than from Seeking Alpha). I have no business relationship with any company whose stock is mentioned in this article.