Today's durable goods numbers tell us everything we need to know from the month of August in terms of durable goods production. Given the outlook of the ISM, it is no surprise that durable goods orders are still weak (as you will see in this article). Especially, the August ISM of 49.4 indicates that this month's durable goods orders are also likely to contract a bit further.
If you want to know more about the impact of leading indicators as well as the importance of looking at the right indicators, please read my blog about this topic.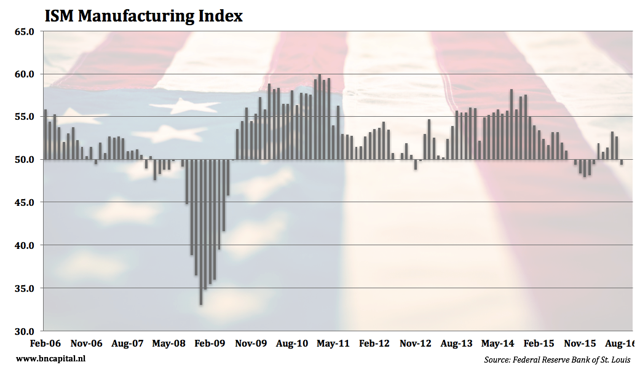 Click to enlarge
New nondefense orders excluding aircraft are stuck in a sideways range that started in 2015 and hasn't shown any momentum to either the upside or downside. New orders are currently at -3.1% on a year-on-year basis and not likely to recover without a strong ISM rally.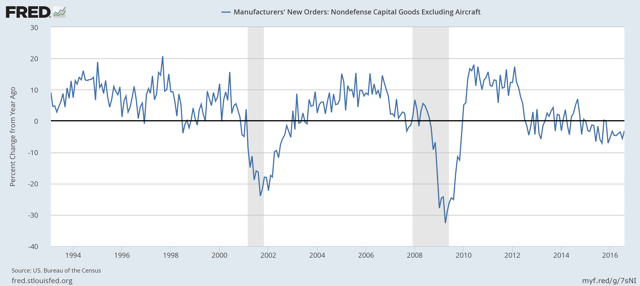 Click to enlarge
Shipments are doing much worse. Although shipments were able to gain a bit in August, they still remain at recession levels and have not shown any recovery since the economic peak in the third quarter of 2014.

Click to enlarge
Unfilled orders are a perfect example of our current economic state. Growth has imploded in 2014 and has resulted in one long period without growth. You can see this everywhere, not only when looking at durable goods orders.

Click to enlarge
When it comes to inventories, we see a similar pattern. Growth ended abruptly in 2014 and resulted in a strong downtrend within contraction territory.

Click to enlarge
Last but not least, I want to show you a positive graph. Motor vehicle and parts continue to perform quite well. They managed to grow after just one month of contraction. I show you this graph because I've been watching this industry for quite some time. I will write an in-depth article at the end of this week.

Click to enlarge
The conclusion is one again: Slower growth for longer. I don't see any strong durable goods numbers unless we get a serious ISM rally.
Thank you for reading my article, please leave a comment if you have questions or remarks. You can also send me a direct message if you like.
Disclosure: I/we have no positions in any stocks mentioned, and no plans to initiate any positions within the next 72 hours.
I wrote this article myself, and it expresses my own opinions. I am not receiving compensation for it (other than from Seeking Alpha). I have no business relationship with any company whose stock is mentioned in this article.