The Swoosh reported Q1 earnings for the 2017 year on Tuesday, and initial results seemed to crush the expectations. Nike (NYSE:NKE) beat on EPS by $0.17, bringing in $0.73 per share. However, investors quickly learned that much of the earnings beat was accredited to an unusually low, one-time tax decrease to 2.5%. With that framing in mind, we can now determine the actual health of Nike and what its earnings report can tell investors about the future of the company.
In my mind, there were several key metrics that tell the story of Nike. Of these, the most concerning appeared to be gross margins. For the quarter, gross margins contracted by 200 bps, as you can observe in the chart provided below.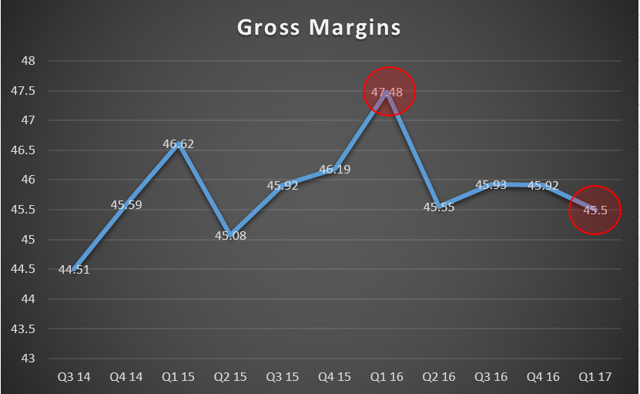 Click to enlarge
Gross margins can contract as a result of higher Cost of Goods Sold (COGS), or a lower average selling price. Margins are important to retailers like Nike because they provide insights towards the bigger picture. In Nike's case, it appears to confirm what most investors fear. The contracting margins support the notion that competition in the sportswear industry is fierce, and that Nike is lowering its prices to remain competitive with its peers.
If true, this is an alarming revelation that should concern investors. While it's easy to lower prices in times of difficulty, it is a difficult task later on to raise the prices back to historic levels. This would indicate that margins could remain lower for a longer period of time than investors are anticipating.
Now this is merely a theory, and could potentially be exaggerating the actual situation. CEO Mark Parker attributed the margin contraction to unfavorable foreign exchange rates and one-time occurrences, such as Nike's decision to exit the golf equipment business.
Parker believes margins will soon return to expansion, citing higher average selling prices, 3-D printing possibly being brought to scale, and other benefits associated with their "Footwear Manufacturing Revolution."
Ultimately, I believe margins will lower slightly in the near future, mainly due to fierce competition and the rising cost of sponsorships offsetting any positive catalysts. Parker confirms this sentiment, at least for the next quarter, by predicting margins to contract by 125 bps. The cost savings Mark Parker talks about will happen, but shouldn't materialize for a couple of years.
Secondly, I wanted to get a pulse on how Nike's direct-to-consumer (DTC) efforts are progressing. DTC revenue for Q1 was up 22%, with Nike.com leading much of the growth by posting a 49% gain. This compares rather well from a year ago, where Nike.com grew by 46%, and overall DTC by 21%.
Nike.com is expected to see continued growth as it expands into 20 new countries this year. The health of Nike's DTC is crucial, especially as it begins to represent a significant amount of Nike's overall business. The fact that DTC sales appear to be healthy and growing is a great sign for Nike.
By cutting out the distributors it sells wholesale to, it helps significantly with the margins we just discussed above. It can also indicate brand strength, as consumers shopping through this channel are actively seeking out the Nike brand.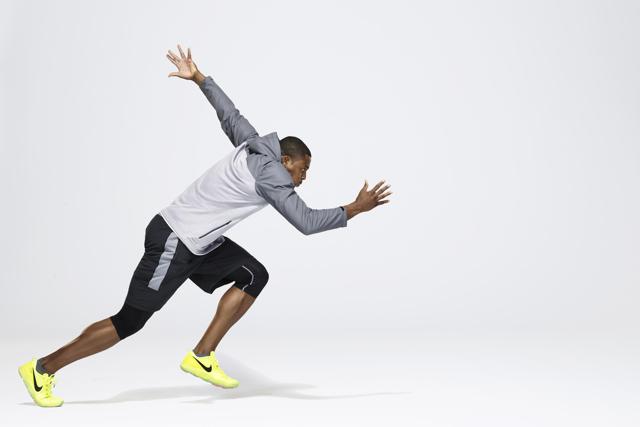 Click to enlarge
Last of important metrics, I would point to rising inventory numbers and semi-weak futures orders as concern for investors.
Conclusion
Margins will be a tough issue moving forward. Intense competition from Under Armour (NYSE:UA) and Adidas (OTCQX:ADDYY) have caused possible price reductions on products and cost increases on sponsorships. Nike has tied a good chunk of its brand identity and focus to product innovation, which has served it well over the years. While the athleisure trend has benefited Nike, it has taken the focus away from innovation and more towards fashion.
Since most people are now wearing the product for leisure, all the innovative athletic advantages melded into each shoe have become less important to the consumer. While product innovation takes years of research, fashion is something that can be easily replicated and originally produced rather quickly. I believe Adidas and Under Armour have been able to re-challenge Nike for market share as a result of this.
DTC continues to be a bright spot for the company, but I am less confident that it will be able to make up for the negative catalysts weighing down Nike's stock. I have written recently that Nike is a better buy than Under Armour in a one-to-one comparison.
However, that doesn't mean that Under Armour's explosive growth won't affect Nike. I believe both it and Adidas will make margins difficult and revenue growth less impressive in the future. Due to the current environment surrounding Nike and its recent results, I would advise investors to hold on to their Nike stock, but to avoid buying any more at this price point.
Author's Note: I encourage you to follow me as I cover a wide variety of current topics, with a special interest in the technology and entertainment industries.
Disclosure: I am/we are long NKE.
I wrote this article myself, and it expresses my own opinions. I am not receiving compensation for it (other than from Seeking Alpha). I have no business relationship with any company whose stock is mentioned in this article.
Editor's Note: This article discusses one or more securities that do not trade on a major U.S. exchange. Please be aware of the risks associated with these stocks.