Watch out markets! Here comes the latest BOJ innovation - "QQE with Yield Curve Control". Sounds complex doesn't it? That's because it is.
In addition to its existing QE operations, the BOJ will now move toward yield targeting with the aim of anchoring the 10-year rate at 0%.
In a previous article, I laid out the case for the BOJ to ease further as the 2% target began looking increasingly out of reach due to internal and external factors beyond their control. My analysis of the BOJ's last statement in August can be found here.
In both articles, I cautioned against drastic easing measures such as helicopter drops but did expect further easing in some form. NIRP, which would have been a signal of intent from the BOJ, also looked unlikely to me as they had already balked at negative rates on pressure from the financial institutions in Japan.
I expected shifting to a more flexible target range for JGB purchases with a view to making operations more sustainable (amidst worries that JGB supply was insufficient). The BOJ has done just this by targeting the 10-year yield. Instead of a rigid target amount of asset purchases, the BOJ is committing to not only defend the 0% 10-year yield but is also willing to overshoot its 2% inflation target to do so.
Was this policy decision a surprise? I tend to think not. There had been signs that something unconventional was a-coming for quite some time. From BOJ communications to data weakness and hawkish Fed sentiment, unconventional easing was well communicated but the extent to which the BOJ is now willing to go certainly caught quite a few by surprise. Here's a timeline of key events leading up to the BOJ announcement:
| | |
| --- | --- |
| 26 Aug | The Fed was more hawkish than expected at Jackson Hole, which the market interpreted as its attempt to prepare the foundation of rate hikes. |
| 27 Aug | Governor Kuroda said there was considerable room for rate cuts at Jackson Hole. |
| 5 Sep | Governor Kuroda stated that policies other than qualitative, quantitative and interest rate policies should be considered. |
| 6 Sep | US ISM non-manufacturing fell short of forecasts, and rate hike expectations declined. |
| 8 Sep | Deputy Governor Nakaso mentioned corrections to the policy framework in the comprehensive assessment. |
| 21 Sep | The BOJ introduced a long-term yield target and suspended the maturity target for JGB purchases. |
| 21 Sep | The FOMC left policy unchanged and stated that risks were balanced. |
Why not more QQE or lower rates though? The BOJ's ability to implement NIRP is limited by their adverse impact on bank profitability, while liquidity constraints hinder its ability to conduct asset purchases on a larger scale. The message the BOJ sent out to the market with its latest announcement is this - negative interest rate policies and balance sheet expansion are reaching their natural limits. In effect, they have failed.
The BOJ's "yield curve control" will fail too.
Here's why.
By admitting defeat with QQE, inflation expectations will fall. And falling inflation expectations lead to real rates (nominal - inflation) tightening, which in turn leads to the market taking nominal rates below 0%. As the chart below shows, the 10y already yields around the 0% mark.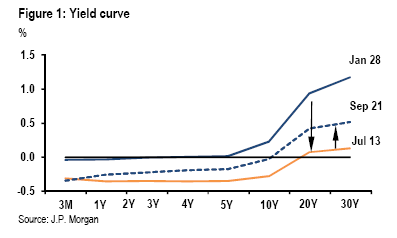 In line with its commitment, the BoJ will then have to sell JGBs, lower inflation expectations and spark the beginning of another vicious cycle. Even if it isn't pushed into selling JGBs, the BoJ's decision to shift away from asset purchases towards yield targeting creates the risk of a "forced taper" i.e. reduced bond purchases to defend its target. By committing to a target yield, the BOJ runs the risk of a forced taper if the 10-year JGB yield is pushed well below its 0% target by the market. This will have a tightening effect via reduced liquidity and reduced foreign interest in Japanese assets.
Secondly, the BOJ cannot fix both the yield curve and monetary base growth (increase the monetary base by 20% of GDP over a year) at the same time without some form of trade-off. For instance, JGB purchases influence monetary base growth targets and vice versa. Instead, the BOJ will likely focus on stock vs. flow, conveying that a slower pace of JGB purchases does not mean a reduction in easing. The commitment to overshooting its 2% commitment is case in point, suggesting greater emphasis on the stock side going forward.
One last note on NIRP - If yield curve control fails, the BOJ will yet again have to revisit NIRP (consensus for another rate cut seems to be April 2017) or perhaps even resort to helicopter money, the latter being highly unlikely in the near future. However, NIRP will not be easy considering the power of Japanese banks and financial institutions' feedback to Governor Kuroda. If the BOJ does move to cut rates further into negative territory, it will likely be more on an ad hoc basis in response to external shocks, rather than economic fundamentals such as real economic conditions and prices. In the meantime, expect the BOJ to remain on hold until it obtains more clarity on the implications of this decision.
Disclosure: I/we have no positions in any stocks mentioned, and no plans to initiate any positions within the next 72 hours.
I wrote this article myself, and it expresses my own opinions. I am not receiving compensation for it (other than from Seeking Alpha). I have no business relationship with any company whose stock is mentioned in this article.