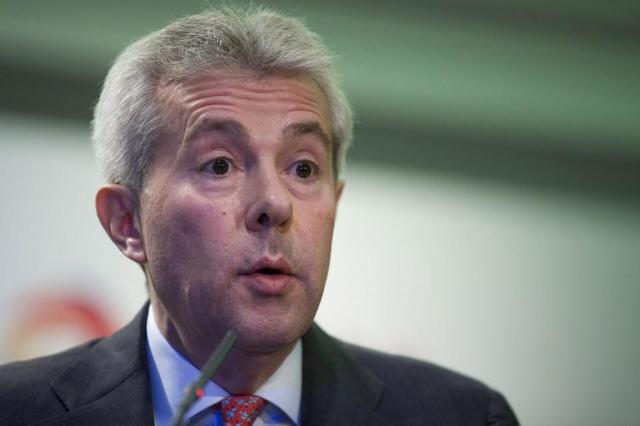 Click to enlarge
Weatherford CEO Bernard Duroc Danner
Oilfield services stocks were in the red Tuesday after OPEC dashed hopes it would agree on limiting oil output at a meeting in Algeria. Weatherford International (NYSE:WFT) was hit even harder after an announcement that the SEC had fined the company $140 million for accounting fraud:
The U.S. Securities and Exchange Commission will force Weatherford International to pay a $140 million penalty to settle charges it inflated earnings and understated taxes, but it will not force the oil-services company to claw back excess incentive compensation paid to its CEO and CFO.

Weatherford issued false financial statements between 2007 and 2012 that inflated its earnings by more than $900 million in total, the SEC said. The company allegedly misled investors about its earnings per share, effective tax rate and other key financial information.
The company agreed to the settlement without admitting or denying any wrongdoing. $50 million of the $140 million settlement is due in three weeks. The balance is due in equal installments of $30 million in 120 days, 240 days and 360 days.
The Situation
In the past, Weatherford has touted its superior tax avoidance strategy as a competitive advantage. The SEC alleges that through two employees, James Hudgins and Darryl Kitay, Weatherford attempted to manipulate numbers when it fell shy of financial expectations of investors and analysts. The tax structure was not as successful as advertised and Weatherford had to restate earnings three times from 2011 to 2012.
$140 Million Fine Could Crimp Cash Flow
The $140 million fine will likely crimp Weatherford's cash flow. The company burned through $160 million in cash in Q2 and a total of $400 million for the first half of the year. The company raised over $3 billion of debt and equity securities to help meet principal payments and shore up its balance sheet. Nonetheless, Weatherford continues to hemorrhage cash. Its debt of $7.2 billion is over 20x run-rate EBITDA, so the company has little margin for error.
Even more damning is that Weatherford cannot service its debt out of existing cash flow. Quarterly interest expense exceeds EBITDA; it appears to be only a matter of time before it burns through the $452 million in cash it has on the balance sheet. The SEC fine and its current cash burn rate could force Weatherford to seek new capital by Q1 2017.
Does Anyone Doubt Assets Are Overstated By $7 Billion?
Weatherford's Q2 balance sheet showed assets of $14.1 billion and equity of $4.2 billion. About $8.4 billion of its assets (60% of total) were related to goodwill and property, plant & equipment ("PP&E"). In my opinion, these assets are practically worthless. I estimate the liquidation value of Weatherford's goodwill, PP&E and inventory are $7 billion less than their carrying value, and the company is insolvent by over $3 billion.
The SEC fine and concerns over weakness in Weatherford's financial reporting could cause the investment community to take a more critical eye to the company's balance sheet. This could hurt its ability to raise new money in the future. Moreover, a potential goodwill impairment charge in Q3 could create negative sentiment for the stock and bring more attention to the quality of assets backing the company's $7 billion debt load.
Conclusion
The SEC fine calls into question the quality of Weatherford's internal controls and could exacerbate its liquidity strain. Avoid WFT.
Disclosure: I am/we are short WFT.
I wrote this article myself, and it expresses my own opinions. I am not receiving compensation for it. I have no business relationship with any company whose stock is mentioned in this article.