For a brief moment Tuesday morning, it appeared stocks were set to roar higher. The initial consensus appeared to be that Clinton had overwhelmingly won the debate.
And markets reacted. The Mexican Peso made perhaps the biggest move of all, rebounding from fresh all-time lows with a 3% jump while the debate was in progress. We watched the debate on Mexican TV, with a live tick-by-tick quote of the Peso next to the candidates. By the end of it, my girlfriend was complaining that I hadn't withdrawn more Pesos from the ATM while the getting was good.
It wasn't just currencies that moved. S&P 500 (NYSEARCA:SPY) futures spiked 1% higher during the debate, as betting sites showed Trump's odds of winning dropping dramatically.
But stocks' upside momentum quickly faded. As the media contemplated the debate further, a new consensus seems to be emerging that Trump did alright. Perhaps, by holding back his punches, he took a calculated risk of letting Clinton score more debate points while showing voters a cooler more composed side of him that didn't lash out at every piece of bait tossed his way.
In any case, the stage is now set for "Trump is rebounding" narrative in the second debate, where he merely needs to show improvement from his flat performance Monday. While betting sites have Clinton up to 68% odds of winning, actual poll-based models show Clinton up just 55-45 or so. It's worth remembering that the media consensus showed both Romney in 2012 and Kerry in 2004 as clear winners in their first debates, yet both went on to squander their election chances.
All that said, the Peso is selling back off today, and the market appears to moving back to a more rational assessment of election odds. I own more Mexican shares than most people here at Seeking Alpha, and it was fun watching them all jump 3-5% yesterday. But the election is far from over, and investors thinking the "coast is clear" may be in for a rude awakening.
There's plenty of other things worth paying attention to now as well. We're not in the dull summer months anymore, there's plenty of news.
Banks Under Scrutiny
One topic is banking. In the US, arguably the ongoing Wells Fargo (NYSE:WFC) scandal is getting more attention. Overseas, the ongoing decline of Deutsche Bank (NYSE:DB) is grabbing headlines, including this absurd one that Turkey is thinking about buying out the German bank. In any case, Deutsche's stock chart continues to look sickly: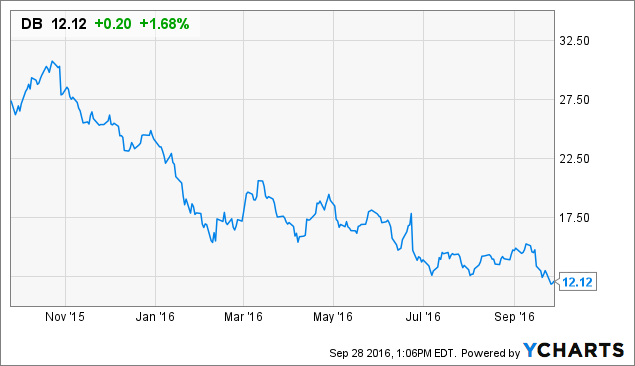 The double bottom at $12.50 broke, and shares hit the low 11s before stabilizing. A technical reading of the chart suggests we'll see single digits for the equity sooner or later. My best guess is that they'll have to dilute the stock significantly to raise capital, but that the bank won't run a big risk of outright failure, at least not over the next couple of quarters.
Stateside, Wells Fargo is taking tons of heat. Shares broke to new 52-week lows on Monday, and have struggled to regain their footing since then.
CEO John Stumpf is forced to give up $41 million in compensation. And the bank is winding down its sales targets for its retail bankers even more quickly than it had previously planned.
My overall impression of the situation hasn't changed greatly since I previously discussed it. Wells Fargo's profits will be down, moderately, over the next couple of years, as their extreme level of cross-selling heads back toward normal industry quantities. That said, this scandal is still more sizzle than steak. The crimes committed during the financial crisis were far more harmful to the country's economy than what happened with Wells Fargo recently.
As for whether the stock is a buy yet, it is getting closer, if you want exposure to too-big-to-fail US banks. I prefer strong community and regional banks to the giants, but if size makes you comfortable, there is a building valuation case for Wells Fargo.
At $42/share, WFC would yield 3.6% and trade at 10x trailing earnings. Sure, earnings will decline somewhat in the near future, but unless they lose a significant chunk of their deposit base due to this scandal, it should be able to build back up to peak earnings power over the next couple of years.
Oil's Crazy Ride
Crude oil also is driving markets. It has had an incredibly bumpy ride, making two round trips between $46/barrel and $44/barrel since Friday.

To the positive side, oil benefited from the general lift in global sentiments following the debate. And after yesterday's drop, oil is back up today on rumors that OPEC is going to tighten supply sometime before the end of 2016. Yes, I know we've heard that one before, but one of these days it might happen.
Also, a tropical storm, named Matthew, has developed that appears to have the potential to turn into a powerful US-bound hurricane.
On the downside, the US continues to show elevated levels of inventory, even with recent draws topping expectations.
In the bigger picture, oil continues to see elevated volatility, but with little actual movement. Oil has traded more or less in a range between $40 and $52 all year, and despite wild swings within that band, neither side has been able to get the price to move out of the range. One possibility: The price of oil, for the time being, is more or less correct.
Disclosure: I/we have no positions in any stocks mentioned, and no plans to initiate any positions within the next 72 hours.
I wrote this article myself, and it expresses my own opinions. I am not receiving compensation for it (other than from Seeking Alpha). I have no business relationship with any company whose stock is mentioned in this article.