Since peaking at $1377.50 in early July gold has spent the last 2 1/2 months building energy within an increasingly narrow range: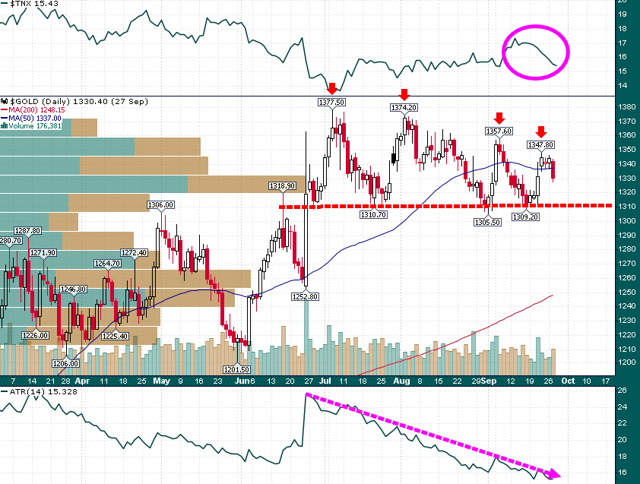 Click to enlargeThe recent decline in long end yields has not triggered the usual rally in gold that we have become accustomed to seeing. Correlations certainly shift from time to time but it is notable to say the least when a sizable decline in bond yields results in no net effect on the gold price.
With realized volatility at the lowest levels in nearly a year, energy is building and gold's trading range is increasingly focused on the largest volume-by-price bar near $1330. When so much volume has been churned in an increasingly narrow trading range it makes it increasingly likely that the next directional move will be a large one.
I foresee a $100+ move in gold within the next 30 days and the upside/downside reference points have never been more clear; a move above $1350 will snap the series of lower highs and target $1400+, whereas, a breakdown below $1310 should trigger a selling deluge which could send gold down to least the $1250 area.
Disclosure: I/we have no positions in any stocks mentioned, and no plans to initiate any positions within the next 72 hours.
I wrote this article myself, and it expresses my own opinions. I am not receiving compensation for it (other than from Seeking Alpha). I have no business relationship with any company whose stock is mentioned in this article.