There has been plenty of confusion among business development company ("BDC") investors regarding the appropriate price to pay for individual BDCs. This is a short series of articles to discuss some of my pricing methodologies including general market timing for purchases and assessing relative risk and dividend coverage, which are primarily responsible for driving a wide range of values for BDCs.
To be a successful BDC investor:
Identify BDCs that fit your risk profile (there are over 50 publicly traded BDCs, please be selective)
Diversify your BDC portfolio with at least 5 companies
Establish appropriate price targets based on relative risk and returns (mostly from dividends)
Be ready to make purchases during market volatility and look for opportunistic buying points
Closely monitor your BDCs including dividend coverage potential and portfolio credit quality
It is important to realize that BDCs can be opaque and do not report consistently so investors need to look beyond changes to net asset value ("NAV") per share and dividend coverage from net investment income ("NII"). This includes assessing the "quality" of management.
Personal Note: BDCs are complicated investments and using over simplistic valuation measures such price-to-NAV is highly irresponsible and misleading in my opinion.
Why Invest in a BDC?
BDCs are priced differently than most stocks for many reasons and it is important to understand why investors usually invest in the sector. The following slide is from Gladstone Capital (NASDAQ:GLAD):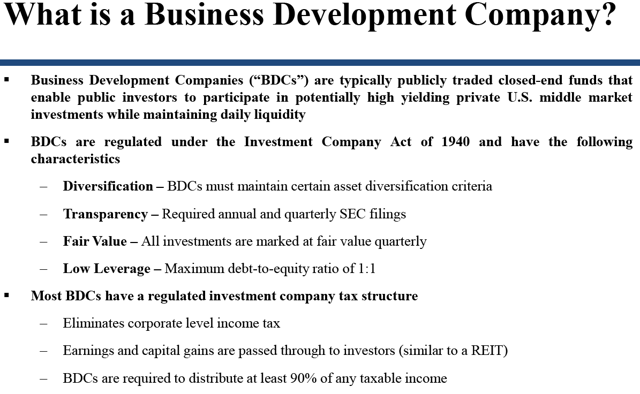 Click to enlarge
Most investors choose BDCs as an income-oriented investment rather than for capital gains. There are many reasons for this but BDCs were designed not to appreciate (or very little) in value over the long-term as they are required to pay out at least 90% (most pay closer to 100%) of all taxable and capital gains to investors to avoid being taxed at the corporate level. This is called the "conduit theory", avoiding double taxation, to deliver returns from investing in mostly smaller private US companies directly to shareholders. From a pricing perspective, this means that BDCs are priced based on potential returns to shareholders that is mostly through dividends rather than capital gains. The quality of returns (dividends) is directly tied capital preservation (risk) and dividend coverage from stable sources.
The following slide is also provided by GLAD but I have included a table with the dividend yield for almost 40 BDCs that currently average 10.9%.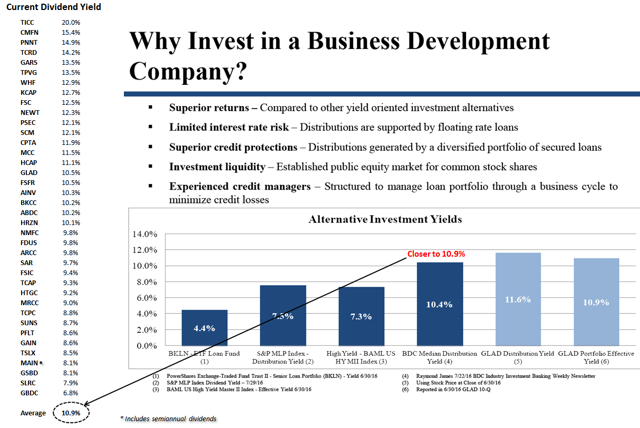 Click to enlarge
Typically, the higher yield BDCs such as TICC Capital (NASDAQ:TICC), CM Finance (NASDAQ:CMFN), PennantPark Investment (NASDAQ:PNNT), THL Credit (NASDAQ:TCRD), Garrison Capital (NASDAQ:GARS), TriplePoint Venture Growth (NYSE:TPVG), WhiteHorse Finance (NASDAQ:WHF), KCAP Financial (NASDAQ:KCAP), Fifth Street Finance (NYSE:FSC), Newtek Business Services (NASDAQ:NEWT), Prospect Capital (NASDAQ:PSEC) and Stellus Capital Investment (NYSE:SCM) in the table above are likely "perceived" to have potential issues related to capital preservation (risk) and/or dividend coverage from stable sources. I am currently anticipating 2 to 3 of these BDCs cutting dividends in Q4 2016 followed by more in early 2017. Medley Capital (NYSE:MCC), Apollo Investment (NASDAQ:AINV), Triangle Capital (NYSE:TCAP), Full Circle Capital (FULL) and Capitala Finance (NASDAQ:CPTA) were previously included in the higher-than-average yield group before cutting their dividends this year. Please see previous "Dividend Cut" prediction articles for more.
Conversely, the lower yield BDCs such as Golub Capital BDC (NASDAQ:GBDC), Solar Capital (NASDAQ:SLRC), Goldman Sachs BDC (NYSE:GSBD), Main Street Capital (NYSE:MAIN), TPG Specialty Lending (NYSE:TSLX), Gladstone Investment (NASDAQ:GAIN), PennantPark Floating Rate Capital (NASDAQ:PFLT), Solar Senior Capital (NASDAQ:SUNS), TCP Capital (NASDAQ:TCPC) and Monroe Capital (NASDAQ:MRCC) are likely perceived to have stable to growing dividends with portfolios that would probably outperform during an economic slowdown/decline.
However, I believe that there outliers in the lower and higher yield groups due to not being priced correctly. It should be noted that TPVG, Hercules Capital (NASDAQ:HTGC) and Horizon Technology Finance (NASDAQ:HRZN) mostly invest in VC tech backed companies and pricing is influenced by potential IPO or M&A activity which I believe gives investors excellent access to this sector for a balanced portfolio. Ares Capital (NASDAQ:ARCC) is currently acquiring American Capital (NASDAQ:ACAS), BlackRock Capital Investment (NASDAQ:BKCC) is dealing legacy portfolio credit-related issues and PNNT, AINV, GLAD, FS Investment Corp (NYSE:FSIC) and New Mountain Finance (NYSE:NMFC) have been impacted by oil-related NAV declines.
Historical Yields and Spreads:
The following table shows the "effective yield of the BofA Merrill Lynch US Corporate B Index" and includes all securities with a given investment grade rating B.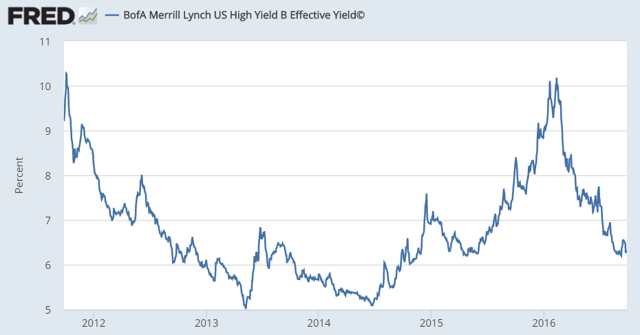 Click to enlarge
Source: FRED Economic Data
However, most BDCs invest somewhere between grades B (current yield ~6.3%) and CCC (current yield ~13.4%). Historically, BDC yields (and corresponding prices) have followed B yields as shown in the chart below. I closely watch the yield spreads between BDCs and other investments that has averaged around 4.0% with B yields but is currently around 4.6% (the difference between 6.3% and 10.9%). Yield spreads are important to monitor as they can indicate when a basket of investments is overbought or oversold compared to other yield-related investments. However, it is also important to point that these spreads change over time depending on perception of risk and that these are only averages that then need to be assigned a range for assessing individual investments/BDCs.
BDCs can be volatile and timing is everything for investors that want to get the "biggest bang for their buck" but still have a higher quality portfolio that will deliver consistent returns over the long-term. The following chart shows the average BDC dividend yield over the last 5 years.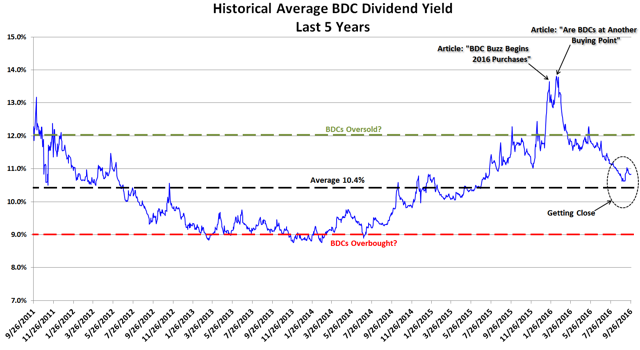 Click to enlarge
I am expecting volatility (lower prices) this year before heading into another potential rally for 2017. Investors should be ready with a shopping list and target prices and for more information on individual BDC pricing and rankings (risk, dividend potential, return, valuation), suggested BDC portfolios, dividend coverage tiers, pricing charts and valuations, interest rate discussion, my upcoming/historical purchases and current positions, please see "Index to Free BDC Research".
As BDCs approach an average yield of 12%, I generally consider them to be oversold which is when I make larger purchases as discussed in "BDC Buzz Begins 2016 Purchases" and "Are BDCs at Another Buying Point" and shown in the chart above. However, BDCs have been doing well as discussed in "BDCs Have Been Crushing The S&P 500 In 2016" and are now approaching average yields which implies more appropriate pricing (on average).
Changes to my BDC Investment Strategy & Pricing:
Clearly the market is favoring yield-based investments and I am adapting my investment strategy for BDCs. Since 2014, BDCs have been testing new lows (see chart below) with increased dividend yields for investors and I used a 'Suggested Buy' pricing which was basically the price I was looking for when making purchases during days with higher volatility.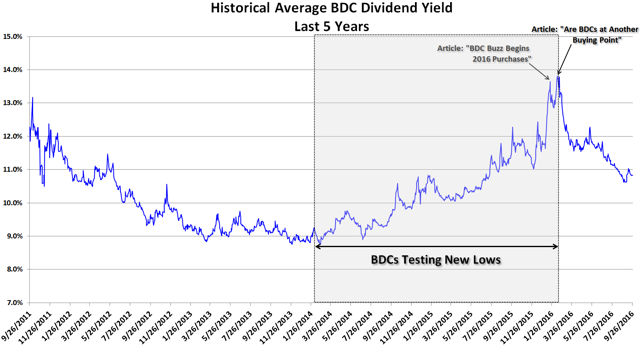 Click to enlarge
However, I am now adjusting my strategy from looking for "bargain basement" pricing to buying BDCs that are inappropriately priced relative to the others. Also, I am changing my view on dividend coverage potential as there has been a shift in the market over the last two quarters. Lenders are bracing for late-stage credit cycle issues driving competition and lower debt investment yields for "true" first-lien loans. This is likely due to increased defaults for subordinated or lower quality investments. I have noticed a pickup in non-accruals and credit-related issues for BDCs such as TCRD that primarily invest in higher yield subordinated debt. TCRD has been focused on improving its asset mix including investing in lower yield assets driving lower portfolio yield which could result in continued lower dividend coverage. In my opinion, TCRD is taking a longer-term approach to providing returns to investors that could result in a dividend cut but a much stronger portfolio to ensure future dividend coverage and NAV stability. TCAP did the same thing when it announced its dividend cut earlier this year. Going forward, we will likely see lower portfolio yields and/or lower portfolio growth (due to being more selective) for BDCs focused on higher quality. I have taken this into account and refocused my Dividend Coverage Tiers to reflect potential dividend coverage during projected 'worst-case' and the 'lower yield' optimal leverage analysis. Worst-case scenarios for each BDC include lower amounts of non-interest income (from fees and dividends), lower portfolio growth and yield.
Other BDCs are taking the opposite approach and trying to rotate into higher yield assets that could result in upcoming defaults and eventual dividend cuts. I have adjusted my risk rankings for BDCs "reaching for yield", many of which do not have a 'high water mark' fee agreement to protect shareholders from potential credit issues that could drive meaningful NAV deterioration in the coming quarters.
Upcoming Articles:
In the following articles in this series, I will cover:
BDC pricing based on yield, multiples and total returns
Measures of dividend coverage and what to look for
Measures of relative risk and what to look for
Target pricing ranges for BDCs
Limit orders and timing
Personal note: I have updated my positions to reflect changes in my holdings, but please keep in mind that some of the positions are very small and mostly for research purposes.
Disclosure: I am/we are long ABDC, AINV, ARCC, BKCC, FDUS, FSC, FSFR, FSIC, GAIN, GARS, GBDC, GLAD, GSBD, HCAP, HTGC, MAIN, MCC, MRCC, NMFC, PFLT, PNNT, PSEC, SLRC, SUNS, TCAP, TCPC, TPVG, TSLX.
I wrote this article myself, and it expresses my own opinions. I am not receiving compensation for it (other than from Seeking Alpha). I have no business relationship with any company whose stock is mentioned in this article.