Moderately bullish report on very low standards. A build in gasoline, more than offset by a drop in stocks of crude oil and distillates and a small drop in domestic production, though mostly in Alaska. We remind readers we are in the shoulder season and we would normally expect crude oil stock builds and low refinery utilization rates
Crude oil prices (NYSEARCA: USO) dropped by about $1.00/bbl after the report was released, only to rally thereafter, more than offsetting the initial drop.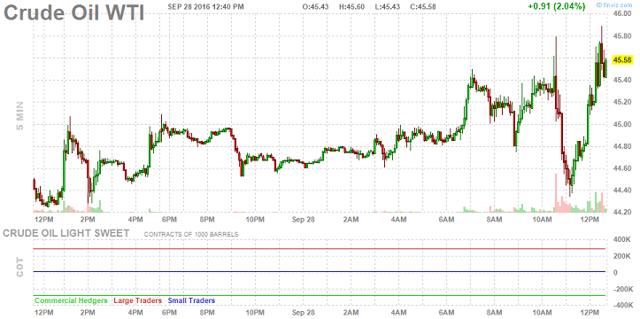 Click to enlarge
Source: Finviz.com
Stocks:
* Crude oil inventories decreased by 1.9 million barrels.
* Gasoline inventories increased by 2.0 million barrels.
* Distillate inventories decreased by 1.9 million barrels.
At this point of the season, we consider any decrease in stocks for the whole complex of crude oil and refined products as bullish. With that in mind, we view this week's changes in stocks as constructive to oil prices. While some commenters may argue this was the largest increase in gasoline stocks in 17 weeks, we still see the net change as positive, as the build in gasoline was offset by the decrease in distillates and reversed by the fall in crude oil stocks. In addition, we remind readers we are at the lowest point of the year for gasoline consumption in terms of seasonality.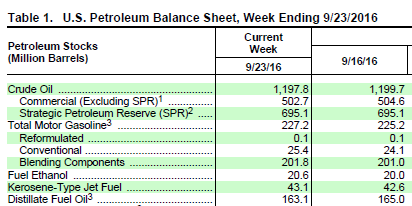 Source: EIA
Production and Refinery Utilization:
* Domestic production decreased by 15,000 barrels per day after increasing the previous two weeks. Two-thirds of the drop happened in Alaska, where production is very volatile.
* Production in the Contiguous United States (excluding Alaska) decreased by 5,000 barrels per day. A small drop after increasing by 33,000 bpd in the previous three weeks.
* Net imports decreased by 393,000 bpd. This could be bearish for oil prices in the next coming weeks, as imports are running below normal levels.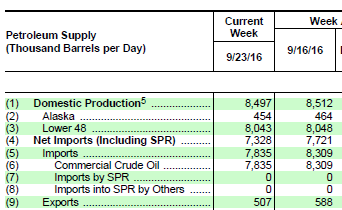 Source: EIA
* Refinery utilization decreased 190 basis points to 90.1%. A very large decrease compared to the previous week, but normal given that we are in the shoulder season when refineries take capacity offline to perform routine maintenance.

Source: EIA
Cushing, Oklahoma:
* Cushing, OK inventories decreased by 600,000 barrels. We still believe that Cushing is essentially at maximum operating capacity.
* Gulf Coast inventories decreased by 700,000 million barrels. Inventories at PADD 3 are still at or near historical levels and will keep a lid to oil prices domestically if they start to accumulate during the shoulder season.

Source: EIA
Conclusion:
A mildly bullish report, everything considered, given that stocks for the full complex (crude oil + refined products) fell and domestic production dropped, although by a small amount. We still expect OPEC, monetary policy, and the 9/11 legislation to drive prices in the near term.
Disclosure: I/we have no positions in any stocks mentioned, and no plans to initiate any positions within the next 72 hours.
I wrote this article myself, and it expresses my own opinions. I am not receiving compensation for it (other than from Seeking Alpha). I have no business relationship with any company whose stock is mentioned in this article.