My narrative around a host of yield stocks are that the gains of the last five years are excessive. The valuations in home improvement and defense stocks don't support owning those sectors anymore.
One stock that has seen sizable gains and remains reasonably priced is Travelers (NYSE:TRV). The stock has seen huge gains over the last few years, but one key yield signals that more gains are likely ahead.
Though Travelers fell into the high-yielding sector like Lowe's (NYSE:LOW) and Lockheed Martin (NYSE:LMT), the stock hasn't seen the same level of gains over the last five years. Sure Travelers is up 133% during that period, but the gains don't match the 250% gains of the other sector stocks.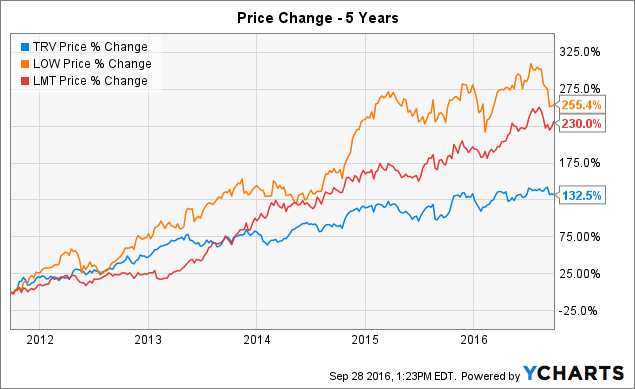 TRV data by YCharts
As well, Travelers still maintains a reasonable valuation at roughly 11.5x EPS estimates. These other yield sectors hit values at nearly 20x EPS estimates at the recent stock peaks.
The main sign that signals Travelers as one stock to still own is the net payout yield (net stock buybacks yield + dividend yield). This yield is still near 11% for Travelers while Lowe's and Lockheed Martin saw previous similar yields dip to around 6% at the lows.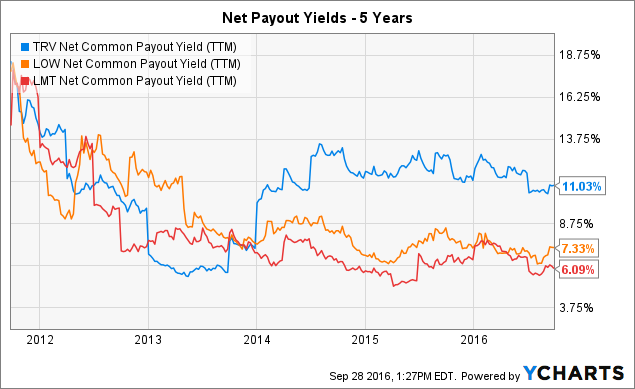 TRV Net Common Payout Yield (TTM) data by YCharts
With a dividend yield of only 2.3%, Travelers spends huge amounts on stock buybacks. The insurance provider has already spent $1.2 billion on stock buybacks in the 1H of the year. As well, over $2.2 billion is remaining under the existing stock repurchase program providing plenty of fire power going forward for a company with a market cap of $33 billion.
The key investor takeaway is that despite huge stock gains over the last few years, Travelers is still attractively priced for more gains. Another reminder that how a stock has traded in the last few years isn't always the best indicator of future returns.
Disclosure: I am/we are long TRV.
I wrote this article myself, and it expresses my own opinions. I am not receiving compensation for it (other than from Seeking Alpha). I have no business relationship with any company whose stock is mentioned in this article.
Additional disclosure: The information contained herein is for informational purposes only. Nothing in this article should be taken as a solicitation to purchase or sell securities. Before buying or selling any stock you should do your own research and reach your own conclusion or consult a financial advisor. Investing includes risks, including loss of principal.