Highlight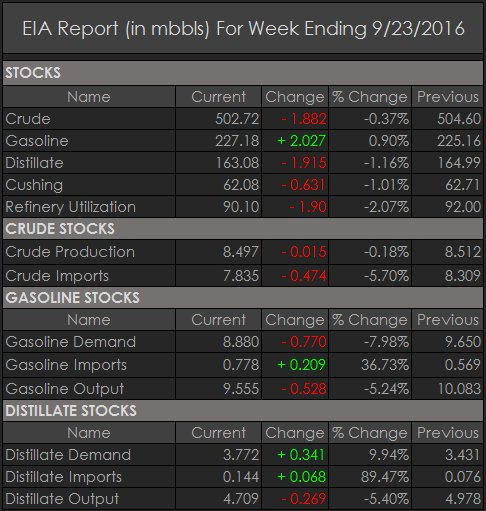 Source:EnergyBasis
This week's report saw crude stock draw down by 1.882 million bbls. Imports dropping by 474k b/d largely explains the crude draw. The interesting thing we are hearing from oil (NYSEARCA:USO) traders is that imports should continue to drop till year end as floating storage levels decrease. We can see this through tanker rates which has been dropping since the beginning of this year.
One trader we talked to in particular thinks crude imports will only average 6.9 million b/d when 2017 starts. If US production remains around the current 8.5 million b/d mark, we should see inventory levels accelerate downwards starting next year.
Other notable points from this report. US oil production is starting to flatten out with Alaska dropping 10k b/d this week and lower 48 dropping 5k b/d. Year-over-year gasoline surplus is starting to dwindle, and we could expect it to continue to rebalance itself out. Distillate saw its normal seasonal draw. Refineries are finally starting to slowdown.
Refineries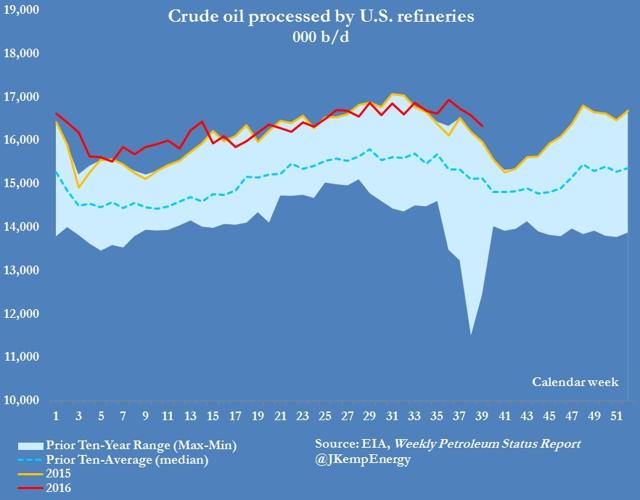 Click to enlarge
Refineries dropped throughput by 1.90% last week. The drop however puts refineries still running at the highest level over the last 10 years. Exports last week dropped slightly by 191k b/d, but the higher refinery runs are translating into higher export volumes out of the US.
Refineries throughput should continue to drop, and if imports remain low, we could see finished product draw coincide with crude draw.
Overall, this was a slightly positive report. There wasn't anything out of line in this report, and seasonality continues to play out. We expect to see refinery throughput drop in the weeks ahead and imports normalizing by year end. We think the current balance of the oil markets is much tighter than what IEA and others believe. We have already started seeing global oil storage falling since March this year, and expect it to continue. As storage normalizes, we will see oil prices react correspondingly.
We recently updated our premium subscribers on our oil outlook. If you are interested, please consider signing up here. Thank you for reading Weekly Oil Inventory Report .
Disclosure: I/we have no positions in any stocks mentioned, and no plans to initiate any positions within the next 72 hours.
I wrote this article myself, and it expresses my own opinions. I am not receiving compensation for it (other than from Seeking Alpha). I have no business relationship with any company whose stock is mentioned in this article.