One of the things that sets apart The Chubb Corporation (NYSE:CB) is the focus of its CEO, Evan Greenberg, on the central mechanism of value creation in a financial risk business. This is return on incremental capital employed.
At a time when the Bank of England's insurance supervisor is expressing concern over firms running down their loss reserves to maintain capital payouts to equity investors, such is the loss of underwriting margins they are incurring due to ongoing price competition - something that is a global problem - Chubb distinguishes itself with its focus on underwriting margin.
It can afford this luxury for a number of reasons. First, its balance sheet scale allows it to take on ticket sizes other insurers can't, and which are therefore (slightly) less competitively priced. Second, the company is global: It can usually find terms that meet its hurdle rates somewhere. Third, the company is a multi-line insurer - this brings the same benefit as geographical diversification.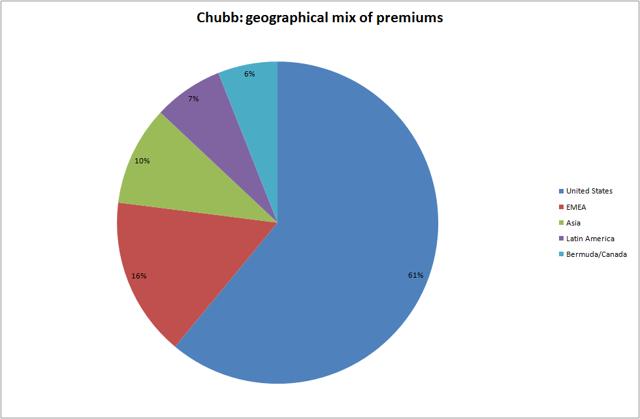 Click to enlarge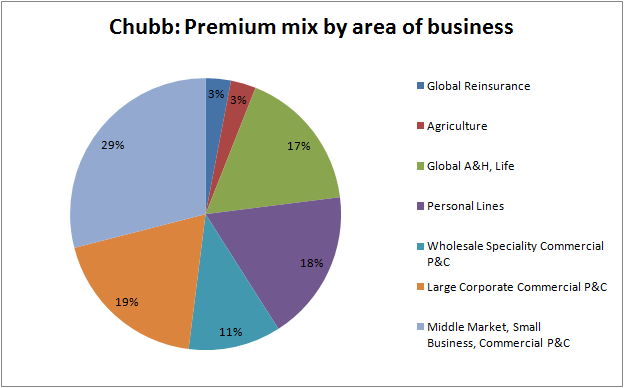 Source: Company Data (2015 Annual Report)
So when Evan Greenberg said on the Q1 2016 results call that he "cheerleads" his underwriters turning down business, it is partly because they are not all turning down business at the same time.
The results of this approach can be seen in the combined ratio of Chubb, which leads the industry, and has been consistently strong for a decade.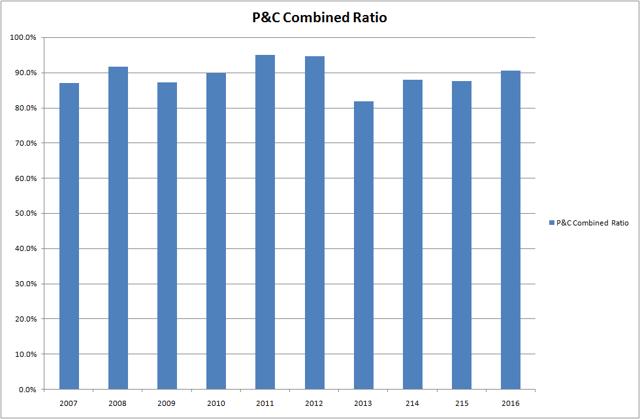 Click to enlarge
Source: Company Data (2015 Annual Report)
Chubb was acquired by ACE Insurance in 2015, and the following discussion will focus on the track record of ACE in capital generation, which the new group presents as its historical track record until the end of 2015.
The strong combined ratio has led to Chubb being very capital-generative.
Since 2006, the company has doubled its book value while paying out 56% of its starting book value in dividends or share repurchases. The rate of BV growth post distribution over this period 11.6% annually, value generation (both retained and distributed capital) has run an 18% rate.
Because Chubb has capital lodged in foreign jurisdictions, FX translation gains and losses can distort underlying year-to-year capital generation. However, over time, these have evened out and are immaterial to capital generation.
Due to the strength of the dollar in 2014-2015, book value generation has fallen short of the average level. The underlying rate of capital generation can be approximated by looking at net earnings/opening book value. This was 9.8% and 9.5% in 2014 and 2015 respectively. Book value growth has picked up in 2016 due to the partial reversal in the dollar and ongoing healthy rate of underlying capital generation.
So Chubb's seemingly defensive pricing is all about capital generation, and capital generation is all about growth. Put simply, the company can expand its insurance risk by the amount it grows its book by if it is to retain the same solvency levels over time. So its growth does generally not come at the expense of ROIC.
At a time when many insurers are seemingly all about capital return to shareholders, Chubb has generally been more about growth. Here is the split of capital retention and distribution. As stated above, retained capital was also reduced by FX effects through the last two years due to dollar strength.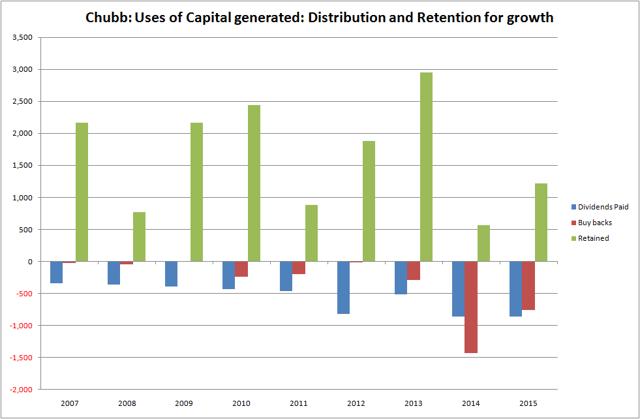 Click to enlarge
While distributions have increased in the last two years, they are likely to reduce in the medium term. The Chubb acquisition generated a large amount of goodwill, and the group will focus on building up its tangible book value.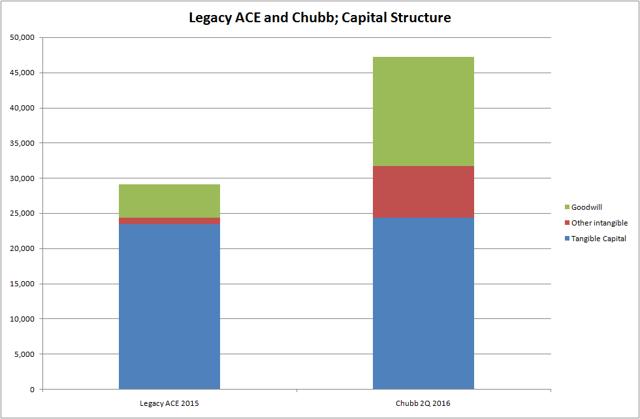 Click to enlarge
So, here we have a disciplined capital generative business, that can grow at the rate it retains capital - both organically and by acquisition.
If a growing business slows down, say by moving to distribute capital rather than invest it, this can change the value parameters. Might this happen at Chubb? Sure, it will build its tangible book back, but what if the larger firm at that point can't reinvest to back insurance risk with the same turnaround as before? What if the crazy pricing in the sector means even Chubb can't grow its books in line with ROE?
The company is not talking this way long term and indeed is animated about both the prospects of its merger and its markets. But even if it's wrong, the valuation gives a lot of comfort.
The stock is trading on ~1.1x BV 2017. Anywhere around book value for something of this quality leaves me comfortable with a lower rate of reinvestment and higher payout should this occur, though I would prefer the company to stay with growth if it can deploy the capital. I expect this to be the case given its presence in EMEA and Asia, and its comfort with acquisitions.
The present valuation allows investors to buy a high quality financial the ROE of which is likely to beat the S&P long term, for a little over next years' book. To my mind, this is compelling.
Disclosure: I/we have no positions in any stocks mentioned, and no plans to initiate any positions within the next 72 hours.
I wrote this article myself, and it expresses my own opinions. I am not receiving compensation for it (other than from Seeking Alpha). I have no business relationship with any company whose stock is mentioned in this article.