The highlight of BlackBerry's (NASDAQ:BBRY) fiscal 2017 Q2 earnings report was the announcement that it is finally ending all internal hardware development. As of this writing, BlackBerry is up about 5%. Investors were apparently encouraged by the hardware announcement, but should they be? Not if the DTEK50 is any indication of BlackBerry's hardware future.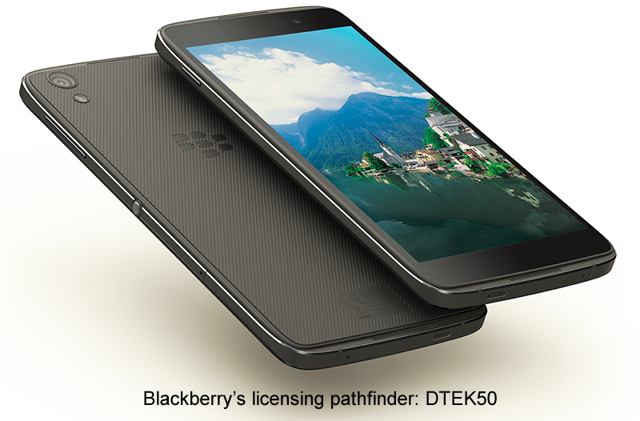 Click to enlarge
Source: BlackBerry
Cheapening the Brand
Last earnings report, I complained that Chen had failed to do what was necessary in completely eliminating internal hardware development. Instead, BlackBerry seemed to pursue a hybrid approach, in which there would be some internal development (apparently for keyboard equipped phones to appeal to the BlackBerry faithful), as well as outsourcing of hardware design and manufacturing.
Then BlackBerry introduced the DTEK50, a rebranding of the truly awful Alcatel Idol 4 phone, and it became apparent what investors could expect from the outsourcing strategy. The battery life of the DTEK50 was so poor that BlackBerry supplied the phone with a supplemental external battery pack.
I'm no more satisfied with the current Android hardware strategy than I've been ever since the Priv was introduced. The current strategy amounts to brand licensing, in which BlackBerry licenses its brand and security software to another company, which then does all the rest.
So it's the DTEK50 strategy taken even further, in which BlackBerry doesn't even have control over sales and distribution. And how much practical control BlackBerry will have over the resultant phones that carry its brand remains to be seen.
BlackBerry's first step in this direction is to license an Indonesian joint venture. BlackBerry will collect royalties on the branded handsets sold in Indonesia. BlackBerry has the option to distribute the phones outside of Indonesia, but has no plans to do so. Such a phone would probably be even less competitive than the DTEK50.
Why do I think the DTEK50 has been uncompetitive? Because of the $97 million charge that BlackBerry took in fiscal Q2 for "Inventory write-down" as disclosed in BlackBerry's IR_Supplement. BlackBerry isn't specific about what inventory, but it's probably DTEK50s that it couldn't move.
And this was the straw that broke the hardware camel's back. During the conference call, BlackBerry emphasized that the advantage of the licensing model is that BlackBerry would not have to carry any inventory. That risk would be born by the licensee.
This is far from the model that I wanted BlackBerry to pursue for Android phones and for some reason was never tried. The model that I thought would work best for BlackBerry is the Google (NASDAQ:GOOG) (NASDAQ:GOOGL) Nexus model. BlackBerry would recruit a credible hardware company to design a BlackBerry unique product that BlackBerry would market and sell. We'll never know if this could have worked because BlackBerry will never have tried it.
Not addressed is how the phones would be receive software updates and security patches. Traditionally, this is handled by the hardware vendors, with the exception of Nexus. Will BlackBerry support these licensed phones? This didn't come up during the conference call.
Although BlackBerry may try to exert more control than usual, brand licensing is typically the last step in the decline of a hardware manufacturer. BlackBerry has followed these steps. First, the hardware company ceases to manufacture domestically, but turns to a foreign contract manufacturer. When that doesn't work, the hardware company just licenses its brand to a foreign company.
The net resultant products are usually pretty bad. Think about the RCA branded Android tablets that came out a couple of years ago. Things might be different for BlackBerry, but I doubt it. By the time the hardware company resorts to licensing, it's already in such dire straights financially that it doesn't have much leverage.
Dire Straights
And BlackBerry is in dire financial straights. This quarter's performance was abysmal, despite the usual resorting to non-GAAP financial spin doctoring.
Handset unit sale declined again to only 400,000 units for the entire quarter, a 50% decrease y/y. This is another piece of evidence in favor of my assessment of the DTEK50. Hardware revenue declined commensurately by 47.8% y/y. The chart below shows the stead hardware decline.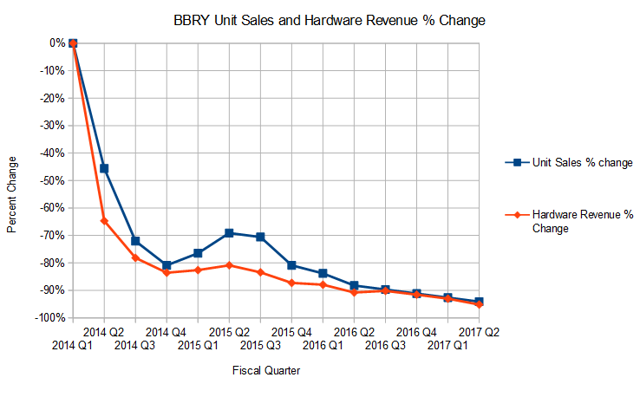 Click to enlarge
Overall, revenue declined by 32% y/y to $334 million. Service access fees continued to decline as users abandon the legacy BlackBerry platforms. Service access fee revenue declined by 56.9% y/y. This was to be expected, of course, but total BlackBerry handset usage continues to decline. BlackBerry doesn't report this until the following quarter, but for fiscal Q1, total BlackBerry users was down to just 20 million.
Chen likes to highlight the growth in the Software and Services segment, and this did show an impressive y/y increase of 89% to $138 million. But this was somewhat an artifact of the prior-year revenue being abnormally small at $73 million, which was before the acquisition of Good Technology the following quarter. Software and Services revenue actually declined sequentially from last quarter's $142 million. Furthermore, it has never exceeded the high of $154 million achieved in fiscal 2016 Q3.
The lumpiness in Software and Services revenue is somewhat due to IP licensing being booked under this category. But the fundamental picture is that Software and Services has not really grown since fiscal 2016 Q3. Chen did reiterate the guidance of 30% y/y growth in Software for the fiscal year. This probably is a given simply because fiscal 2016 Software revenue was so much lower prior to the acquisition of Good Technology in fiscal 2016 Q3 (the deal closed in November 2015).
Investor Takeaway
Fellow SA contributor Chris Lau has posted a piece about BlackBerry entitled, "Alert: BlackBerry Outsources Hardware Entirely (Like AMD)". Actually, no. AMD (NYSE:AMD) still designs and engineers its hardware, and it only outsources fabrication. What BlackBerry was doing before was more like AMD. What BlackBerry is doing now is nothing like AMD.
But it's interesting that BlackBerry and AMD should be juxtaposed in this way. BlackBerry and AMD are both "turnaround" stories that appeal to a certain kind of investor. And their stock prices, market caps, and institutional ownership are similar. AMD continues to have a very loyal following which finds the turnaround narrative compelling.
Most of BlackBerry's investors have been around this block a few more times. For them, the turnaround story is probably wearing thin. Following the DTEK50 release, I dropped my rating of BlackBerry to a short opportunity. BlackBerry's hardware licensing reinforces that rating. BlackBerry is about to cheapen its brand irreparably. And there is no reasonable expectation of growth, only more revenue decline as hardware and access fee revenue go to zero.
(Author's Note, Sept. 29, 2016: This article was corrected on 9/29/16 to reflect attribution of the $97 million inventory writedown to DTEK50 rather than the $123 million "assets for held for sale", and the decline in user access fees to legacy BlackBerry platforms rather than BB10.)
Disclosure: I/we have no positions in any stocks mentioned, and no plans to initiate any positions within the next 72 hours.
I wrote this article myself, and it expresses my own opinions. I am not receiving compensation for it (other than from Seeking Alpha). I have no business relationship with any company whose stock is mentioned in this article.