Along with the retail industry, Kohl's (NYSE:KSS) has performed poorly since the spring of 2015 which was exacerbated by the dismal 2015 holiday shopping season. Most retailers anticipate selling winter clothing during the holiday season, which is why most of their shelves are stocked with winter outwear. However, the winter of 2015 was unseasonably warm and retailers like Kohl's did not anticipate its effect. Competition from online retailers have been a serious hurdle for brick and mortar stores and many have closed stores as a solution. After positive earnings results in the second quarter of 2016 Kohl's bounced back and I believe there is more room to grow and earn income in the stock.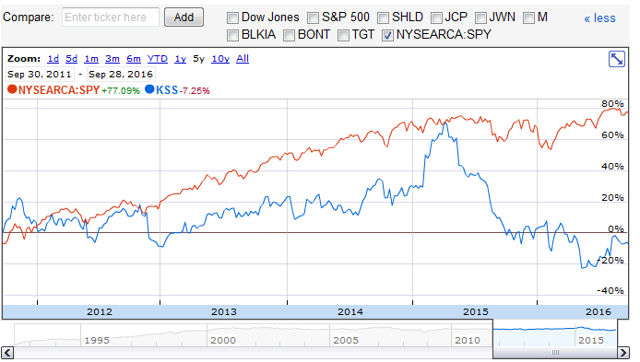 The second quarter earnings report surprised analysts when Kohl's came out with earnings of $1.22 per share, 9 cents higher than consensus estimates. Total revenue was $4.2 billion and due to efforts to create efficiencies and be lean, the company increased its operating margin by 5% from 6.87% to 7.22%. The positive outlook and solid second quarter financial results sent the stock higher from $38 per share to $45 per share.
The company also announced the closing of 18 stores which is part of their effort to create efficiencies and reduce costs. Their closings pale in comparison to competitors like Macy's (NYSE:M) which in just the last quarter announced they will close another 100 stores. The online competition from companies like Amazon (NASDAQ:AMZN) is the biggest hurdle for Kohl's which is what's taking most market share from the company. Going forward, the company has to focus on their online sales and they have made a huge effort to do so. In 2013 Kohl's opened a digital center in Silicon Valley and its sole focus is to implement the newest technologies into the shopping experience. In 2015 Kohl's opened an innovation center to find new ways to enhance the customer experience and at the same time find efficiencies through different work flow channels. Their investment toward innovation will aid in Kohl's adaptability to the changing environment and combat online competition.
Despite Kohl's efforts, the stock has still underperformed in 2016 due to increased competition and a poor holiday shopping season. One of Kohl's primary risks explained in their latest 10-K is the general economic condition. However, the economic report from the president reveals the economic condition has improved in 2016 and additional discretionary income has increased due to reductions in commodities. Many analysts expect the current economic condition to remain which reduces the threat to Kohl's and retail in general.
Another risk Kohl's is susceptible to is the changing weather conditions. This was very evident in 2015 as the unseasonable weather resulted in many lost sales on winter outwear. However, according to Accuweather, scientists are expecting this coming holiday season to be unusually cold and snowy due to the La Nina phenomenon, which is the counter part to last year's El Nino. I, like many shoppers, refrained from buying winter wear in 2015 which will increase the need for me to buy even more clothing items for the season. I believe this winter season will be exceptional for retailers as shoppers will be purchasing necessary outerwear for the season that they may not have purchased last year. Shoppers have the need and means to make larger purchases in the 2016 holiday season and this will be a catalyst for larger sales this season.
The stock has come down about 45% since its 2015 highs even though sales have been stagnant. The problem with Kohl's stock in 2015 is that it was valued too high. Kohl's was not experiencing enough growth to justify its valuation. At $80 per share in mid 2015, the stock was trading at about 19 times earnings and yielding only 2.25%. A 2.25% yield is not horrible, however, it will not make investors feel safe with a PE higher than competitors and stagnant growth. Therefore, the stock came tumbling down after terrible retail results in late 2015 and early 2016. Currently the stock is trading at 13.5 times earnings and has a fantastic yield of 4.73%. At the current price, Kohl's can make investors feel safe with a modest valuation and great dividend income opportunities.
At the current stock price, the company is more accurately valued and investors have opportunities for growth. With any positive earnings surprises, the stock will jump as the dividend yield will attract many investors. I believe Kohl's is the best dividend stock in retail and with an earnings beat potential, buying the stock now could be very advantageous for investors. The risk to the downside is low at such a high yield that investors can hold with their mind at ease and earn a nice 4.73% on their investment as the stock remain flat before future growth.
Kohl's is an innovative company and offers customers a unique experience to buy quality products at affordable costs. They have adopted methods to stay innovative as the environment continues to change at rapid speeds and the new generation of the Internet of Things (IoT) changes the business landscape for all companies. Kohl's stock, along with most retail, has been in the dumps for a while. However, after taking such a beating, I believe the market as created an equilibrium for this company and a good dividend opportunity currently exists in a company that could find growth in the coming quarters.
Disclosure: I am/we are long KSS.
I wrote this article myself, and it expresses my own opinions. I am not receiving compensation for it (other than from Seeking Alpha). I have no business relationship with any company whose stock is mentioned in this article.