Where we stand?
Let's start today's review with a big picture of Gold (GLD, IAU, DGP, GTU, PHYS, UGL, SGOL) prices.
Gold is up almost 25% year to date and is one of the best asset classes in 2016. This year's performance is mostly due to 2 events. First, the fears of a Chinese hard landing in January and February and second, the brexit vote in June. From March to May and from July to September Gold traded sideways.
Gold is currently flirting with its uptrend line and I was expecting the last FOMC rate decision to be the trigger for it to jump to a new 2016 high. Even though I was a bit disappointed with Gold reaction to that decision, technically the bull market started in 2016 is still in place.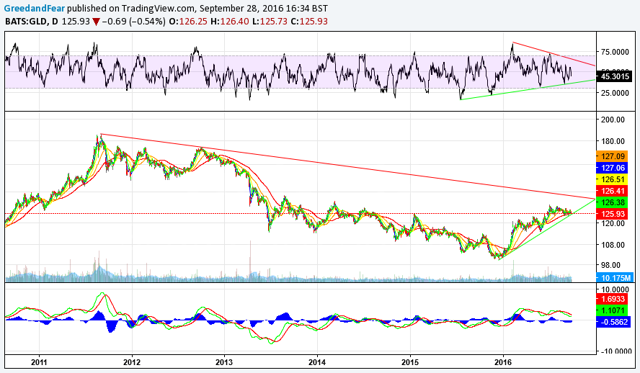 Click to enlarge
Source: Trading View
Previous Reviews
In the long run, the fundamental drivers of Gold prices remain strong. I'm referring to Central Bank balance sheets, to negative real interest rates and to overindebted nations, companies and families.
In the short term, we're entering the best season for Gold prices as the commodity typically rises from August to February and falls or consolidates from March to July.
One of the reasons behind this seasonal pattern is Indian demand. In fact, September marks the end of harvest in the country and many farmers traditionally store their wealth in gold, boosting demand for the metal during this period. In addition, the wedding season in India starts in October, and gold is often given as a wedding gift. Also in India, gold is often offered as a gift during the Diwali festival, which takes place in October/November.
But how important is Indian demand for Gold prices? And should investors expect that demand to increase further in the future? These are the topics I'll be covering in today's article.
India demand for Gold
India is the world's second largest country by population after China. The country's working age population will increase by 220 million over the next 20 years. The economy is expected to expand at a pace of 8% per year until 2021. When such a big emerging economy is expected to grow this fast, investors should be aware of the impact it will have on basic resources such as oil, iron ore, copper and of course Gold.
In 2015, the World demand for Gold reached almost 4.200 tonnes, mostly coming from jewelry and bar/coin investment which together accounted for 80% of total demand. To put things in perspective, jewelry and bar/coin investment demand in India alone was almost 850 tonnes in 2015. That's 25% of Gold's demand for jewelry and bar/coin investment. That's also 20% of total Gold demand and doesn't even consider Indian Gold demand for other purposes such as ETF investment or technology nor the RBI (Reserve Bank of India) purchases.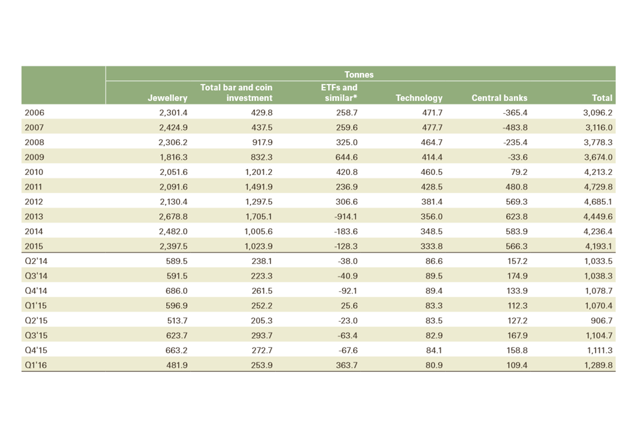 Click to enlarge
Source: World Gold Council
Despite India strong demand, Gold only represents 5% of RBI forex reserves. Even though this is in line with other emerging markets Central Banks, it is considerably lower than what we see in the developed countries. So, there's a lot of room for the RBI to increase its Gold reserves.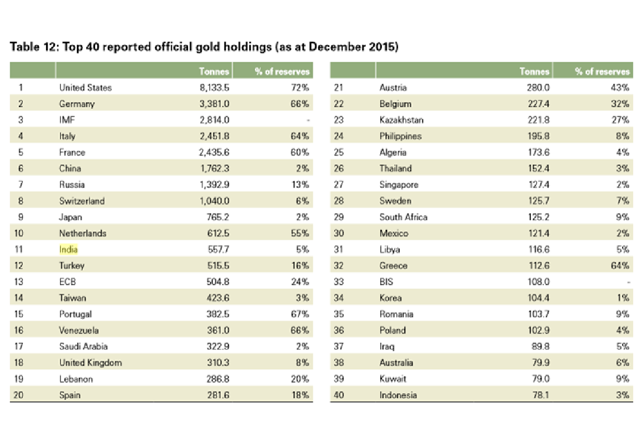 Click to enlarge
Source: World Gold Council
As India is expected to grow at a strong pace in the coming years, as the country accounts for over 20% of the World's gold demand and as Gold is still a small part of RBI reserves, there are reasons to be optimistic about India's economy impact on Gold prices.
Gold is part of Indian culture
Despite an over 400% increase in the rupee gold price over the last decade, gold demand from Indian consumers continues to grow. That's because in India, Gold is seen as a store of value, a symbol of wealth and status and a fundamental part of many rituals. In fact, there's a deep affinity for gold in the rural areas. There's also the tradition of wearing gold ornaments in important ceremonies such as the Akshaya Tritiya, Pongal, Onam and Ugadi in the South, the Durga Puja in the east, the Gudi Pavda in the west and the Baisakhi and Karva Chauth in the north. The way India's population see Gold is well reflected in the following chart:
Click to enlarge
Source: World Gold Council
Gold is central to India's life events. It is a common gift in marriage rituals (the "Stridhan" or gift of gold to the bride, gives her financial security once she is married) and weddings alone are responsible for roughly 50% of total Gold demand in India. Looking forward this demand should rise in the coming years. In fact, in India more than half of the population is under 25 and over the next decade, there are likely to be 15 million weddings per year in the country.
Despite the evolving structure of society and the change in consumer preferences over time, Gold jewelry is at the top of the list of the Indian consumer purchase intentions and way before fashion, cosmetic and electronic items. In fact, even though the younger generations prefer modern Gold pieces, they still want them to reflect their heritage, culture and identity.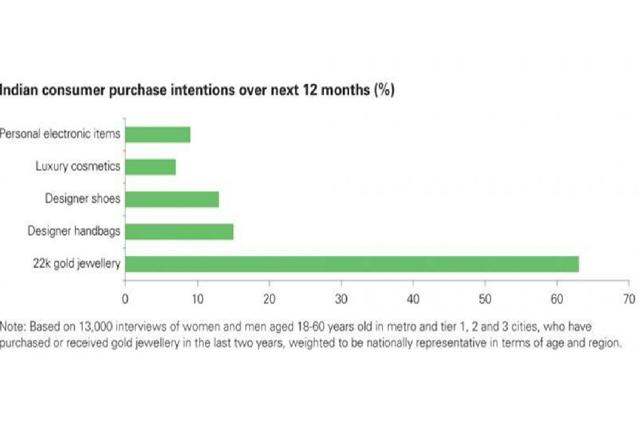 Click to enlarge
Source: World Gold Council
In Summary
India is already responsible for over 20% of the World's Gold demand because the commodity occupies a central place in Indian culture. The country's young demographic structure and strong expected economic growth are likely to push Gold demand and prices higher in the years to come.
Disclosure: I am/we are long GLD.
I wrote this article myself, and it expresses my own opinions. I am not receiving compensation for it (other than from Seeking Alpha). I have no business relationship with any company whose stock is mentioned in this article.