Just three days remain in the third quarter, and with a gain of 2.9% for the S&P 500, it hasn't been that bad for the overall market. But there's a big caveat here.
The chart below shows S&P 500 sector performance so far in Q3. Of the 11 sectors, just two are outperforming the S&P 500 (Technology and Financials). Essentially, if you didn't have exposure to the Technology sector, which is up 12.1% this quarter, you are likely to have trailed the market. Thankfully, Technology is the largest sector in the S&P 500, so it is likely that most investors have some exposure.
Of the nine sectors that are underperforming, five are actually in the red for the quarter with the biggest declines coming in defensive sectors like Telecom Services (-5.2%) and Utilities (-4.4%). Other sectors known for their yields like Consumer Staples and Real Estate are also down on the quarter, so it was certainly a quarter where investor preferences switched back to growth over yield.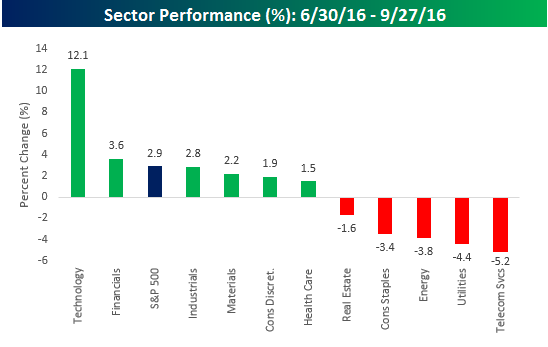 In just the month of September, you could argue that it could have been worse. While the S&P 500 is down 0.5%, given that September has historically been the cruelest month for equities, that's not so bad. Sectors leading the way this month were Utilities (2.6%) and Technology (2.1%), and any time these two sectors share the leaderboard, it makes you scratch your head. Here again, Technology's gain has been holding things up as seven of 11 sectors are lagging the S&P 500, including Financials (-3.2%), Energy (-2.5%), and Materials (-2.4%).