In this article I will try to examine the investment outlook for SkyWest, Inc. (NASDAQ:SKYW), based on recent performance, macroeconomic factors and technical data. But first, let me introduce you to the company, if you don't know it yet.
The company
SkyWest, Inc. is the holding company for two scheduled passenger airline operations and an aircraft leasing company. SkyWest's airline companies provide commercial air service in cities throughout North America with more than 3,100 daily flights carrying nearly 57 million passengers annually. SkyWest Airlines operates through partnerships with United Airlines, Delta Air Lines, American Airlines and Alaska Airlines. ExpressJet Airlines operates through partnerships with United Airlines, Delta Air Lines and American Airlines. Based in St. George, Utah, SkyWest continues to set the standard for excellence across the regional industry with unmatched value for customers, shareholders and its more than 20,000 employees. SkyWest IR Webpage
The company (SkyWest, Inc.) owns and operates a total of 655 aircraft of different brands, engine technologies and passenger seats, the majority of which is the 50 passenger CRJ 200. Average age of the Skywest Airlines air fleet is 11.1 years, which is slightly higher than its peers. For example, Alaska (NYSE:ALK) has an average fleet age of 9.5 while Hawaiian (NASDAQ:HA) shows an average fleet age of 9.9 years. The majority of the company's aircraft, the Canadair Regional Jets (CRJs), have an average of 12.2 years of age, while the oldest aircraft are the Embraer 120 Brasilia, which average at 18.8 years, according to airfleets.net According to the same source, ExpressJet's average fleet age is a little higher, landing at 13.2 years of age. The company covers the entire U.S. territory with its fleet as well as some international destinations, shown in the map below.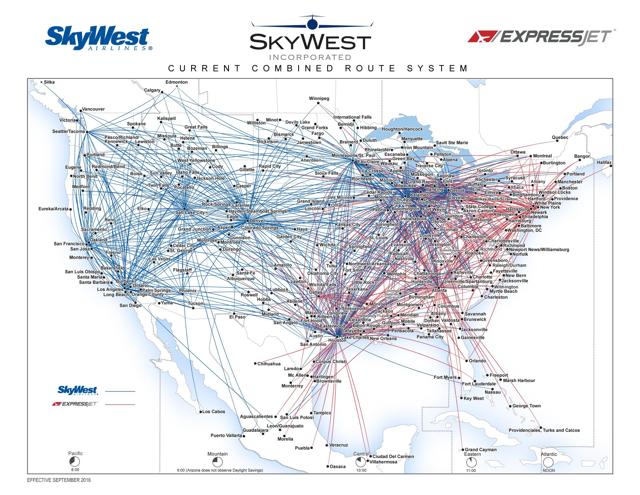 Click to enlarge
Source: Skywest IR Webpage
The numbers
During the recent years, SkyWest has been the good boy of stock analysts, showing continuously stronger results. More specifically, operating income has grown enormously between 2014 and 2015, reaching $748 million in 2015, as shown in the table below. That forged an EPS figure of $2.27 for the FY 2015 as well as P/E ratio of 8.38.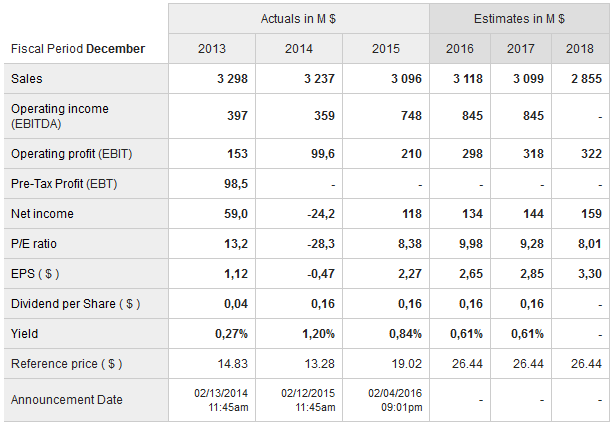 Source: 4-Traders
P/E ratio estimate for 2016 is 9.98, while the industry average figure is 6.6. However, a simple average won't do, as it weighs an elephant and a mosquito the same. If we take a closer look, and assume that JetBlue Airways Corporation (NASDAQ:JBLU) and Alaska Air Group Inc. are the company's peers we get a better comparison base. ALK's P/E ratio was 12.3 in FY 2015 while its EPS reached $6.56 for the same period. JBLU's P/E in 2015 was 11.4 and its EPS for the same period was $ 1.98. From this point of view, we can argue that SKYW is to some extent undervalued, from an EPS standpoint.
On the other hand, every supporter of the stock market efficiency should ask him/herself why this discrepancy exists.
If we look at SKYW's debt, presented in the table below and compare it to that of ALK or JBLU, we can see why.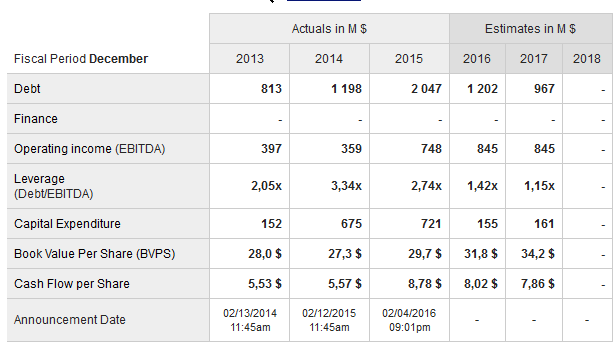 Source: 4-traders
The company's debt has been increasing exponentially since 2013. Although in 2013, SKYW's Debt/EBITDA ratio was at 2.05x, in increased to 3.34x in 2014, while 2015 ended with 2.74x. On the other hand, if we examine the respective figures of ALK and JBLU, we get a far more different picture.
JBLU reported Debt/EBITDA of 1.97x 2014 and 0.55x in 2015, while ALK's respective figures were 2.91x and 2.71x, according to Morningstar. We can, therefore, argue that the company is quite leveraged, which, in combination with its small capitalization, creates a somewhat more pessimistic investment outlook than ALK that has similar leverage ratios.
So this situation poses the question, how will the company manage to meet the need of modernization of its air fleet, while at the same time get out of the debt burden that it's got itself into. In the latest earnings release we read that:
SkyWest issued $181 million in new long-term debt during Q2 2016 to finance the eight new E175s delivered during the quarter. Total debt increased by $101 million during the second quarter from the eight new E175 aircraft net of scheduled principal payments.
Modernization is a good thing, especially when shifting from older and less environment-friendly aircraft to newer and larger ones, able to service bigger distances in a more cost efficient way. However, I believe that the company could find itself in trouble if the fragile equilibrium that it created breaks. And how could this equilibrium be altered? I will bring up two possible external factors that are able to do that.
1. Oil Prices
It is no secret that the airline industry has found itself on the winners' side with the oil price slump. As the next graph illustrates,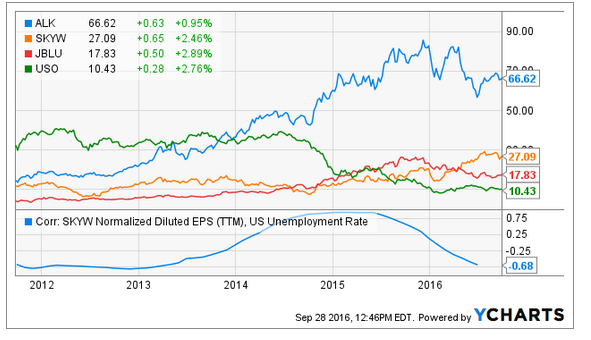 there is a strong negative correlation between oil prices and airline share prices. As oil prices began to fall, in late 2014, airline shares started to appreciate. Of course, the graph indicates that ALK's price had started to gain value before the oil slump, but that could be attributed to just good corporate results, QE and other economic factors.
The black gold will eventually start to gain its value again, whether it is the sum of different coincidences or an outcome in the energy battlefield. The bottom line is that it will appreciate some time. According to the World Bank, crude oil will reach $66 in 2025 (in real prices), while the IMF is slightly more pessimistic. Although this can be regarded as a 30% rise from today's levels, it is far away than the $100 per barrel price spotted a few years ago. Should the forecasts be confirmed, we will be talking about a gradual and healthy rise, that will give the world's markets time to adjust.
However, history has shown that this is seldom the case. Typically, oil slumps unfold fully in a six-month period, while it takes about two years to take 50% of the losses back. So, if we assume that we are currently at the bottom of the recent oil cycle, regaining 50% of the losses until mid-2018, isn't a smooth movement. It is a rather rapid one and we all know the implications.
Last minute edit: As this article is being written, WTI crude oil (NYSEARCA:USO) is gaining 4.5% on news that OPEC is to freeze oil production, starting from November 2016, according to SA News. It remains to see the strength and duration of this movement.
2. Basic interest rate hike
As shown before, the company is significantly more leveraged than its league peers. Although debt is often seen as a growth medium, low growth prospects of the airline industry pose a significant leverage threat to the company's future. If we look at SKYW's 2015 annual report, we can see that the company has 12% of its total long-term debt in variable interest. Although variable interest rates are risky in a rate changing environment, the contribution to the total debt portfolio is small. In addition, the company faces about $5 billion of maturities, $3.5 of which are scheduled to mature within the next five years. The problem is that in the same annual report we read this:
We have not historically funded a substantial portion of our aircraft acquisitions with working capital. Rather, we have generally funded our aircraft acquisitions through a combination of manufacturer financing, operating leases and long-term debt financing. At the time of each aircraft acquisition, we evaluate the financing alternatives available to us, and select one or more of these methods to fund the acquisition. At present, we intend to fund our acquisition of additional aircraft through debt financing. Based on current market conditions and discussions with prospective leasing organizations and financial institutions, we currently believe that we will be able to obtain financing for our committed 54 acquisitions, as well as additional aircraft, without materially reducing the amount of working capital available for our operating activities.
So it is obvious that right now the company is between two realities. First, it has to modernize its fleet, as the biggest part of it is very old and inefficient. Second, the company, which is already leveraged enough, could face greater liquidity challenges should the macroeconomic climate be deteriorated. And in this context, we have to add the possibility of rapid oil price increases in the near future. Add to the equation the low growth prospects of the airline industry and you have an environment of disproportionate, increased risk in relation to the possible rewards.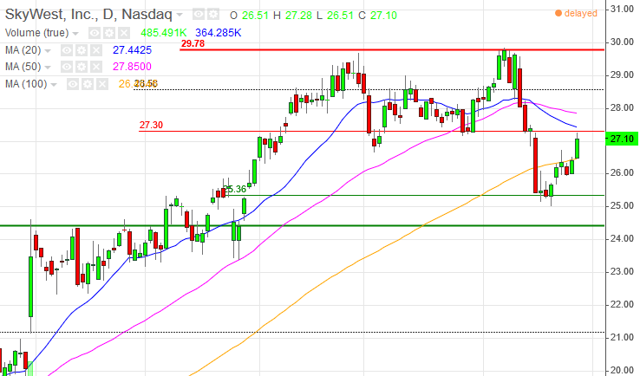 Click to enlarge
In this sense, I would not invest in SkyWest right now. In fact, as the company approaches the long-term resistance of $29.78 I would be increasingly considering a shorting position on the stock. Right now, when this paragraph is written, the company's price is $27.08, having risen by 2.61% today. I don't expect the OPEC news to be digested immediately, as there are many uncertainty factors still to be specified. However, I would suggest a small shorting position with a time frame of 1.5-2 months.
Disclosure: I/we have no positions in any stocks mentioned, and no plans to initiate any positions within the next 72 hours.
I wrote this article myself, and it expresses my own opinions. I am not receiving compensation for it (other than from Seeking Alpha). I have no business relationship with any company whose stock is mentioned in this article.