Quick Take
iRhythm Technologies (Pending:IRTC) intends to raise up to $86.25 million in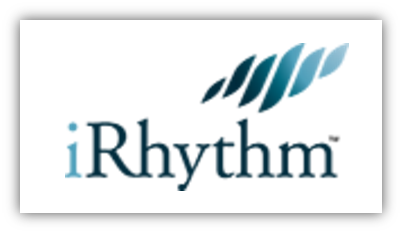 its IPO.
The company has a differentiated, long-term cardiac monitoring device that transmits data on patient heart activity.
While the company has not disclosed valuation, assuming it is in the neighborhood of $250 million, I would be in favor of the IPO stock.
---
To listen to this article, click the graphic below:
---
Company
San Francisco-based iRhythm sells a medical device and related service that collects data on patient heart arrhythmias for clinical treatment purposes.
The company CEO and President is Kevin King, who has been with the firm since July 2012 and was previously President of Life Sciences Business at Affymetrix.
Mark Day is VP of R&D, also since 2012, and previously worked in the Cardiac Rhythm Disease Management division of medical device giant Medtronic (NYSE:MDT).
iRhythm is backed by top tier medical device venture capital firms such as Synergy Life Science Partners, Norwest Venture Partners, Novo A/S, New Leaf Ventures, Mohr Davidow Ventures, and corporate venture groups such as Kaiser Permanente Ventures and St. Jude Medical.
The company has received in excess of $118 million in venture capital and strategic investment.
Technology
iRhythm has developed a patient-worn cardiac biosensor patch and service, called ZIO Service, that captures heart ECG data continuously for up to two weeks.
Patients can also directly interact with the device if they are experiencing symptoms such as arrhythmia or atrial fibrillation.
The device then records all data and following the wear period, the patch is returned and data uploaded to the company's secure cloud and forwarded to cardiac technicians.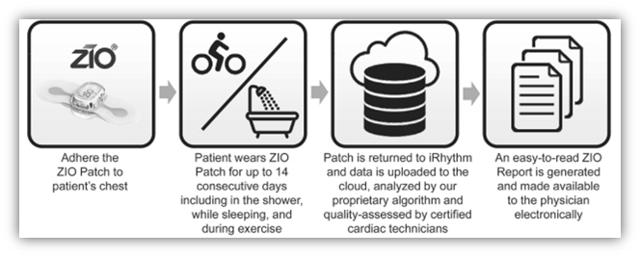 Click to enlarge
(Source: iRhythm Technologies S-1 Filing)
Traditional ambulatory monitoring tools have disadvantages, such as non-continuous data collection, larger and heavier devices and short prescribed monitoring times.
These limitations can result in lower patient compliance.
The company says its ZIO patch has been worn by over 500,000 patients since the company received FDA marketing clearance in 2009, and that it offers "the only long-term [14 days] continuous recording and storing of beat-to-beat heart data."
Below is a news report on the device in use at a Washington state medical center:
(Source: Fox12 News)
Market
According to a 2013 report from IHS on the World Market for Diagnostic Cardiology Devices and Remote Cardiac Monitoring Services, the US market for devices was expected to reach $867 million in 2016.
This would represent a 27% growth from its level in 2011.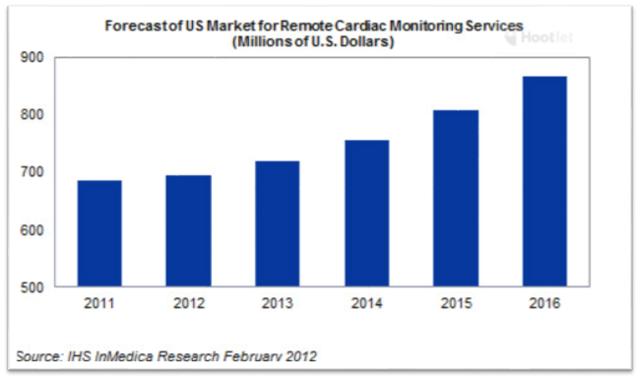 Click to enlarge
(Source: IHS InMedica Research February 2012)
The report goes on to state that the growth is being fueled by the increase in Medicare reimbursement which incentivizes service providers to utilize monitoring devices in order to reduce the high cost of emergency cardiac care.
Since the EU is slightly larger than the US, it's likely that the EU also represents a market size approaching $1 billion.
The company says that currently 290 million individuals in the US have insurance policies that covered reimbursement for its device and service.
However, a negative aspect of market development is the downward reimbursement pressures that Medicare continues to exert.
Competition
The greatest competition comes from the legacy Holter monitoring system and other incumbent systems, which are manufactured by numerous companies such as:
GE Healthcare (NYSE:GE)
Philips Healthcare (NYSE:PHG)
BioTelemetry (NASDAQ:BEAT)
LifeWatch (NASDAQ:LIFE)
Medtronic
Mortara Instrument
Spacelabs Healthcare
Welch Allyn Holdings
The above competitors either manufacture legacy or next generation devices and/or provide telemetry and data services such as those by iRhythm.
The company notes that an important aspect of its success potential is developing and maintaining quality relationships with physicians who prescribe the use of its product and service.
It also states that "the medical device industry's relationship with physicians is under increasing scrutiny by the Health And Human Services Office of the Inspector General, or OIG, the Department of Justice, or DOJ, state attorneys general and other foreign and domestic government agencies."
So iRhythm is operating in a closely watched regulatory environment which brings increased expenses and slower sales cycles that may negatively impact its future potential.
Financials
iRhythm's financials present a historical picture best summarized as:
Growing revenues at an increasing rate
Progressively higher gross margins
Cash used in operations for the past 2 ½ years of $46.9 million
Below are the company's operational results for the past 2 ½ years (2014/2015 Audited GAAP, 2016 unaudited):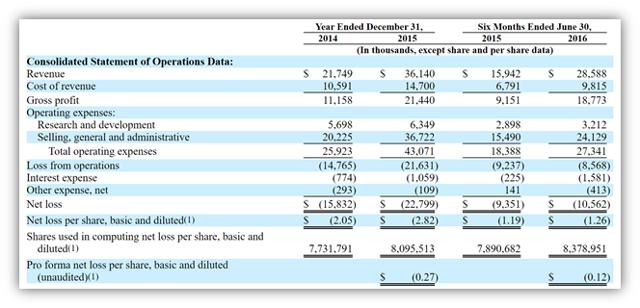 Click to enlarge
(Source: iRhythm Technologies)
Revenue is growing strongly and at an increasing rate, with the first half of 2016 resulting in an 80% increase over the prior year same period.
Revenue
H1 2016: $28.6 million, 80% increase over prior
2015: $36.1 million, 66% increase
2014: $21.7 million
iRhythm's gross margins are showing significant and steady growth, reaching 66% in the first half of 2016:
Gross Margin
H1 2016: 66%
2015: 59%
2014: 51%
For the three most recent reporting periods, the company has used a total of $46.9 million in cash from operations.
Cash Flow From Operations
H1 2016: $13.3 million cash used in operations
2015: $18 million cash used
2014: $15.6 million cash used
The company states that the IPO net proceeds will be sufficient to run its operations for the next 12 months.
As of June 30, 2016, iRhythm had $9 million in cash, $9.2 million in accounts receivable, $8 million in current liabilities and $31.4 million in long-term debt.
IPO Details
iRhythm intends to raise up to $86.25 million in its IPO, but has not provided a price range for prospective post-IPO valuation.
The company intends to use the net proceeds to expand its sales force, increase its R&D efforts, potential international expansion and for other general corporate purposes.
J.P. Morgan is the lead left underwriter.
Commentary
Since we don't know the company's expected valuation we can't perform a true valuation check.
We can however compare it to existing publicly-held direct competitors in order to get an idea of what an acceptable valuation might be.
For example, Malvern, Pennsylvania based BioTelemetry is a direct competitor of iRhythm and has a current market cap of $523 million, a Price/Sales multiple of 2.86 and EV/Sales multiple of 2.93.
BEAT is growing significantly slower than iRhythm, so if we assign IRTC the higher multiples, we obtain the following results:
Price/Sales multiple of 4x = $229 million valuation
EV/Sales, assuming an EV of $229 million = 3.1x EV/Sales multiple
iRhythm has strong revenue and gross margin growth results, and its technology is differentiated in the market since it is the only long-term wearable arrhythmia tracking device.
The negatives are that competition is strong and is never static for long. In addition, there is continued downward pressure on reimbursement rates from government payers.
Nevertheless, payer incentives will increase the usage of cardiac monitoring in order to reduce more expensive treatments later in disease progression.
Assuming therefore that iRhythm has a proposed post-IPO market cap in the neighborhood of $250 million, I would be favorably disposed to the IPO.
Disclosure: I/we have no positions in any stocks mentioned, and no plans to initiate any positions within the next 72 hours.
I wrote this article myself, and it expresses my own opinions. I am not receiving compensation for it (other than from Seeking Alpha). I have no business relationship with any company whose stock is mentioned in this article.
Editor's Note: This article covers one or more stocks trading at less than $1 per share and/or with less than a $100 million market cap. Please be aware of the risks associated with these stocks.