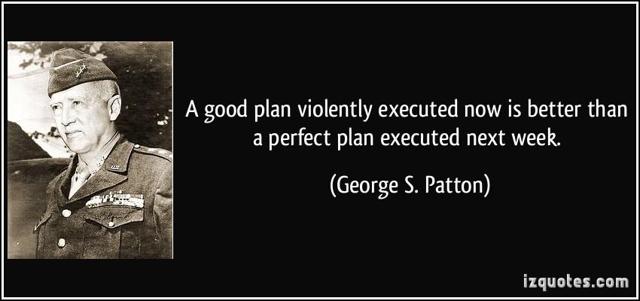 Click to enlarge
(Source: IZQuotes)
One of my favorite historical figures is General George S. Patton Jr., the famous World War II US Army General. At about 12 years old I read his book "War as I Knew It" and would watch my VHS tapes of the movie "Patton" over and over. He was, and still is, one of the most brilliant military minds of modern warfare but we can draw some lessons from him and apply them to investing. Investing great Peter Lynch and General Patton likely would have gotten along well, and Patton may have even made a great investor as well. General Patton kept his strategy and tactics simple and once he found something that worked he kept doing it until it didn't.
I've spent a lot of my time trying to find the next best thing, researching micro and small cap companies that do one or two things really well and just trying to find an edge. It has worked out for the most part and I've learned a lot in the process, but my portfolio has gotten away from me slightly. I was trying too hard to develop the perfect plan and as a result probably missed some opportunities that rested inside my existing portfolios.
If I'm trying to find something that works for me it would be hard to beat AT&T (NYSE:T). When I first bought AT&T it was pretty early on in my investing journey and made up a large part of the portfolio but now only takes up 1.5% thanks to strong gains by Cummins (NYSE:CMI), Cognex (NASDAQ:CGNX), and Hill-Rom Holdings (NYSE:HRC) among some others. AT&T has been a strong performer since the initial purchase but in my flurry of buying I quite honestly let it get away from me; a self-imposed pause has been helping and now I need to set about rebalancing.
My goal with an investment into AT&T isn't to get filthy rich or find the next ten-bagger out there. It is just to provide a relatively safe platform for the rest of the portfolio and to perform well during those times of trouble when the train seems to be coming off the tracks. I want to look in my portfolio and not see huge unrealized losses in everything which may trigger some emotional responses. I also don't want to see the company's financials plunging.
The last recession was a full-blown recession and AT&T kept it together despite the share price being flushed down the toilet.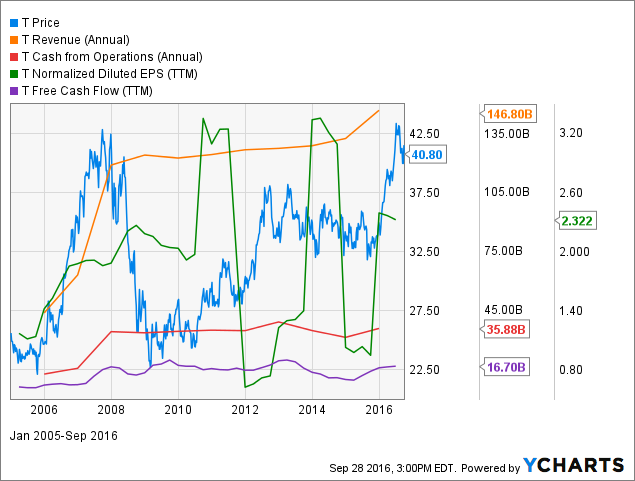 Revenue, cash from operations, free cash flow and earnings per share (for the most part) all endured through that recession and if it wasn't for the share price you'd have no idea anything was going on. Not every company can say that they weathered that storm without catching a cold, taking a look at another company I hold, Emerson Electric (NYSE:EMR), shows the effect the recession had on an otherwise great company.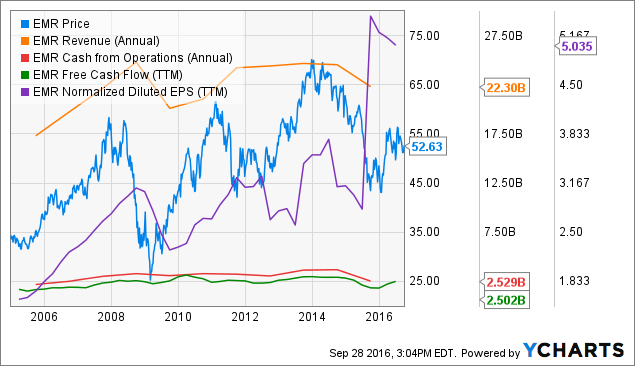 Emerson saw their revenue and EPS drop off pretty strong and didn't recover to pre-recession levels until about 2012; revenue still hasn't recovered. What probably saved their cash flows was some extreme measures taken by management to reduce their capital expenditures and employee counts which is a testament to being agile.
Many investors choose AT&T for the dividend it pays. Personally this is not really my main objective because I don't need the income like those who are retired do. The dividend does provide some "emotional support" and helps me acquire more shares slowly with the DRIP, but really it is just a part of the compounding machine I first really learned to appreciate in "The Single Best Investment" by Lowell Miller (more on that below). As a foundation for the rest of the portfolio it is important that the dividend doesn't get cut and is raised regularly. The dividend history of AT&T is quite remarkable and the company has kept it going through good times and bad.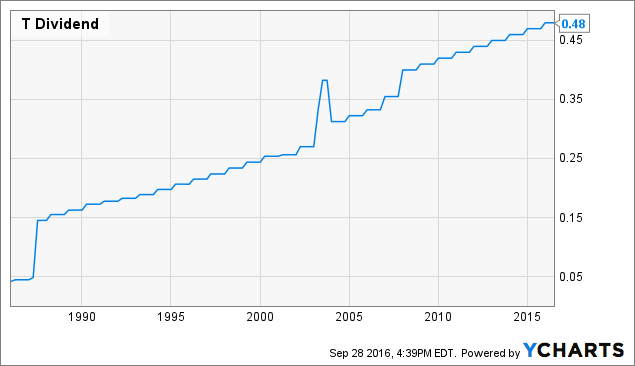 T Dividend data by YCharts
That spike in the dividend wasn't a huge raise followed by a cut, it was the special dividend paid in 2005 when SBC acquired the company but kept the name. The company has been criticized for the rather small raises of just $0.04 annually but a raise is a raise and the 4.63% yield is still respectable. The company has only paid out 67% of their free cash flow to dividends in the trailing twelve months so that great yield is also secure with the consistent year over year free cash flows.
There are concerns with the company that have to be understood and addressed. The most significant issue in my opinion is the balance sheet and the long-term debt on it; all $117.3 billion of it. At face value that seems significant, especially with only $7.2 billion in cash. Backing up slightly it helps to consider the company is sitting at 47% debt/cap ratio with a $255 billion market cap. The debt to equity ratio is high at 1.03 but is nothing compared to Verizon's (NYSE:VZ) 5.18. Both companies have been incredibly aggressive in growing with AT&T acquiring DirecTV and Verizon getting Yahoo (NASDAQ:YHOO) along with building out their 5G capabilities and purchasing spectrum.
The competition is also pretty fierce in the telecommunications space. At the top are Verizon and AT&T but nipping at their heels are T-Mobile (NASDAQ:TMUS) and Sprint (NYSE:S). Those budget carriers are doing their absolute best to poach customers from the higher-end players and each other and both are declaring victory at this point. Whether or not they're both stealing customers from everybody and not losing any (which doesn't even seem possible) it is apparent that many customers are willing to chase lower prices on their wireless plans. Both companies are answering this challenge with their own promotions, such as offering unlimited data, but that cuts into profit margins. It isn't likely that the customer erosion continues to complete obliteration but for the time being it isn't great for the company or investors.
All the above really states is that AT&T is just a way to keep it simple for me. The company has been a reliable compounding machine for many investors and has even provided some capital gains as the company grows and adapts to a changing environment. I would like to raise it to about 5% of my overall portfolio the only question is at what price.
Taking a look at FAST Graphs shows the company isn't too far above what it normally trades at since the SBC acquisition.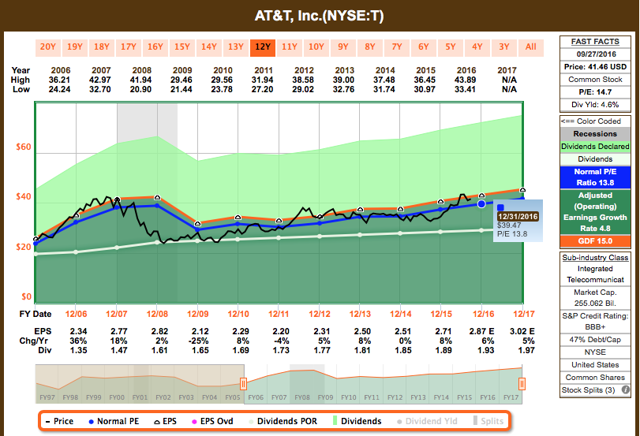 Click to enlarge
Based on full year 2016 estimated earnings a fair price to pay for AT&T is $39.47 which isn't too far off the September 28th closing price of $40.85. If I upped the allocation to 5% my cost basis would be around $38 if I paid $40 which isn't too bad at all. The share price seems to always suffer a little bit when it seems like the FOMC could initiate another rate hike, so a good price may be had around the December meeting but the share price could hit the 52 week high between now and then so we may not have a better price than we have now even with a Fed-induced sell-off. Another thing we have to consider is the addition of DirecTV and how that can change the future valuations making the historical levels mostly irrelevant.
This is where the keeping it simple part comes in and violently executing a good plan. There is no way of knowing what the price will do tomorrow but I do know paying this price wouldn't upset me. There are several routes you could take here including options but that isn't in my area of expertise and I honestly don't feel like messing with that so I'll just set my limit buy not far from where it is now and wait.
As for the book I referenced above: I have read it and no longer require it, the book is available for free via a PDF online I've discovered as well. Personally I can't read books entirely on a computer or device and I'm sure others are the same. If you'd like the copy of "The Single Best Investment" that I have just send me a message with your address and I'll send it your way for free. The first one who messages me is welcome to it. All I really ask is that you be relatively new to investing and will share the book once you are finished with it.
I hope you all got something out of this article. I do appreciate the time you took reading it. If you are one of those who follows me here, I appreciate it; if you'd like to include yourself amongst those individuals, please hit the "Follow" button next to my name as well as following other contributors whose work you enjoy. As always, please leave any feedback and questions you may have in the comments below. Best of luck to you all.
Disclosure: I am/we are long T, CMI, CGNX, EMR, HRC.
I wrote this article myself, and it expresses my own opinions. I am not receiving compensation for it (other than from Seeking Alpha). I have no business relationship with any company whose stock is mentioned in this article.