AML (acute myeloid leukemia) remains a deadly, hard-to-treat disease. Untreated, the life expectancy of a patient is less than a year. Currently treated with chemotherapy, even when patients go into remission, the disease frequently recurs. Incidence increases with age, as does the chance of being killed by chemo instead of the AML, so that many elderly patients currently elect to forego chemo.
AML is common enough that a good therapy for the entire patient population should become a blockbuster revenue generator. In the U.S. there are about 10,000 new cases each year. But all AML are not alike. Some do respond to chemotherapy with temporary or even permanent remission. There are subtypes mainly based on the genetics of the cancer. So there is room for several commercially successful therapies and combination therapies are likely to be more effective than single-agent therapies.
A number of companies are in the race to beat AML, with encouraging results in preclinical or mid-stage clinical trials. In AML Therapies: Seattle Genetics vs. GlycoMimetics (NASDAQ:GLYC), I covered two of those companies. In this article, I will cover AML therapies by Agios (NASDAQ:AGIO) and ImmunoGen (NASDAQ:IMGN). In the next article in the series, I hope to cover Epizyme and Juno.
The potential value of AML therapies was demonstrated earlier this year when Celator Pharmaceuticals was bought by Jazz Pharmaceuticals (NASDAQ:JAZZ) for about $1.5 billion after it announced positive results from a Phase 3 trial of Vyxeos, which is a liposomal formulation of the old standard of care, cytarabine plus daunorubicin.
Agios benefitted on September 7 when it announced in an 8-K SEC filing that partner Celgene (NASDAQ:CELG) could be filing for FDA approval for AG-221 before the end of the year. AG-221 is for patients with relapsed or refractory AML when it is caused by a mutated IDH2 protein. Approval could result in Celgene having the drug on the market in 2017. Soon after the announcement, Agios raised about $173 million in cash through a stock offering, which does not seem to have hurt the stock price.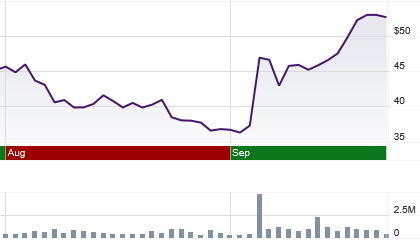 AGIO stock price and volume, August-September 2016
I'll come back to Agios after a look at a very different kind of therapy from ImmunoGen.
ImmunoGen: the ADC route
ImmunoGen is a clinical development stage biotechnology company specializing in ADCs (antibody-drug conjugates) for cancers. Its partner Roche (OTCQX:RHHBY) already markets Kadcyla for HER2+ mBC second-line breast cancer.
For AML, ImmunoGen has IMGN632 in the preclinical stage and IMGN779 in Phase 1.
779 uses an ADC with an antibody that targets CD33 to deliver a payload of DGN462 to kill cells. CD33 is mainly expressed on myeloid cells and so should allow 779 to attack AML with relatively little toxicity to healthy cells.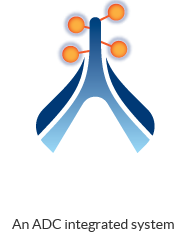 ADC schematic [source: ImmunoGen]. Blue represents the antibody. The orange balls are the payload
This approach was tried in the past with Pfizer's (NYSE:PFE) Mylotarg (gemtuzumab ozogamicin) with a similar antibody attached to a different, calicheamicin payload. That was approved by the FDA for AML in 2000, but voluntarily withdrawn from the market in 2010 after a clinical trial showed it had no benefit over conventional cancer therapies, but a higher death rate. The general approach is also used by Seattle Genetics (NASDAQ:SGEN) for SGN-CD33A, which is in a Phase 3 trial for frontline older AML and in Phase 2 for relapsed AML patients. SGEN believes its monoclonal antibody, its binder and its payload are all improvements over Mylotarg, and Phase 2 results seem to support that view. See details at AML Therapies: Seattle Genetics vs. GlycoMimetics.
Criticism of IMGN779 tends to be based on the Mylotarg failure. But that is like saying Edison should have given up on electric light bulbs when his first try failed. The human body is extremely complex, so if the basic idea of ADCs is good (it is), then engineering better ADCs should make it possible to treat AML.
In the press release announcing the start of the Phase 1 trial in April this year, IMGN said: "IMGN779 is the first ADC to utilize one of ImmunoGen's new family of indolino-benzodiazepine cancer-killing agents, which the Company calls IGNs. DNA-alkylating IGNs have been designed to be ultra-potent, yet provide the tolerability necessary for ongoing retreatment. . . A key challenge has been achieving the potency needed for clinical benefit with the tolerability required for continued patient retreatment. We developed our DNA-alkylating IGNs to meet these dual needs and believe this innovative new class can further extend the types of cancers that can be effectively treated with ADC therapeutics."
Monoclonal antibodies targeting CD33 will not necessarily all have the same specificity, or ability to hone in on AML cancer cells. Nor is killing all the cancer cells easy, even if the CD33 antibody is relatively effective. Seattle Genetics is clearly ahead of ImmunoGen in this race, but if 779 is sufficiently effective and well-tolerated, it can still gain FDA approval. Even gaining a small fraction of the AML market could have a big impact on IMGN's bottom line. For now, we'll just have to wait for trial results.
I believe most of ImmunoGen's value is in its more advanced therapies for other indications. For my thoughts on ImmunoGen's more advanced therapies and the company's value see ImmunoGen Oversold Despite Strong Pipeline.
ImmunoGen had $245 million in cash at the end of Q2. Operating expenses in the quarter were $47 million. It has a number of partners, so milestone payments should help to extend its cash runway, hopefully until approved therapies start generating significant revenue.
Agios: targeting a specific AML mutation
As mentioned above, Agios and partner Celgene may have an AML therapy on the market in 2017. One thing we know is that this is not a general cure for AML. AG-221 targets a specific mutated protein that, when present, contributes to AML, called IDH2. A number of diseases besides AML result from IDH2 and other IDH mutations.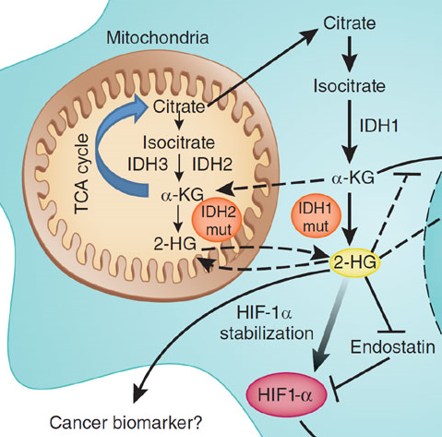 IDH2 pathways [source: Nature.com]
In December of 2015, Agios had announced data from the ongoing Phase 1 and 2 trial at ASH - 209 patients with IDH2 mutations and relapsed or refractory AML; 18% of patients had a complete remission; 37% had a positive response, with a median duration of 6.9 months, among those who did respond. The median patient age was 69 and they had already received an average of two prior therapies. Safety was reasonable for a cancer therapy.
A Phase 3 study of AG-221 is underway and the Phase 2 study continued to enroll new patients in September.
Agios's AG-221 deal with Celgene allows for up to $95 million in milestone payments and royalties on sales if the drug is commercialized.
At the end of Q2, Agios had $512 million in cash. It added $173 million in cash from the common stock offering that closed on September 19. The total number of shares sold was 3.9 million, implying an expansion of the prior share count by 10.3% to 41.9 million. Market capitalization at the close on September 29 was $2 billion. Although operating expenses are running towards $65 million per quarter, Agios has plenty of cash to operate into 2019.
In terms of how AG-221 would affect the market if approved, note that the majority of patients did not respond. For most responders, the effect was of limited duration. According to Agios, "IDH1 and IDH2 mutations are present in about 15 to 23 percent of AML cases." So as important as approval will be to patients and Celgene and Agios stockholders, there is room for many other AML therapies, including combination therapies and even other IDH mutation targeting therapies. Agios itself is exploring other therapies for AML and related cancers.
The related IDH1 mutation is being targeted by AG-120 and tested on frontline AML, relapsing remitting AML, solid tumors in myelodysplastic syndrome, both as a single agent and in combinations. The Phase 3 frontline AML trial of AG-120 is expected to begin in the first half of 2017. In December 2015, Agios had announced data from the ongoing Phase 1 trial showing a 15% complete remission rate and a 35% overall response rate. The median response duration was 5.6 months.
AG-120 was licensed outside the U.S. by Celgene, but those rights were returned to Agios in May this year. This was part of a broader agreement in which Celgene paid Agios $200 million to do research for 4 years and has the right to option any of the resulting programs, in return for milestone payments. Otherwise programs will be split 50/50 for both development costs and profit sharing, but Agios may also receive milestone payments.
A third IDH mutant inhibitor, AG-881, started a Phase 1 clinical trial for solid tumors with either IDH1 or IDH2 mutations. This is also partnered with Celgene on a 50/50 basis, with Agios eligible for milestone payments of up to $70 million.
Outlook for IMGN and AGIO
There is not likely to be a single agent that permanently cures all cases of AML. So there can be multiple successful companies and therapies for this disease.
With its market capitalization of $2 billion, and the possibility of its partner Celgene marketing an AML therapy in 2017, Agios is in good shape. The main risk would be a delay or possibly denial by the FDA for AG-221. It is not clear that there would be a huge upside upon approval of AG-221. There may be less than 1,000 potential patients each year with IDH2. True, at $100,000 per course of therapy (just a guess), that would be $100 million per year in revenue to Celgene. Agios would receive royalties that might run $10 to $20 million per year.
Agios has higher potential with AG-120, since it is wholly-owned, but against that there is the expense of establishing and maintaining a commercial operation, or making a deal for its distribution by Celgene or another partner.
Looking out to 2018 and beyond, I would expect Agios to further successfully develop its pipeline. As the visible horizon stretches out, there would be room for more market capitalization. I think buying at the September 27 closing price of $54.55 is reasonable if your investment horizon is a year or more. Note that we are nowhere near the 52-week high of $81.77 (and over $125 back in early 2015 when the biotechnology stocks were still roaring). Short term, I make no predictions, as I would attribute any price moves to volatility until we receive further clinical results or an FDA decision.
Whereas AG-221 is the lead candidate for Agios, for ImmunoGen even brilliant Phase 1 results from IMGN779 would still leave us with a long timeline to FDA approval. But in theory IMGN779 could generate much more revenue, since if approved it could be used to treat all AML patients, not just a mutant-gene based subset.
ImmunoGen's stock price is way down from its past glory. Its 52-week high was $14.22, and it closed Tuesday at $2.76. In the more distant past it has gone almost to $20 per share. ImmunoGen's market capitalization is only $241 million, so any clinical data, from any of its therapies, positive enough to create a clear path to an FDA approval is likely to catapult the stock price to some multiple of the current price. That will likely be from one of the seven Phase 2 trials currently underway, but a positive result for the Phase 1 AML trial should add considerable value. In all, I am bullish on both companies, but believe ImmunoGen is a better buying opportunity at its present price.
Disclosure: I am/we are long AGIO, IMGN, CELG, SGEN, GLYC.
I wrote this article myself, and it expresses my own opinions. I am not receiving compensation for it (other than from Seeking Alpha). I have no business relationship with any company whose stock is mentioned in this article.
Additional disclosure: As of the close on December 27, 2016 ImmunoGen represented 1.7% of my portfolio; Agios 1.2%; Seattle Genetics 2.6%; GlycoMimetics 4.3%; and Celgene 6.5%.