Introduction
Netflix's ongoing cash burn and frequent capital raising pattern is atypical for a company of almost twenty years old and, more surprisingly, the pattern is not driven by any real business need. Instead, it's a conscious choice by a management team that is unduly influenced by Silicon Valley and Wall Street. This dynamic should cause investors to re-evaluate the risk-reward of holding Netflix at the levels.
Background
In the ten years following the company's 2002 IPO, Netflix grew rapidly as revenue increased from just over $150M to $3.2B. Even more impressive was that during those ten years, the company generated approximately $626M in free cash flow while raising only $387M in external capital to finance its growth.
Towards the end of this impressive run, the company began 2010 with a forecast of 4.6M net new subscribers for both its streaming and DVD-by-mail businesses, but ended the year by adding a total of 7.7M net new subscribers. A positive surprise against guidance that large is a rare feat for public companies. The surprise upside was driven by a sudden uptick in streaming subscriber growth. Although not officially disclosed, I estimate the company ended 2010 with approximately 4.7M paying streaming subscribers, up from a negligible number in the year prior.
In 2011, the company offered a streaming-only plan for the first time to capitalize on this growth. It also departed from its usual capital raising strategy for its next debt offering of $200M. In 2011, the company issued $200M of senior convertible notes directly to Technology Crossover Partners, a prominent venture capital firm located in Silicon Valley.
Unlike most corporate debt, TCV's $200M senior notes used a common Silicon Valley structure that required no interest payments. Instead, TCV would get paid their return by converting that debt to NFLX shares if the share price exceeded $85.80 (pre-split). As part of the transaction, the firm placed Jay Hoag, a TCV co-founder and partner, on the Netflix board in order to ensure Netflix was pursuing a strategy that would increase the value of TCV's investment.
By the time of TCV's 2011 Netflix investment, Silicon Valley had become known for its aggressive strategy of funding losses while its portfolio companies built market share. The VC firms believed that their portfolio companies could generate bigger profits by monetizing a dominant market position after it was built instead of just generating steady cash from slower growth. Flush with cash from pension funds, endowments, insurance companies and other institutional investors, VCs fueled an arms race of portfolio company spending in pursuit of market share across many industry sectors.
Oftentimes, this process brings us truly innovative and disruptive businesses such as Uber (Private:UBER), which has raised $15B, is valued at $68B, but it is only negligibly profitable. Other times, this process brings us blow-ups such as Theranos (THER), as the need to hew to an investment story and the Silicon Valley playbook of reporting ever-increasing growth metrics to maintain a valuation begins to drive poor decision making.
So it comes as no surprise that in the year following the $200M TCV investment, the self-described "Silicon Valley mindset" (yes, that's really how the firm refers to itself on its website) of TCV began to take over at Netflix. Top line subscriber growth above all else was emphasized. As the table below shows, in the year following the TCV investment, Netflix would abruptly break its ten-year history of positive cash flow by burning $67M in cash. Somewhat unusual of TCV's strategy is that cash burn is usually tolerated only early in a portfolio company's lifecycle as a product or market is initially proved. Such cash burn is not something that is reverted to just to boost top line growth after ten years of cash generation. This is a major red flag for current investors.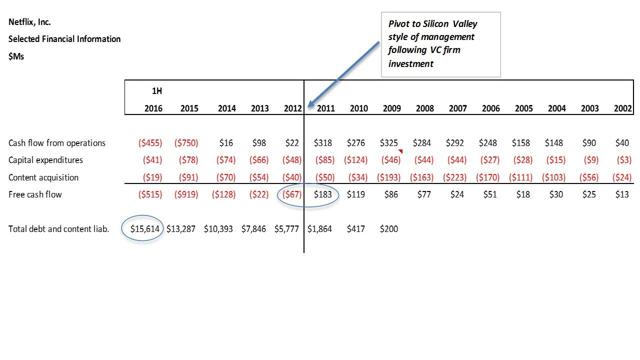 Click to enlargeAs the curious pursuit of top line growth continued, the company would burn more cash and require more capital. Netflix's new business approach was fueled by the Silicon Valley approach that the TCV investment brought, but had become exactly the type of business the biggest Wall Street firms love because of its new need to raise capital frequently. Netflix did not disappoint in this regard: the company would return to the market four more times in the next four years to raise $2.8B in capital, dwarfing the total amount raised since its founding by a nearly tenfold factor.
Netflix, Inc.
Capital Raising Activity
Date
Transaction
Amount
Manager / Co-Manager
May 22, 2002
IPO
$82,500,000
Merrill Lynch, Allen & Co, US Bancorp Piper Jaffray, SG Cowen
April 28th, 2006
Follow On
$105,000,000
Lehman Brothers
November 6, 2009
Senior Notes
$200,000,000
JP Morgan
November 21st, 2011
Follow on
$200,000,000
Morgan Stanley, JP Morgan
November 21st, 2011
Convertible Notes
$200,000,000
Morgan Stanley
February 1, 2013
Senior Notes
$400,000,000
Morgan Stanley
February 1, 2015
Senior Notes
$1,500,000,000
Morgan Stanley
The Silicon Valley Approach Takes Effect
In the four years since the 2011 pivot from steady growth and positive cash flow to meteoric growth and cash burn, the company would burn nearly $1.7B in free cash while raising $2.8B from outside capital to fund the burn. The company's performance seemed to have an inverse effect on the stock price. As long as subscriber growth continued, Wall Street firms could point to growth and pump the stock. It worked: the price rose from a split-adjusted $9 per share to over $120 per share by the summer of 2015. The question for long investors is whether or not the stock will continue to go up in the face of increasing competition, ongoing cash burn and slowing growth.
Conclusion
Netflix has burned nearly $1.7B in cash over the last four-and-a-half years while accruing over $13.5B in liabilities, including $2.4B of debt and the $10.1B in non-cancelable content liabilities. This pattern of deteriorating financial results and increasing liabilities leverages record high capital markets and near-zero interest rates. It is hardly sustainable and it's driven by the mindset that top line growth matters most right now.
Investors should be concerned about this pattern. The domestic streaming growth story has begun to lose steam as the second quarter earnings report confirmed. To keep the growth narrative alive, Netflix has been switching emphasis from domestic to international streaming as the driver of continued growth. Red flags abound there too. International markets as a whole are not profitable for Netflix. The company's own guidance provides fair warning for those who choose to heed it - the company said it expects to add a mere 300,000 new paid subscribers in the United States and 2 million international paid subscribers in 3Q'16. As for a recent international expansion to 130 countries - internationally, the company expects the second-quarter contribution loss of $69 million to increase to $95 million.
Disclosure: I am/we are short NFLX.
I wrote this article myself, and it expresses my own opinions. I am not receiving compensation for it (other than from Seeking Alpha). I have no business relationship with any company whose stock is mentioned in this article.