Nike's (NYSE:NKE) latest earnings report was disappointing on multiple levels as its China growth continues to slow, inventory levels are becoming bloated, and the company's margins are contracting, and are projected to contract further over the coming year. Contrast this with Under Armour (NYSE:UA) (NYSE:UA.C) and Adidas (OTCQX:ADDYY) who have enviable China growth, inventory in high demand, and margins that aren't projected to contract over the coming year. At this time, Nike looks like a sell and Under Armour or Adidas a buy going forward if an investor wants good growth in the activewear market.
Nike's stock is taking a hit after its latest earnings call as investors look beyond the headline numbers to what is really happening with the company. A closer look reveals that competing companies, like Under Armour and Adidas, are taking bigger and bigger bites out of the growing activewear market. This is even more apparent as investors react to the latest information by actively selling Nike even as the S&P 500 rallies.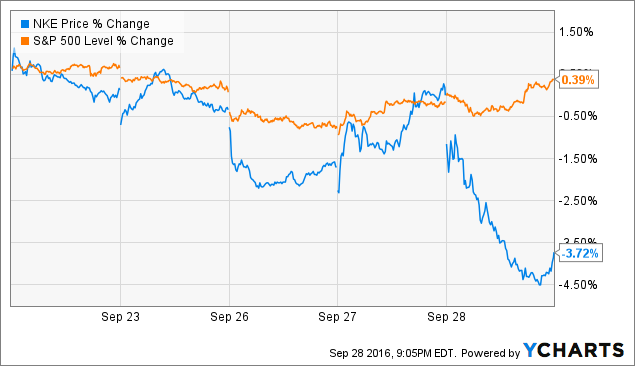 The Greater China retail market has eclipsed the U.S. as the world's largest market, and Nike reported a very solid 21% revenue growth in the region for the quarter. This sounds great until you look at the bigger picture which is that its growth is actually slowing down over time as its competitor's are experiencing more consistent explosive growth.
China/International Growth Rates for the Last 4 Reported Quarters
| | | | | |
| --- | --- | --- | --- | --- |
| Company | Q2, 2016 | Q1, 2016 | Q4, 2015 | Q3, 2015 |
| Nike (Q1,Q4,Q3,Q2) | 21% up | 23% up | 27% up | 28% up |
| Under Armour | 68% up | 56% up | 70% up | 52% up |
| Adidas | 30% up | 30% up | 16% up | 15% up |
Source: Trent Welsh
Growth in Greater China is exploding for Under Armour and should continue as the company just finished up a recent tour of the region featuring UA's CEO Kevin Plank and basketball MVP Stephen Curry. Adidas has totally turned around its sales over the past half a year, and has had two tremendous quarters of gains in China, as Nike is the only company showing slow continuous drops in growth in the Greater China region.
Nike's report this last quarter also featured an unusual gain in inventory to $4.9 billion up over 11% from the last year's quarter according to the company's press release. Nike attributes the inventory buildup to a 3% gain in wholesale unit inventories, increases in average product costs per unit, and growth in the direct to consumer (DTC) business.
Another reason for the inventory buildup, in my opinion, is that the company is not getting the orders and peak season demand that it was expecting at the end of this calendar year. Futures orders from September 2016 to January 2017 were up 5% to $12.3 billion missing market expectations. Naturally, if you expect to be selling more inventory at the end of the year (China's Single's Day, Black Friday, Cyber Monday, and Christmas) and orders come in lighter than projected, this will help lead to excess unsightly inventory and potential future discounting. Futures orders (a Nike created metric) have been so poor lately that Nike has decided it won't include the numbers anymore in its initial press releases. Instead, the numbers will be moth-balled at the back end of earnings calls with guidance and will be included in relevant SEC filings.
Finally, how does a company deal with excess inventory with lower than expected demand. Sales, sales, and more sales. Which leads to margins. I love a quote from Nike's earnings call transcript in regard to their expectations for margins for the upcoming year.
"Turning to gross margin. We now expect the full year rate to contract." - Andy Campion CFO
Not just another quarter or two of contractions, but the whole year, wow.
Margins declined 200 basis points this last quarter and are guided to contract an additional 125 basis points next quarter with contraction finally slowing down towards 0 in the second half of the year. This does not paint a pretty picture for the next year as the growth the company is experiencing is being paid for with slimmer margins. The additional official reasons for the margin problems for the company also include Foreign exchange rates, a shift in expenses from overhead to costs of goods sold, a higher off-price mix, and the golf equipment business exit. That's a lot of pressure on typically great margins.
Conclusions:
Nike's latest earnings report was a big signal going forward that its price might be too rich for its growth as its forward P/E of 23.11 (according to Schwab) seems high when you consider that the company is experiencing declining growth in China, has excess inventory building up, and expects contracting margins for the next year as a result of multiple issues. At this time I would recommend selling out of Nike and into either Under Armour or Adidas if you want the growth expected with a high P/E stock in the activewear market.
Disclosure: I am/we are long UA, UA.C.
I wrote this article myself, and it expresses my own opinions. I am not receiving compensation for it (other than from Seeking Alpha). I have no business relationship with any company whose stock is mentioned in this article.
Editor's Note: This article discusses one or more securities that do not trade on a major U.S. exchange. Please be aware of the risks associated with these stocks.