General Mills (NYSE:GIS) is a stock I've been bearish on for some time as I've thought it part of bubble among dividend stocks that has formed over the past couple of years. Indeed, the bubble seems to have inflated even more for consumer staples like GIS and that has led me to be very bearish on a valuation basis for some time now. The stock had produced a relentless march higher but since it topped out at $72, it has come back in a bit. A very weak Q1 report seems to finally have woken investors up to the realization that GIS isn't a howling growth machine worthy of the multiples it has been sporting but is it enough?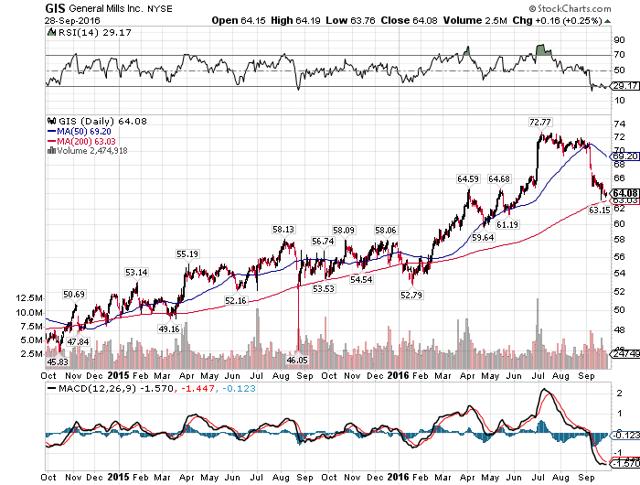 Click to enlarge
GIS has struggled for a long time with producing meaningful growth and in Q1, we saw more of the same but on a larger scale. Total sales declined 7% as organic sales fell 4% during the quarter. Both of these results are terrible but in particular, the organic sales decline is painful. I've made a point of the weakness in GIS' top line growth for many quarters now and I still believe this company has lots of issue that will prevent it from growing the top line. Q1 was strong evidence of that coming to fruition and given the stock price heading into the report, bulls weren't prepared.
The thing is that the good work GIS did last year in particular to drive gross margins higher is now coming back as a very tough comparable base and we saw an unfavorable result there as well. Adjusted gross margins fell 30bps against last year's Q1 and while that's not a catastrophic loss, it shows that GIS has found all of the efficiencies it is going to and that margin expansion was a one-and-done sort of thing that took place last year. It is my belief the stock rose mightily last year in large part due to continued margin expansion hopes but Q1 has dashed those as well. If GIS' gross margins are going to be flat to down from here on out - the early read certainly suggests that - this stock is very, very expensive even still.
The only thing that ultimately saved GIS' profits in Q1 was drastically lower SG&A costs. This is something else GIS has been hard at work improving and the results are staggering. SG&A costs were down a whopping 12.2% in Q1, an enormously successful result by any standard. I'm very impressed with what GIS has been able to do on the SG&A front and with the decline in SG&A costs outpacing the loss of revenue by such a wide margin, it helped preserve operating profits, which fell by 5.5% against the revenue decline of 7.1%. Again, GIS has some major issues to work through with respect to revenue and gross margins but at least its cost structure is well in order.
The problem I have with GIS is that even after a sizable selloff related to a terrible first quarter, it is still going for nearly 21 times this year's earnings. Management guided for 6% to 8% EPS growth this year despite the rocky start, which is roughly congruent to what analysts have for this year. The thing is that analysts have GIS hitting -3% revenue growth this year, a number which I find a bit optimistic.
Recall that GIS was at -7% in the first quarter and that organic sales declined 4%. That means the 3% left over was from a combination of forex losses and the Green Giant divestiture in round numbers. If analysts think GIS is only going to decline 3% this year in total, it not only means that the rest of the year needs to pick up the considerable slack of the first quarter but that organic sales would need to be flat or better as well. That would be at or above the high end of management's revenue guidance and given GIS' sorry history of revenue growth, that isn't something I'd personally bet on. To make a long story short, I think estimates are still a bit high for this year.
That being said, it certainly looks like GIS is setting up for a bounce here. The stock has declined precipitously to its 200DMA and the momentum indicators suggest a near term bottom is nigh. I wouldn't be surprised at all to see GIS bounce here and perhaps follow the 200DMA higher for a short while. What it does after that, however, makes all the difference in the world. Obviously, I think GIS is still vastly overvalued but at the same time, it has shown significant resilience in the past. It is all a matter of just how willing investors are to keep pumping money into a company that is shrinking.
On the whole, I wouldn't short GIS because of the rising support it is bouncing on right now. However, if GIS were to break through the 200DMA, all bets are off. I still think GIS is very expensive and certainly not a stock I'd want to get long based upon its average-at-best fundamentals and valuation. But for now at least, I wouldn't short it until we get some additional clarity on whether or not it will break down from these levels.
Disclosure: I/we have no positions in any stocks mentioned, and no plans to initiate any positions within the next 72 hours.
I wrote this article myself, and it expresses my own opinions. I am not receiving compensation for it (other than from Seeking Alpha). I have no business relationship with any company whose stock is mentioned in this article.