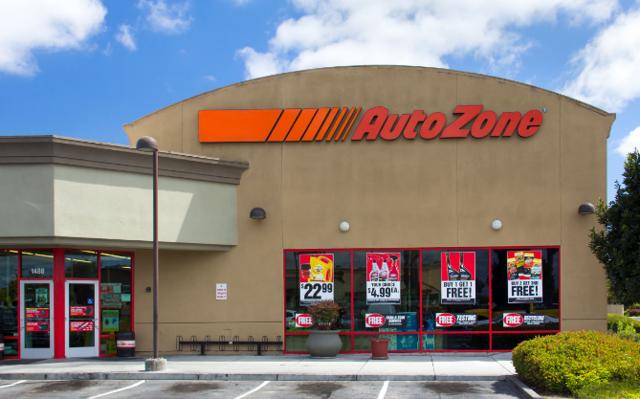 Click to enlarge
AutoZone (NYSE:AZO) has been one of the great growth stories in all of retail over the long term as the company has continued to take share and buy back lots and lots of stock. But of late, the stock has been flat as growth concerns have emerged and valuations have become somewhat stretched in the sector. The company reported Q4 earnings last week and shares have rocketed higher but is it enough to make another run at $820?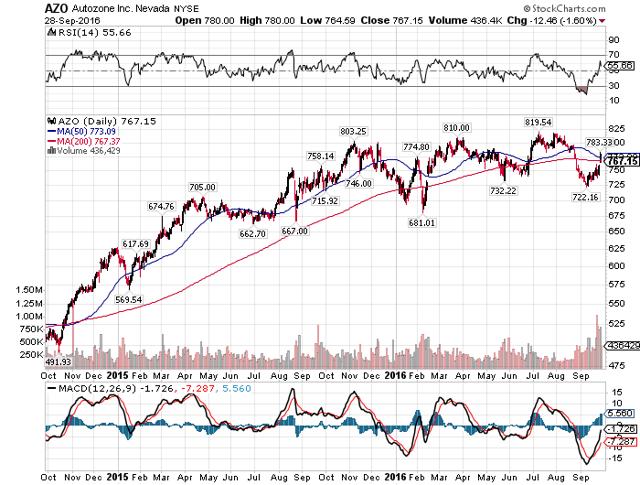 Click to enlarge
Total sales were up 3.3% during Q4 as AZO continues to add new stores and, more importantly, produce positive comp sales. The auto parts retailing space has been hot for a long time but of late, has cooled significantly. We've seen some of AZO's competitors struggle with comps in the past couple of quarters and while AZO's Q4 comp of +1% isn't exactly awe-inspiring, it is a solid result. And for a company the size of AZO, I'm not sure one can reasonably expect total sales to go flying higher each year; this is a game of inches for AZO. The comp number is neutral for me; I'm not excited but it wasn't a disaster either and if the rest of the quarter was strong, it could be good enough, so let's take a look.
On the margin side, lower acquisition costs more than offset deleveraging due to supply chain initiatives and gross margins rose 30bps against last year's Q4. Expanding gross margin is something AZO has done a masterful job of over the long term and indeed, its level of gross margins in the low 50s is proof enough of that. I expect we'll continue to see incremental improvements in gross margins over time as AZO continues to leverage its supply chain in particular and as its current investments in that space begin to pay off. I'm certainly not worried about AZO's ability to produce a high level of profitability because it is one of the best in the business at that.
Higher payroll costs partially offset leverage in legal costs against last year's Q4, sending operating expenses down 10bps. The worry for me here is that payroll costs for any business that relies heavily on hourly labor - restaurants and retailers certainly come to mind - is going to be subject to ever-rising labor costs and for AZO in Q4, that cost was 20bps of operating expenses. That may offset gross margin gains over time so, as with other retailers, operating margin expansion hopes need to be reset accordingly. Still, AZO's discipline with respect to non-payroll spending certainly helps and any impacts from higher labor costs will be manageable.
AZO's buyback has obviously been an enormous source of EPS growth over time and indeed, is surely a principal reason why some investors own the stock. AZO kept chugging along and bought back $370M of shares in Q4, roughly congruent with its standard amount. That makes $1.45B for last fiscal year and with the fresh authorization, we'll likely see another $1.4B or so for this year. That would be good for about 6.3% of the current float and while the ultimate number will probably differ slightly, that gives us a good baseline to assess the reasonableness of estimates for this year.
Analysts have AZO producing 11.7% total EPS growth this year and if we assume 6.3% of that will come from buybacks, we are left with 5.4% that would need to come from a combination of revenue and margin growth. Analysts have sales growth coming in at 4.9% which seems a touch high and would require AZO's comp sales to move materially higher than they were in Q4. I'm not suggesting that it can't do so, but the battle is uphill and this is far from a slam dunk. But if we assume AZO can hit 4.9%, we're left with just 50bps' worth of growth that would need to come from margin expansion.
We know payroll costs are likely to keep rising but we also know supply chain initiatives will likely produce some additional gross margin gains as well. My base case for gross margins at AZO is one of very slight moves higher and that means 50bps' worth of operating margin gains is going to be hard-fought. Again, considering AZO's expense discipline but also payroll costs that are largely out of its control, I think margins will rise but ever so slightly.
If we put all of this together, it would seem to me that the early read on this year's EPS is that estimates are fairly high. I am not betting against AZO because I think it is one of the best managed retailers anywhere on the planet. But at the same time, this is a huge company that is already massively efficient and thus, continuing to find growth avenues gets tougher and tougher over time. That suggests some caution here but at the same time, the stock is only going for 16.9 times this year's earnings. That is a very reasonable price for a company that is best of breed and has such a long history of excellence.
For that reason, I'm looking past the slight concerns I have surrounding AZO's ability to hit its EPS estimates for this year and erring on the side of the cheap valuation. At under 17 times earnings, I'm more than happy to own AZO for the long term.
Disclosure: I am/we are long AZO.
I wrote this article myself, and it expresses my own opinions. I am not receiving compensation for it (other than from Seeking Alpha). I have no business relationship with any company whose stock is mentioned in this article.