Introduction:
Company
Mylan (NASDAQ:MYL) operates through two segments: Generic and Specialty. In Q2 2016, the company generated about 84% of revenue from Generics and 16% of revenue from the Specialty segment. I would like to highlight something here; reports say that EpiPen from the Specialty segment alone generates about 10% of total revenue.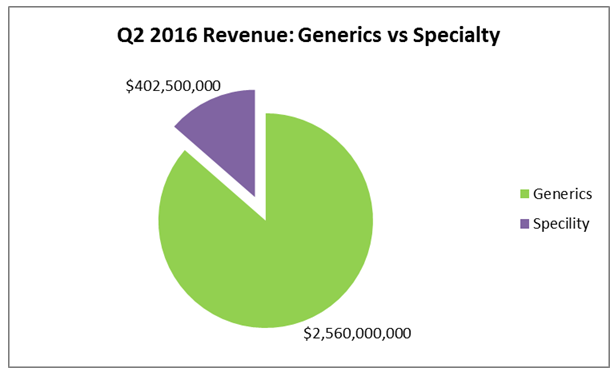 Source: Created by Author
Thesis
2016 full year guidance: Meeting revenue guidance in the short term is very important because missing guidance could change a share price very quickly. As per McKinsey & Company, eBay (NASDAQ:EBAY) reported that it had missed the fourth quarter 2004 consensus estimate by just one penny and saw its share price plunge 22 percent.
Acquisitions: The recent acquisition of Meda will help to meet Mylan's 2016 full year revenue guidance.
Operation efficiency: Net income doesn't reflect that higher revenue growth is a concern.
Liquidity: Current cash position is very strong, with cash and cash equivalents of $6.36 Billion.
Valuation: Based on 2015 EPS and P/E ratio of 15, the stock is worth about $26 a share. If the company meets its 2016 EPS guidance $4.85-$5.15, P/E ratio of 15, the stock will be worth about $73 a share.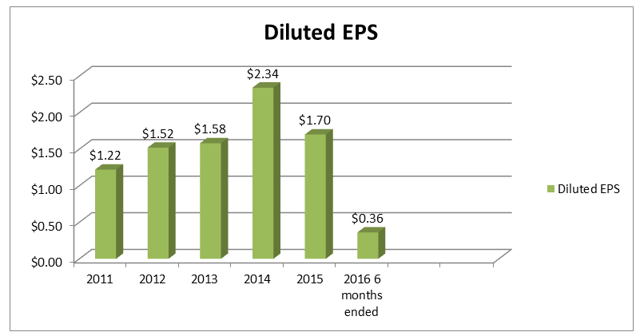 Click to enlarge
Source: Created by Author
Competition: Mylan currently enjoys near monopoly in the EpiPen specialty segment. The US Congress sent a letter to the FDA regarding EpiPen's price hike issue. The letter focused on the issues involved in bringing the competition into the EpiPen market. The FDA approval of competitors' drugs will put Mylan's stock under a lot of pressure and will pose a danger to Mylan's revenue growth.
Based on my analysis, I recommend a HOLD. I recommend further due diligence for those seriously considering a purchase.
2016 revenue estimate:
As per the latest 10-K SEC filings, Mylan is generating higher revenue year over year, but we can clearly see from the chart that net income doesn't reflect the higher revenue growth. It is somewhat stagnant.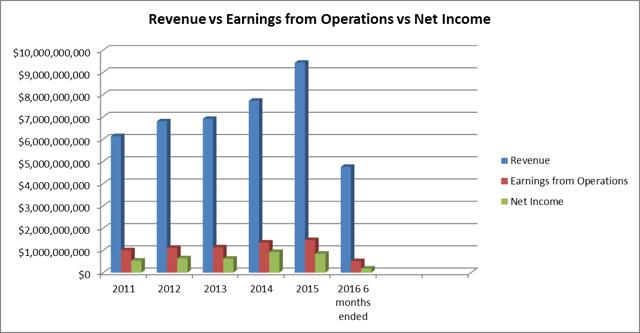 Click to enlarge
Source: Created by Author
In 2015, the company generated $9.45 billion in revenue and the net income was $0.85 billion. So far, in 2016, the company has generated $4.75 billion in revenue.
The company earlier provided guidance for 2016. Mylan expects to generate in the range of $10.5 to $11.5 billion in total revenue with or without Meda (Meda is one of Mylan's recent acquisitions).

Click to enlarge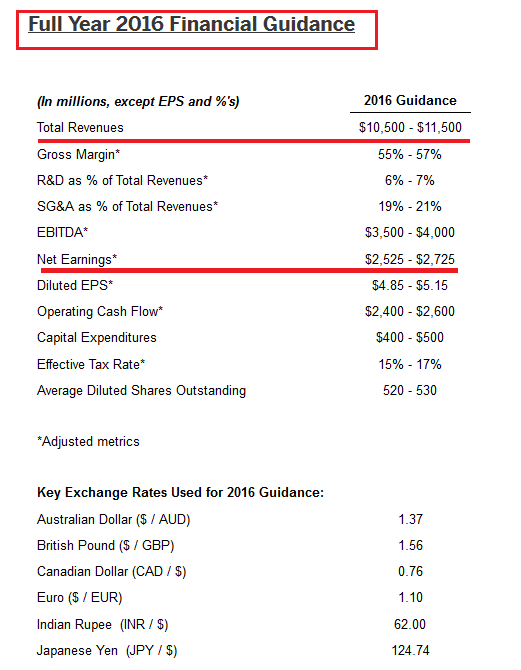 Source: Mylan
With two more quarters left in 2016, the company is forced to generate $5.75 to $6.75 billion in total revenue for the third and fourth quarters to meet its guidance. Based on its performance over the previous two quarters, the company is likely to miss its 2016 guidance without Meda. Mylan completed the acquisition of Meda on August 5, 2016.
Prior to the acquisition, Meda generated SEK 9330 in total revenue from January to June 2016 (about $1 billion USD, 1 Swedish Krona = 0.12 USD). If Meda generates the same revenue for the remaining two quarters, Mylan still needs to generate $4.75-$5.75 billion in revenue for the remaining two quarters. With Meda, Mylan might be able to meet its 2016 guidance.
Introduction of generic EpiPen and revenue estimate:
Mylan's branded EpiPen price hike caused public outrage ($608 for two-pack). Consumers and lawmakers are pushing for cheaper alternatives. This has forced Mylan to introduce a generic EpiPen at the list price of $300, a 50% discount over the branded product. On August 29, 2016, Mylan released a PR and said that:
...its U.S. subsidiary will launch the first generic EpiPen® Auto-Injector (epinephrine injection, USP) at a list price of $300 per generic EpiPen® two-pack carton, which represents a discount of more than 50% to the Mylan list price, or wholesale acquisition cost ("WAC"), of the branded medicine. The authorized generic will be identical to the branded product, including device functionality and drug formulation. Mylan expects to launch the product in several weeks, pending completion of labeling revisions".
Would a generic EpiPen affect its revenue?
As per the House Oversight hearing, out of more than 600 products that Mylan offers, EpiPen alone generates about 10% revenue. Mylan expects to generate $1.1 billion from the branded EpiPen in 2016. The EpiPen became Mylan's billion-dollar drug. As per Mylan's CEO, Mylan receives $274 out of $608 due to a middleman. The CEO further says:
…then you must subtract our cost of goods which is $69, this leaves a balance of $205. After subtracting all EpiPen Auto-Injector related costs our profit is $100, or approximately $50 per pen.
It's worth noting that under the direct selling method, Mylan is going to sell the generic for $300. Basically, they are increasing the price so the revenue will go up. If they go with the WAC method, they will generate less revenue (they will receive $200 instead of $274 via the WAC method).
Direct selling method:
= ($300 - $274) / $274 x 100
= +9% revenue
WAC method:
= ($200 - $274) / $274 x 100
= -27% revenue
Wholesale Acquisition Cost - WAC is the only price type defined in regulations. It is the list price from a manufacturer to a wholesaler or a direct purchaser without discounts.
FDA's role:
The FDA said that they are aware of Mylan's price hike. Congress sent a letter to the FDA regarding Mylan's competitors' applications and competition in the EpiPen market. There is a higher chance of generic approval this time.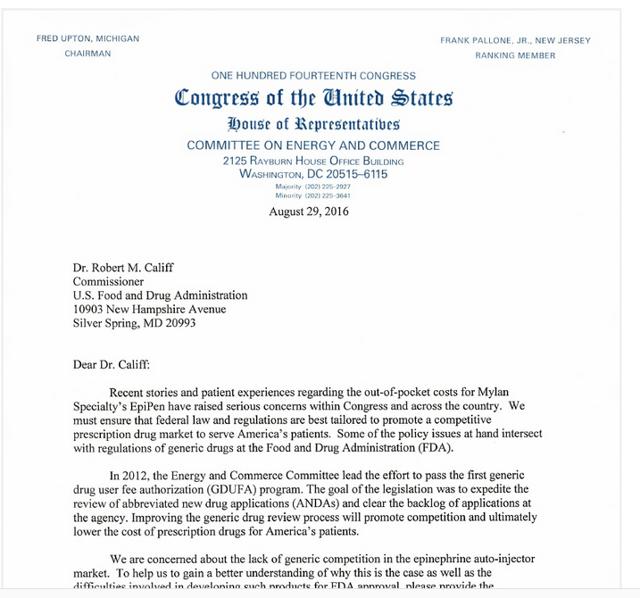 Click to enlarge
Source: Scribd
Conclusion:
With Meda, Mylan might be able to meet its 2016 guidance: Total revenue $10.5-11.5 billion. The company is unlikely to meet its 2016 guidance for total revenue without Meda. Mylan is estimated to report 3rd quarter earnings on October 28, 2016. With the generic or branded EpiPen, the company is still going to generate close to a billion dollars.
With the Direct selling method, the revenue will go up by 9%.
With the WAC method, the revenue will go down by 27%.
Third quarter's earnings are critical for the company and investors because earnings will include the revenue from Meda.

Click to enlarge
Source: Tradingview
The stock is still holding around the $40 mark at the support level. With political pressure, there is a higher chance of generic approval by the FDA soon; it would affect Mylan's share price in the future.
Disclosure: I/we have no positions in any stocks mentioned, and no plans to initiate any positions within the next 72 hours.
I wrote this article myself, and it expresses my own opinions. I am not receiving compensation for it (other than from Seeking Alpha). I have no business relationship with any company whose stock is mentioned in this article.