Given the comments we received on the iShares Preferred Stock ETF (NYSEARCA:PFF) piece issued over the past week, we decided to hunt for alternative options in the CEF space. We have not made it a secret in many of our articles our thoughts on the yield-seeking behavior that is driving REIT and preferred valuations to extreme levels. But that persistence, and our belief that interest rates will remain low for some time, could keep the sectors performing strongly for many more years.
Many investors and advisors keep slugs of all asset classes despite valuations- possibly tweaking the allocation in ranges (drift). In those cases, we want to offer up options for consideration in those portfolios. We gave a singular infrastructure/real estate fund (NYSE:DRA) several weeks ago- mostly because of the likely upcoming catalyst from activism. Our subscribers also received a strong option in the commercial REIT sector as well. Today we are focusing on a fund that offers up both REIT exposure and preferred equity exposure at a roughly 50/50 split.
Cohen and Steers REIT & Pref (NYSE:RNP)
Cohen and Steers is a well-known real estate investment shop based in New York. They have run the Cohen and Steers Realty Shares open-end mutual fund for the last two-and-a-half decades with much success. The closed-end fund we are highlighting is one that is a hybrid of their two primary strategies, real estate and preferred equity. In addition, to this fund, they have standalone versions that invest solely in preferreds and real estate. That is where the opportunity lay.
The objective of the fund:
The primary investment objective of the Fund is high current income through investment in real estate and diversified preferred securities. The secondary investment objective is capital appreciation. Real estate securities include securities of any market capitalization issued by real estate companies (including REITs) and preferred securities are issued by U.S. and non-U.S. companies.
The fund has total net assets of $1.5 billion making it one of the larger funds in the CEF universe. Leverage is relatively modest at 25%, which we think is a positive given the exposures the investor is being subjected.
The current discount to NAV is 12.8%, which is actually fairly tight compared to the last year when the average has been 14.5% with a low of 18.5%. Still, compared to most other CEFs, and other real estate and preferred CEFs, that is a wide spread.
We think the opportunity exists due to:
The combination of the REIT and Preferred sectors in one fund
Formerly quarterly distribution
Return of capital
1) Dual Mandate Funds
The shares have exposure to both REIT and preferred stocks, which are not very similar sectors. However, both are popular today by yield-seekers and both sectors, when looking at standalone CEFs in the respective spaces, are trading at much tighter discounts to NAV.
RNP yields 7.4% and is trading at almost an 13% discount. We compared it to the pure REIT fund offered up by the same sponsor and containing mostly the same holdings within REITs. That fund, RQI, has roughly the same distribution yield but is trading at just a 8.9% discount- a spread of over 4%.
Preferred CEFs all trade at much tighter spreads with the two standalone Cohen and Steers Preferred CEFs (PSF and LDP) trading very close to NAV (2% discounts).
Clearly the market is discounting the combination of the two sectors within the same fund amongst the same sponsor. This is counterintuitive given that a fund with multiple exposures and the flexibility to invest in multiple sectors should reduce risks given the flexibility the manager enjoys.
In other words, pure play exposure is much more risky and should warrant a wider discount than a fund with two fairly uncorrelated asset classes.
Comparing LDP and RQI to RNP, the risk contribution from a portfolio of all three is heavily weighted towards the individual or pure-play funds. RNP has just 20% of the risk of an equally-weighted portfolio of the three funds.
Correlations are also lowest for RNP given the two assets classes that are combined into the fund. This lower risk profile should be awarded with a lower discount to NAV.
2) Quarterly Distribution
A much larger proportion of the equity funds contain quarterly distributions. In the last decade, many sponsors have attempted to become more shareholder friendly by shifting to a monthly distribution. This has been much more prevalent on the fixed income side.
There are seven real estate CEFs and fifteen preferred CEFs in the closed-end fund universe. Of those, just five have a quarterly distribution of which three are Cohen and Steers funds.
Of the funds with a monthly distribution, the average discount is just 1.97% while those with a quarterly distribution average a 10.4% discount to NAV.
The trend in the industry is definitely towards monthly payouts. Given this shift, the sponsor announced on September 15th that they would be shifting to monthly distributions for all three of their funds.
The shift should help it with investors and eventually, as it becomes more widely known, help to close the discount with its peer group.
In addition, investors did get a slight raise with the monthly payout of $0.124 equating to $0.372 on a quarterly basis, more than the $0.37 quarterly distribution previously.
3) Return of Capital
The last two distributions have had a component of the yield derived from a return of capital. In the March distribution, $0.159 of the $0.37 was RoC while the June distribution had $0.1238. All prior quarterly distributions had no RoC component to them.
However, in the last five years, there has not been any destructive RoC with the NAV rising at an annualized 14%+ rate.
There is the potential that the last two quarterly distributions and upcoming monthlies already classified as RoC could be temporary placeholders as the fund board finalizes the tax characterization of its distribution for the current tax year.
There is a chance the fund shifts that RoC into other categories by the end of the tax year.
Even if the fund were to report RoC and if it were to be of the 'destructive' variety, we wouldn't be overly concerned. For one, the fund has no level 3 assets (illiquid) and it trades at a significant discount. In other words, the fund is essentially giving your basis back at NAV.
Things We Like:
The leverage of the fund is mostly of the fixed variety- a very rare thing. As the image below shows, 85% of the financing is fixed, with a weighted average rate of 1.9%. While this is higher than most other funds which use variable rates, it does provide a benefit should interest rates rise.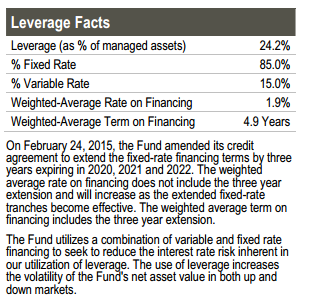 Leverage is not very high giving them flexibility should REITs and/or preferreds correct.
There is the potential for alpha should the discount of the fund close given the much narrower discounts that pure play funds offer.
Lastly, if the fund were to switch to a monthly distribution instead of quarterly, the discount would likely see immediate tightening.
The top ten holdings of the fund are very diversified among several REIT asset classes. The largest underlying REIT sector are apartments followed by regional malls, health care, and data centers.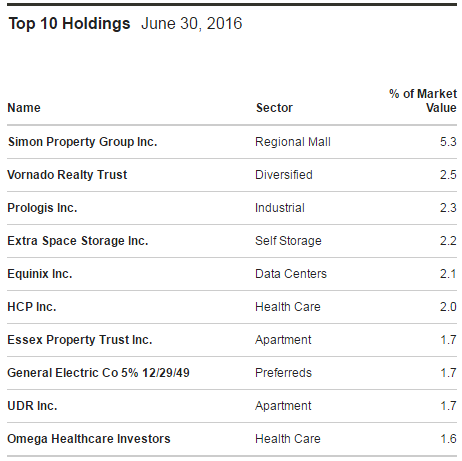 Quality portfolio management is another strong factor with total NAV returns of 7.71% (that is net of fees) compared to 6.73% for the FTSE NAREIT Equity REIT Index. It also bests the S&P 500 total return of 7.51% over the same period.
The Bottom Line
For those investors looking for REIT and preferred exposure, this combination fund gives investors a lower risk profile than pure plays through the wider discount. There are also potential catalysts that, while low probabilities, could drive the discount towards that of the peer group. Lastly, we think the return of capital that is being reported is likely to be recharacterized come tax time and could also spark a bid to the shares. In the interim, the fund offers a solid 7+% yield with the upside that REITs and to a lesser extent preferreds can enjoy.
Marketplace Service For Those Hunting For Yield
In April 2016, we launched our marketplace service Yield Hunting: Alternative Income Investing dedicated to yield investors who wish to avoid the froth associated with the equity, REIT, and other more volatile areas of the market. We encourage investors to utilize the free two-week trial in order to benefit from our yield opportunities within closed-end funds, business development companies, and other niche areas.
Disclosure: I/we have no positions in any stocks mentioned, and no plans to initiate any positions within the next 72 hours.
I wrote this article myself, and it expresses my own opinions. I am not receiving compensation for it (other than from Seeking Alpha). I have no business relationship with any company whose stock is mentioned in this article.
Additional disclosure: The commentary does not constitute individualized investment advice. The opinions offered herein are not personalized recommendations to buy, sell or hold securities. As I have no knowledge of individual investor circumstances, goals, and/or portfolio concentration or diversification, readers are expected to complete their own due diligence before purchasing any stocks mentioned. The strategies discussed are strictly for illustrative and educational purposes and should not be construed as a recommendation to purchase or sell, or an offer to sell or a solicitation of an offer to buy any security. There is no guarantee that any strategies discussed will be effective. The information provided is not intended to be a complete analysis of every material fact respecting any strategy. The examples presented do not take into consideration commissions, tax implications or other transactions costs, which may significantly affect the economic consequences of a given strategy. This material represents an assessment of the market environment at a specific time and is not intended to be a forecast of future events or a guarantee of future results. This information should not be relied upon by the reader as research or investment advice regarding the funds or any security in particular.