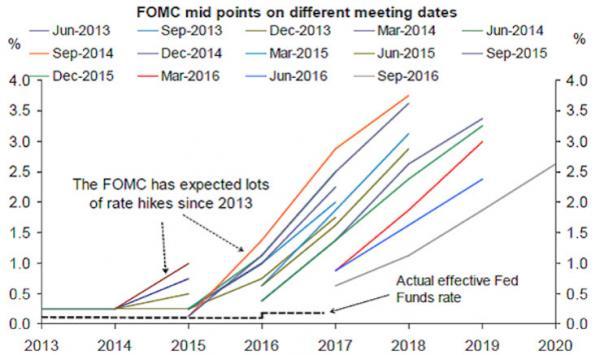 Well, we got through Wednesday.
I love this chart which shows what the Fed has, in the past, SAID rates would be and what, in fact, they actually were for the past 3 years. So it's not too surprising that, no matter what Yellen and Co. say about raising rates this year - no one is going to believe them. If you bet against rates rising every single time (20) that the Fed said they would be raising rates in an upcoming meeting - you only would have been wrong once - last December.
There are new traders who have been on the job for 7 years now and have never seen a Fed Fund Rate at 1%. Money is essentially free if you want it - that's just a fact of life - why would you plan for anything else? If you want to expand - borrow money, if you want to buy out a competitor - borrow money, if your stock price is too low - borrow money to buy it yourself.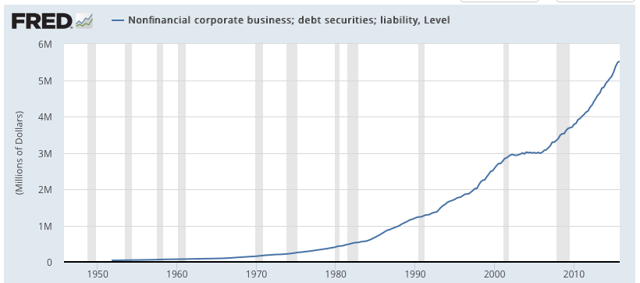 Click to enlarge
Non-Financial Corporate Debt is up $3 TRILLION since 2008 - and that is just the S&P 500 - globally, 16Tn has been borrowed by Corporations at a rate of $2Tn per year, 3% of our Global GDP is borrowed! It took 50 years for corporations to rack up their first $3Tn in debt but the next $3Tn came in just 8 years. Yes, of course the first $3Tn in debt led to a complete meltdown of the Global markets as companies found themselves unable to service that debt but this time is different - because they borrowed twice as much...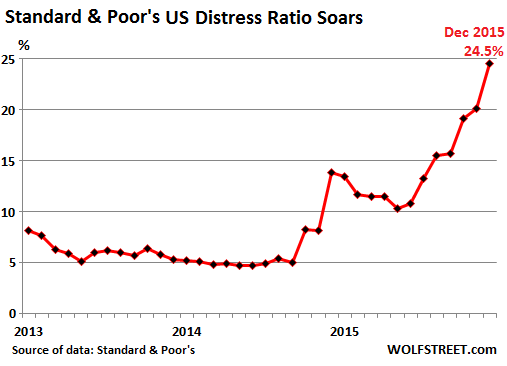 Less than 25% of that debt is considered "distressed" (yields that exceed Treasury yields by at least 10 percentage points), that's nothing to be alarmed about, is it? Only 112 companies have been declared in default by S&P as of January of this year but, in 2008, it was 125 - so we still have room to improve on that front before panic sets in. We have a long position on SJB ($25) in our Options Opportunity Portfolio, which makes money when junk bonds begin to tumble but, so far - people keep pumping money into them.
127 of those distressed bonds are held by our beloved Oil and Gas companies. Last year, Standard & Poor's upgraded 18 companies with total debt of $49 billion, but downgraded 60 companies with a breath-taking total debt of $1.3 trillion (with a T). The bet is, of course, that US interest rates will stay low. But the dollar is up 20% since 2014 and US interest rates WILL be rising - one day. The last time this happened was 1997. It triggered massive currency outflows from those countries and all kinds of crises, including the big one at the time, the Asian Financial Crisis, according to the economists at National Bank of Canada, "It would be foolish to rule out a similar if not a more devastating outcome."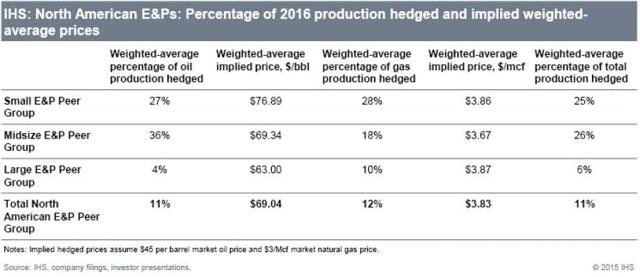 Click to enlarge100 North American Oil and Gas companies have filed for bankruptcy in the past two years and we are reaching the end of the 2-year hedging cycle that has, so far, probably prevented 100 more. Hedging has let most oil producers sell oil for some blend of 2015 prices, which averaged over $50 and 2014 prices, which were in the $80s but now, oil is under $50 and all they can do going forward is lock in low prices.
OPEC, yesterday, gave the oil companies a brief stay of execution by agreeing to agree on production cuts at the November 30th meeting. That's another 60 days when nothing will change and the cuts (750,000 barrels/day) are not even half of what it would take just to stop the current oversupply and there's no indication that other oil won't rush in to fill any shortfall from OPEC. Needless to say, we shorted oil into the run-up after yesterday's meeting. Currently, we're short the Futures (/CL) at $47 and the ETF (NYSEARCA:USO) at $10.75 - using options plays, of course. As noted by Tom DiChristopher, it's not likely to be enough to save the energy companies:
"There's going to have to be more filings just because there's no price out there that's foreseeable that's going to bail these companies out," he added.

Banks and other regulated institutions face scheduled reviews during which regulators can pressure them to cut drillers' credit lines if falling oil prices continue to drag down the value of their oil reserves. Those reserves serve as collateral against loans.

The fall review of energy firms' borrowing ability will begin soon. Oil and gas exploration companies largely fund operations with debt. Slashing their credit lines could push more drillers into insolvency.
One might conclude that the Saudis are finally agreeing to production cuts because the above is considered "mission accomplished" as they have driven a significant amount of their competitors into bankruptcy but that's not how bankruptcy works. When a company goes bankrupts it's assets (oil reserves, rigs) are sold for pennies on the Dollar and the acquiring company (at 0% interest) then has a drastically lower net cost of production and is HAPPY to pump oil at $40 or even $30 a barrel.
While bankrupting your competition may work in the short-run, for commodity producers that strategy often comes back to bite them in the assets.
Disclosure: I am/we are short USO, QQQ, DIA, SPY, IWM, TLT, JNK, AMZN, NFLX, TSLA.
I wrote this article myself, and it expresses my own opinions. I am not receiving compensation for it (other than from Seeking Alpha). I have no business relationship with any company whose stock is mentioned in this article.
Additional disclosure: Positions as indicated but subject to RAPIDLY change (currently mainly cash and an otherwise bearish mix of long and short positions - see previous posts for other trade ideas). Positions mentioned here have been previously discussed at www.Philstockworld.com - a Membership site teaching winning stock, options & futures trading, portfolio management skills and income-producing strategies to investors like you.