Electric Phred wrote a wonderful article about Micron on Seeking Alpha last week. I want to reiterate the bull case about Micron's (NASDAQ: MU) short-term by providing additional commentary on some of the interesting points that Electric Phred mentioned in his article. While I have not been posting articles on this site over the last few months, I have made the long-term bull case numerous times on this site and I firmly still believe in the long-term prospects of the company.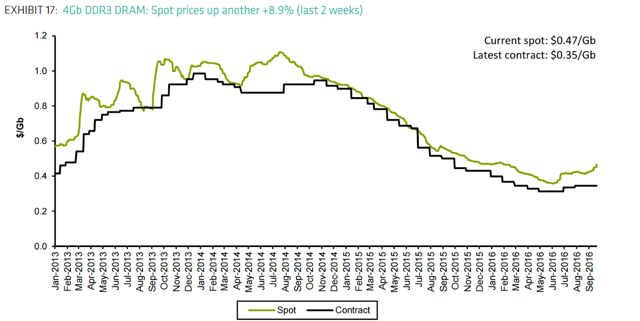 I have attached a chart from Electric Phred's article above. By taking a look at DRAM spot prices for one of the critical DRAM chips in the market today, it is clear that the DRAM market recovery has been in full swing since early June. Contract prices have consistently (with few exceptions) been below spot prices. Over the long-term, contract prices and spot prices of commodity DRAM are almost certainly going to converge. Taking a look at the tail end of the above chart and you will notice spot prices have moved up quite a bit more than contract prices have over the last few months. There are a couple reasons for this. One reason is that there has not been consensus, until rather recently, that DRAM pricing is likely to continue to strengthen throughout the remainder of the year (and possibly beyond). The other (more important) reason is that contract prices are set (and reset) every few weeks or months (depending on the customer and type of DRAM being purchased).
As a result of the dramatic change in the perceived health of the DRAM market over the last several weeks, when contracts for DRAM end and new contract prices are negotiated, it is a virtual certainty that contract pricing will spike up towards spot prices. With supply being reported as tight by major electronics manufacturers such as HP (NYSE:HPQ) (and many others), contract prices will likely be roughly equal to or possibly even greater than spot prices in the near future. A large part of the increase in spot prices occurred in the tail end of the quarter to be reported (and the first few weeks of the new quarter). The full benefit of the spike in DRAM prices will not be reflected in the period being reported on in the next conference call on October 4th. However, the sudden and rather significant increase in DRAM prices will definitely positively impact the next quarter. Despite what seems to be clear and overwhelming evidence that Micron's prospects for the final quarter of the calendar year are shaping up to be way above the market's expectations from a month, two months and a quarter ago, consensus estimates on Micron's next quarter have barely budged. Wall Street analysts as a whole are asleep at the wheel and are not incorporating the massive positive change in the economics of the memory industry as a whole over the last quarter in their earnings estimates.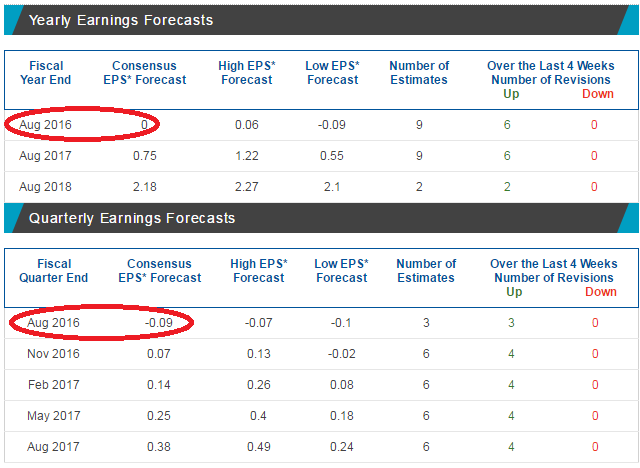 The above image comes from NASDAQ.com.
I have been under the impression that it is the job of analysts covering Micron to pay close attention to Ernie Maddock when he speaks at conferences. Since he took over as the CFO of Micron, his general approach to guidance has always been conservative. When investors (me included) saw some hope at the end of the tunnel a few times when DRAM pricing showed signs of stabilization, Ernie has consistently preached that a few good weeks in DRAM spot price markets is not enough to definitively declare the bottom of the cycle has past. Considering Ernie's conservative style, it is a fantastic omen that consensus earnings forecasts for the quarter ending at the end of August stated above are too pessimistic. The consensus forecast for Fiscal Year 2016 is $0.00/share.
On September 8th at the Citi Global Technology Conference, Maddock stated, "We will now be in positive territory for full fiscal year 2016, probably somewhere in the mid single cents range, so that gives you some idea of how the fourth quarter will ultimately shape up. We are seeing this momentum continue as we begin our planning and our thinking process around fiscal Q1 for 2017." This guidance by Ernie comes more than a full week after the end of the fiscal quarter. Micron's management should have already had a very good idea of what its earnings are going to be by that time. Despite that, consensus estimates are still a nickel (or more depending on which consensus source you use) per share lower than what Maddock stated at the conference. Factoring in Maddock's propensity to err on the side of caution, earnings that easily beat consensus estimates is more than a solid bet. There is also a reasonably good chance that Micron's earnings could meet or exceed the forecasts of even the most bullish analyst who expects full year earnings to be $0.06/share.
I view the earnings announcement as just a formality after Ernie's post-quarter guidance. The interesting part of the conference call is guidance. It is surprising how many analysts have not updated their estimates on Micron despite the significant strengthening of both the DRAM and NAND markets throughout the last quarter.


There are three important drivers that will dictate how Micron's DRAM business will perform over the next quarter and next year. These three factors are: average selling price per bit, average cost per bit and bit production increase.
During the period between July 14th and September 28th, DDR 8Gb spot prices increased by 16%, DDR4 4Gb spot prices surged 20% and DDR3 4Gb spot prices also moved up 20% according to DRAMeXchange. On the average selling price front, DRAM prices are clearly in a major uptrend and contract prices will soon catch up. On the cost front, Micron's transition to the 20nm node is helping push down costs on a per bit basis. About 2/3 of Micron's DRAM bits are being produced at the 20nm node today. It is a safe assumption that Micron's average cost per bit will continue to decline as 20nm equipment gets deployed as a replacement to Micron's older process nodes. I expect cost per bit to also decrease because there is still room for meaningfully increasing the yield on wafers slated for 20nm DRAM production.

Fewer wafers will be available for DRAM production during Micron's transition to 20nm (and eventually to 16nm over the next few quarters). The net effect of die shrinks in DRAM will be an increase in overall bits being produced. At the Citi conference, Ernie presented a slide that showed average cost per bit reduction is on pace to meet Fiscal Year 2016 and Fiscal Year 2017 goals. CAGR for average decrease in cost per bit between Fiscal Year 2015 and Fiscal Year 2017 for DRAM is 15-25%. Importantly, the decrease in average cost per bit is accelerating as the estimates for decrease in average cost per bit between Fiscal Year 2016 and Fiscal Year 2017 is 20-25%. These numbers should come as no surprise. The shocker in the presentation is that Micron's 2 year CAGR goal for DRAM bit growth between Fiscal Year 2015 and Fiscal Year 2017 is ahead of schedule. When was the last time any Micron technology was deployed ahead of schedule? (Yeah, I can't remember either.)
There is a bit of confusion about whether Micron's DRAM (and/or NAND) will show up in the newest iteration of the iPhone 7 and iPhone 7s. It seems that a lot of Micron longs are rooting for Micron's memory to show up in Apple's (NASDAQ: AAPL) flagship product. When there is excess supply in the market, short-term results for memory manufacturers are devastated as excess bits sit idle in storage facilities of the memory manufacturers who did not win Apple contracts. In this situation, having a large contract with Apple is great as such an agreement alleviates the risk of being left with a large excess inventory that tends to depreciate in price over time. Apple is notorious for tough negotiations that lead to some of the best pricing in the market for iPhone components. When the memory market is in an upswing and demand is greater than supply, not being tied down to Apple's contract prices will allow a memory manufacturer to sell extra bits into the market at higher spot and contract prices. As a Micron long, I am rooting for Micron not being a major source of DRAM bits for the new iPhone.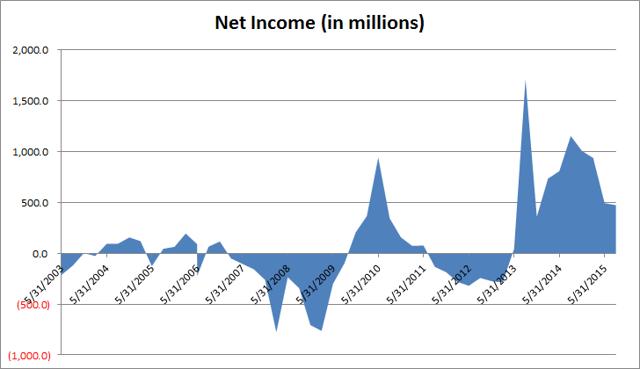 In conclusion, Micron's prospects for the next few quarters look fantastic. Significantly higher prices and lower costs coupled with increased bit production of DRAM have arrived simultaneously to create a perfect tidal wave of goodness for those who are long Micron. I have focused the entire article on DRAM, but the long-term story of Micron's 3D NAND also looks great. (In fact, I believe the 3D NAND story is going to be THE story that drives Micron in 2018 and beyond in the same way DRAM has been THE story over the last few decades.) When Micron's management issues its official guidance on Tuesday, I expect the market to enthusiastically rally behind Micron's stock. Micron's quarterly earnings during the bad side of the two previous cycles resulted in net losses for every quarter for at least two consecutive years. During this recent downturn, Micron's profits plummeted as the cycle turned, but losses were rather small and there were only two quarters of losses. In my opinion, this is strong evidence that it really is different this time. The memory market is still going to be cyclical, but the overall health of the industry has clearly dramatically improved relative to prior memory cycles. There are good times ahead for Micron shareholders.
Disclosure: I am/we are long MU.
I wrote this article myself, and it expresses my own opinions. I am not receiving compensation for it (other than from Seeking Alpha). I have no business relationship with any company whose stock is mentioned in this article.